Brazil topples Spain to win championship
Brazil won the World Youth Championship for the fourth time Friday, beating 10-man Spain 1-0 on a header by substitute Fernandinho. \nIn the third-place game, Colombia defeated defending champion Argentina 2-1. \nMinutes after Fernandinho's 87th-minute clincher, off a corner kick from teammate Daniel, he was sent off for receiving his second yellow card in two games. \nBut Brazil played down the clock to defeat the brave Spanish team, which played with 10 men from the 4th minute after Italian referee Roberto Rosetti issued a red card against defender Melli. \nMelli dragged down Brazilian striker Nilmar, who was streaming toward the Spanish goal and set to pounce on a long pass from teammate Daniel Carvalho. \n"It should have been a yellow card because there was no danger of him [Nilmar] scoring," an angry Spain coach Jose Ufarte said. "Brazil is a very good team but they were lucky to have that decision that helped them win the game." \nUfarte would not comment when asked if he would protest the refereeing display by Rosetti, who issued four yellow cards to Spain and two to Brazil. "There were some strange decisions made," Ufarte added. \nWhen asked if Melli deserved to be sent off by Rosetti, Brazil coach Marcos Paqueta replied: "It was a very severe decision. \n"We are happy with the win but it was not our best performance of the tournament," Paqueta added. "I expected more from Brazil after the expulsion [of Melli], but when we play against a team with 10 players we tend to have some difficulties." \nWith the 55,000-strong crowd expecting Brazil to exploit its advantage, the Spaniards upped their defensive workrate and constantly harried their South American opponents. When in possession, Spain's midfield, led by FC Barcelona's Iniesta and Atletico Madrid's Gabi, was fast on the break and created many scoring opportunities. \nThe victory tied Brazil with Argentina for the most world under-20 championships. \nIniesta almost scored twice in the first half, while on-target strikes by midfield teammate Vitolo and striker Sergio Garcia early in the second half were saved by Brazilian goalkeeper Jefferson. \nGarcia was the first player to find the back of the net, but his 75th-minute shot was disallowed by Rosetti, who caught the Spaniard holding onto an opponent. \nBrazil had much of the possession and raided the Spanish goal repeatedly, but was kept out by tireless 'keeper Riesgo, who performed superbly despite fumbling the ball minutes after Melli's departure, and almost gifted the South Americans a goal. \nClassy Brazilian defender Daniel was on target several times but was denied each time by Riesgo, who deflected Daniel's perfectly timed overhead shot at goal onto the cross bar. \nBrazil captain Adailton narrowly missed scoring in the 29th minute after jumping above the Spanish defense to head Daniel's corner kick onto Spain's goal post. \nRiesgo was lucky not to be sent off for a dangerous 36th-minute tackle on Kleber outside the Spanish goal area, which resulted in a free kick taken by Daniel, who sent the ball skimming over the crossbar from about 30m out. \nKleber was a constant target for his Brazilian teammates up front, but missed a golden scoring chance early in the second half after rounding Riesgo, only to play the ball too far ahead and shoot weakly from a tight angle into the Spanish 'keeper's hands.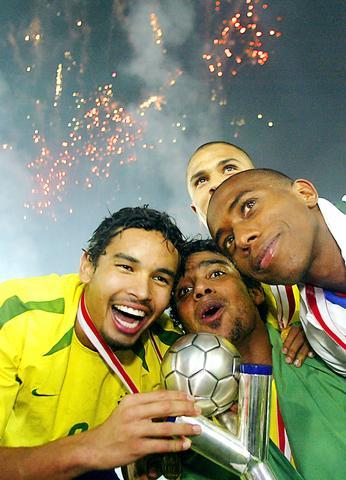 From left, Brazilians Dudu, Coelho, Jardel and Carlos Alberto celebrate with the cup under a sky lit by fireworks, following their win over Spain at the FIFA world youth soccer final Abu Dhabi, Friday. Brazil won 1-0.
PHOTO: REUTERS
Publication Notes
Lineups
* Brazil: Jefferson, Daniel, Alcides Eduardo, Adailton, Daniel Carvalho (Andrezinho, 94th), Dudu, Juninho (Fernandinho, 70th), Nilmar (Dagoberto, 64th), Jardel, Kleber, Adriano
* Spain: Riesgo, Pena, Carlos Garcia, Melli, Vitolo, Iniesta, Sergio Garcia, Bouzon, Gabi (Manu, 88th), Juanfran, Pina (Gavilan, 70th)
Comments will be moderated. Keep comments relevant to the article. Remarks containing abusive and obscene language, personal attacks of any kind or promotion will be removed and the user banned. Final decision will be at the discretion of the Taipei Times.