US celebrates first World Cup victory
FLYING Japan gave the Eagles a tough time, but thanks to a linchpin performance from flyhalf Mike Hercus, the Americans can leave the tournament with their heads held high
The US broke a 16-year World Cup losing streak with a thrilling 39-26 win over Japan yesterday.
The Eagles claimed their first victory at the tournament since beating the Japanese in 1987, earning a hard-fought win in a mistake-riddled but highly entertaining group B match at Central Coast Stadium.
The Eagles led from early in the game, though the Japanese kept in touch until the dying minutes when they conceded two tries.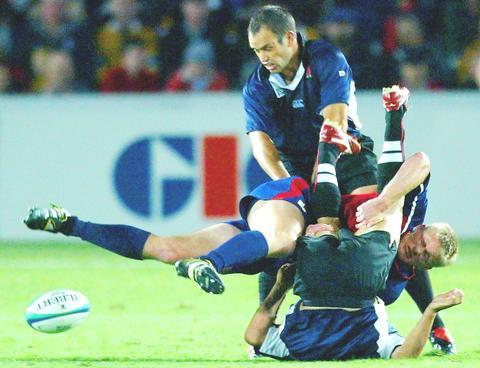 Phillip Eloff, center, from the US is tackled by Toru Kurihara from Japan as Andrew Miller, standing, looks on during their Rugby World Cup match in Gosford, Australia, yesterday.
PHOTO: REUTERS
American flyhalf Mike Hercus, who was raised in Australia, orchestrated the win with a clever running and kicking game that brought him a try, four conversions and two penalties.
The Japanese scored two tries through flying wingers Toru Kurihara and Daisuke Ohata but their enthusiasm and adventure were ultimately insufficient against the bigger American players.
The Eagles made a flying start when Hercus scored a try under the posts on eight minutes after slicing through the defense with a simple dummy.
Center Phillip Eloff then beat three tacklers down the left to score a try that put the Eagles 14-0 ahead.
Japan replied with a try by Kurihara after flyhalf Andrew Miller put George Konia into a hole and the center offloaded to his unmarked winger.
Kurihara pulled the margin back to three points with a penalty but Hercus booted two more to give his team a 20-10 halftime lead.
The Japanese returned to the field wearing blue shirts, New Zealand referee Steve Walsh having ordered them to change colors after both sides ran out in almost identical red jerseys.
The Asian champions made a great start to the second half when Kurihara booted three long-range penalties to cut the deficit to a single point before the Eagles re-established a cushion when flanker Kort Schubert crashed over.
Japan again pulled back to within a point when they scooped up a dropped pass from Eagles scrumhalf Kevin Dalzell and Ohata sprinted down the right wing to score his 42nd test try.
There was still just one point in it with five minutes left when US winger Riaan van Zyl crossed the line and hooker Kirk Khasigian went over in the dying seconds to seal victory.
Comments will be moderated. Keep comments relevant to the article. Remarks containing abusive and obscene language, personal attacks of any kind or promotion will be removed and the user banned. Final decision will be at the discretion of the Taipei Times.