Jockey's remember `the greatest rider'
Chris McCarron remembered Bill Shoemaker as larger than life, both in and out of the saddle.
"He was 4-foot-11 [1.5m], but when he walked into a room, he was a giant," McCarron said Tuesday at a memorial service in the winner's circle at Santa Anita.
"He truly was a giant."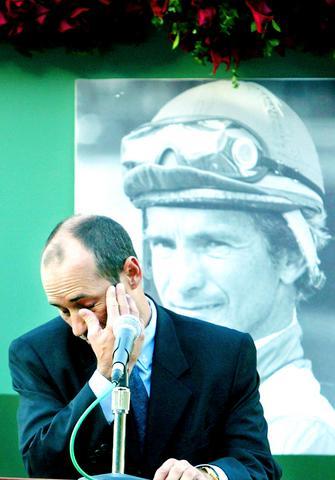 Jockey Gary Stevens wipes tears as he speaks at a memorial service for Hall of Fame jockey Bill Shoemaker at Santa Anita Park, in Arcadia, California, Tuesday.
PHOTO: AP
McCarron, a Hall of Fame rider who was a friend and competitor during 12 years of Shoemaker's glittering career that spanned four decades, joined Eddie Delahoussaye, Laffit Pincay Jr., Gary Stevens and Don Pierce to remember the rider they all called ``Shoe.''
Shoemaker died in his sleep Oct. 12 at his San Marino home, a few kilometers from Santa Anita. He was 72. Large photos of Shoemaker were displayed. The track where Shoemaker rode many of his 8,333 career winners served as a backdrop.
The four-time Kentucky Derby winner was the first jockey to reach US$100 million in career earnings in 1985. His last race was Feb. 3, 1990, and a year later Shoemaker was paralyzed from the neck down in an auto accident.
There was no racing at the track on Tuesday, and an estimated 700 people attended the service. Shoemaker's former wife, Cindy, and their daughter Amanda, 23, sat in the front.
McCarron, who earlier comforted Pierce because he was so choked up he couldn't talk, recalled some of the lighter moments with Shoemaker, a prankster in the jocks' room.
"I wasn't here for more than a week, and I started to get dressed and my boots were glued to the floor. A few days later, I put my feet into my boots and there was shaving cream in them," McCarron said, smiling. "That's what Bill did to make you feel comfortable."
"I first met Shoe 45 years ago. I was introduced to him in the room -- and he burned me with a spoon," Pierce said.
Pincay, who topped Shoemaker's record by riding 9,530 winners, called his friend, "The greatest rider ever."
"I'm proud to say I rode with Shoe for many years, and very proud to say he was my friend," Pincay said. "I think he's up there looking down at us now, laughing at us for sitting out in the hot sun."
Stevens said Shoemaker won him over when Stevens arrived in Southern California in 1980 from Boise, Idaho.
"Nobody had talked to me and I was intimidated," Stevens said. "Then they had a doubles pingpong tournament [in the jocks' room] and I'd only been playing for three weeks. They drew for partners and it was me and Shoe.
"I was horrified. But in one afternoon, he taught how me to be competitive, in pingpong and in riding."
Delahoussaye said Shoemaker touched many people.
"He will be sadly missed and very much remembered in our hearts," he said. "It will never be the same without him."
McCarron said that, "In my 28 years, I saw a lot of futility, riders like me trying to emulate Bill Shoemaker," McCarron said. "It couldn't be done. There was only one, and always will be."
Comments will be moderated. Keep comments relevant to the article. Remarks containing abusive and obscene language, personal attacks of any kind or promotion will be removed and the user banned. Final decision will be at the discretion of the Taipei Times.