Mussina wins his duel with Beckett
GAME 3 The New York Yankees broke it open late in the contest, beating the Florida Marlins 6-1 to take a 2-1 lead in the best-of-seven series between the AL and NL
For the longest time, this had all the makings of another heartbreaker for Mike Mussina.
Down early. Hardly any run support. A rainy, messy night.
And yet somehow, the ace who could never quite win these games won Game 3 of the World Series. Mussina outpitched young ace Josh Beckett and the New York Yankees broke it open late, beating the Florida Marlins 6-1 Tuesday night for a 2-1 edge.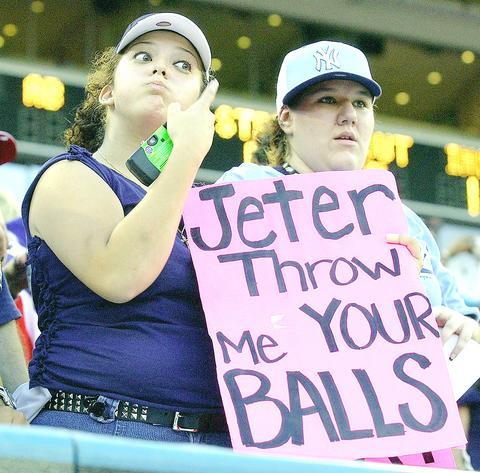 Yankees fan gestures towards Yankee shortstop Derek Jeter as he warms up prior to the start of Game 3 of the World Series, at Pro Player Stadium in Miami, Florida, Tuesday.
PHOTO: EPA
"Moose just kept it together," Yankees manager Joe Torre said.
Derek Jeter doubled for his third hit and scored the go-ahead run on Hideki Matsui's single in the eighth inning. Aaron Boone homered in the ninth and then Bernie Williams hit his record 19th postseason homer to clinch it.
By then, Mussina's work was done. Mariano Rivera finished it off in rapid fashion, closing with two innings for a save as the Yankees won before a crowd of 65,731 that had mostly left Pro Player Stadium by the final out.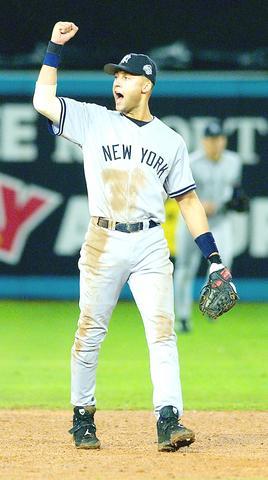 Yankees shortstop Derek Jeter celebrates the Yankees 6-1 win over the Florida Marlins in Game 3 of the World Series in Miami, Florida, Tuesday.
PHOTO: AP
Now, after their second straight victory, the Yankees will try to take firm hold of the Series behind Roger Clemens.
Clemens pitches Wednesday night in the final scheduled start of his Hall of Fame career. Carl Pavano, who grew up in Connecticut rooting for the Rocket and later watched him while a prospect in the Boston system, goes for the Marlins in Game 4.
``This game means absolutely nothing if we don't come back and win tomorrow,'' Jeter said.
PHOTO: AP
Florida finally managed to get an extra-base hit after 13 singles, but has scored only five runs in three games.
"It's not an easy task against those guys," Marlins manager Jack McKeon said.
Despite his 199 career wins and Cy Young potential, Mussina had never quite delivered the ultimate big game for the Yankees. Then again, New York never made it easy him, seeming to rarely score when he was on the mound.
Mussina had been 0-3 in this postseason, losing once to Minnesota and twice to Boston. But it wasn't all his fault, as the Yankees couldn't get a lead for him to hold.
Mussina made the first relief appearance of his career, turning in three scoreless innings against the Red Sox in Game 7 of the American League championship series, in an effort that Torre said saved the Yankees' season.
He didn't quite save it this time, but did a lot toward putting the Yankees halfway to their record 27th championship. He gave up one run and seven hits, striking out nine and walking one.
A 39-minute rain delay in the fifth inning did not disturb Mussina, at least not judging by the results. He is a creature of habit and routine, and was pawing at the damp mound but did not let it deter him.
Mussina began the game with a 4-5 career postseason record despite a sharp 3.19 ERA. His first World Series win surely added to a resume that was lacking exactly such a victory.
It was 1-all with one out in the eighth when Jeter doubled for his third hit -- the only ones off Beckett. Jeter went the other way, grounding the ball down the first-base line past Derrek Lee, who was well off the line.
"The guy's played out there all his life and that's the program we had," McKeon said.
All-Star rookie Dontrelle Willis relieved and with two outs, Matsui smartly slapped an opposite-field single to left.
Boone hit a solo homer off Chad Fox in the eighth and Williams' homer was a three-run shot off Braden Looper. Williams had been tied with Mickey Mantle and Reggie Jackson for the most postseason homers.
"It was a very frustrating night for me. In my last at-bat, I was taking it for granted that he would throw a fastball and I put my best swing on it," Williams said.
Beckett struck out 10 in 7 1-3 innings, yet took the hard-luck loss. He breezed through New York's first 10 batters before Jeter doubled in the fourth.
After a walk to Jason Giambi and a popup by Williams, the young pitcher's problems started.
Matsui was hit by a pitch that bounced and, with the bases loaded and a 2-2 count, Beckett threw a fastball to Jorge Posada that veered off the outside corner. Plate umpire Gary Darling called it a ball and McKeon spread his arms in the dugout, wondering what was wrong with that pitch.
Beckett came back with another fastball, the kind some umps would call a strike. Darling saw it a bit low for ball four and a bases-loaded walk that tied it at 1.
"It was very close," Florida catcher Ivan Rodriguez said during the rain delay. "It was a pitch that could've gone both ways, a strike or a ball.
"I just asked where the pitch was," he said. ``He said the pitch was down."
McKeon was really barking at Darling at that point, and the umpire held his mask and cap as he stared into the dugout. Pitching coach Wayne Rosenthal trotted to the mound to settle down Beckett, who retired Karim Garcia on a grounder and then began to berate Darling from the bench.
Several other players had trouble with Darling's calls, too. Giambi and Williams argued strikes, as did Florida's Miguel Cabrera.
"You saw both clubs arguing, so take it from there," McKeon said.
The early focus in Game 3 again was on Florida's Juan Pierre.
Three Yankees infielders crept onto the grass when the springy leadoff man came to bat in the first, and he still defiantly bluffed a bunt. Next, he hit a blooper to right-center that fell beyond the reach of a sliding Williams for a double, Florida's first extra-base hit of the Series.
Cabrera delivered an RBI single with two outs. He hit three homers in the NLCS, but the 20-year-old rookie was 0-for-7 in this Series until then.
Comments will be moderated. Keep comments relevant to the article. Remarks containing abusive and obscene language, personal attacks of any kind or promotion will be removed and the user banned. Final decision will be at the discretion of the Taipei Times.