Marlins draw first blood
Juan Pierre and the Florida Marlins had the Yankees on the run from the very start, stealing the World Series opener 3-2 from a New York team that looked as if it was still recovering from its last game.
"We're going to try to create havoc for the rest of the series," Pierre said. "We let them know what we're about, that we're going to keep pressure on them all Series."
True to form, the Yankees showed up in the ninth inning of Saturday's game and threatened after drawing a pair of walks. But somehow the Marlins held on, and it was speed that made the difference. After a pair of walks, Ugueth Urbina got Alfonso Soriano on a called third strike and then retired Nick Johnson on a fly ball when Pierre streaked in from center field to end it.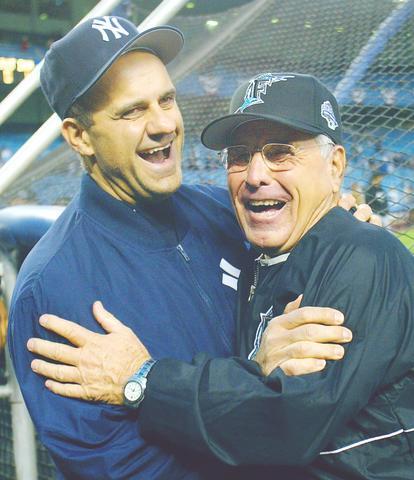 Yankees manager Joe Torre, left, and Marlins manager Jack McKeon embrace before Game 1 of the 2003 World Series at Yankee Stadium in New York, Saturday.
PHOTO: REUTERS
"Speed definitely makes the difference," Yankees manager Joe Torre said. "We got a first-hand look at it tonight."
Pierre led the majors with 65 steals this season and the Marlins had the most overall. They showed off their speed in a hurry with Pierre leading off with a bunt single and Luis Castillo following with a hit-and-run single.
"When you have one of those speed guys on, you certainly don't want a merry-go-round," Torre said.
PHOTO: REUTERS
With that, the wild-card Marlins were off in this 100th anniversary Series. Pierre later added a two-run single and a stolen base as Florida defeated David Wells and ended New York's record string of 10 straight home Series wins.
"I don't know why we should be awed. It's a credit to the players. They don't worry about where they're playing," Marlins manager Jack McKeon said.
Brad Penny, Dontrelle Willis and Urbina made the lead stand up -- something that San Diego, the New York Mets and Arizona could not do in the late innings of previous Octobers at Yankee Stadium.
These Yankees seemed spent, having wrestled Boston to a draining but spectacular Game 7 win that took 11 innings and lasted into Friday's wee hours. The Marlins also needed seven games to beat the Cubs in the league championship series, but had an extra day to rest.
NLCS MVP Ivan Rodriguez starred in his Series debut. He hit a sacrifice fly in his first at-bat and the 10-time Gold Glove catcher later picked off Johnson at third base to cut short a rally.
The biggest play, however, might have come when third baseman Aaron Boone -- whose homer won that Game 7 -- failed to throw a relay to the plate and allowed a run to score. The mistake angered Wells, who spun around in disgust.
"I couldn't tell" whether Boone had a chance, Torre said.
The Yankees will try for a split at home when Andy Pettitte starts Game 2 Sunday night against Mark Redman. New York also lost the openers in their other two postseason series this year, to Minnesota and the Red Sox and Pettitte followed both with a win.
Comments will be moderated. Keep comments relevant to the article. Remarks containing abusive and obscene language, personal attacks of any kind or promotion will be removed and the user banned. Final decision will be at the discretion of the Taipei Times.