Sports Briefs
■ Racing
Rossi secures pole position
Valentino Rossi of Italy, aiming for his third consecutive Australian Grand Prix win in the MotoGP class, took pole position Saturday after the final round of qualifying. Rossi, the provisional pole winner Friday on a Honda, beat his rivals by almost half a second with a lap time of 1 minute, 30.068 seconds. He was 0.428 seconds quicker than the Ducati of fellow Italian Loris Capirossi. Spanish Honda rider Sete Gibernau took third spot in the final minutes of qualifying ahead of Australian Troy Bayliss. Rossi said he felt more comfortable since clinching the world title last week.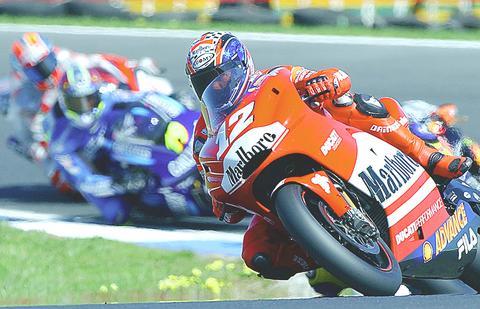 ■ Baseball
Americans trounce France
Darren Blaklery's three-run homer propelled the US to a 14-2 win over France in seven innings, and its fourth straight win in the baseball World Cup Friday. The win in the eastern city of Holguin virtually ensured the US team a quarterfinals berth. France's fourth straight defeat virtually eliminated it from the competition. Also, Canada beat Italy 5-3 in Havana, as pitcher Brent Crowther gave up just three runs on seven hits, and Taiwan topped South Korea 8-2 in the provincial capital of Matanzas for its second win. Jothan Vegan and Avelino Asprilla hit two consecutive home runs to give Panama a 4-2 win over the Netherlands in the easternmost city of Santiago.
■ Racing
Kenny Brack rebounds
Kenny Brack, the IRL driver who was severely injured in the Chevy 500 on Sunday night, was upgraded from serious to satisfactory condition Friday and even felt well enough to crack jokes, his wife said. Brack remains at Parkland Memorial Hospital, but Team Rahal plans to have him transferred him next week to an Indianapolis rehabilitation center that has extensive experience in racing injuries, a team spokesman said. "Kenny was funny and telling us jokes today," said Brack's wife, Anita. "He told the team he would have the Texas race report next week for them. He told them he was a little busy this week to work on it." Brack was injured when his car spun into the air after contact with Tomas Scheckter's car in the closing laps of the race at Texas Motor Speedway in Fort Worth. He had surgery on a broken thigh and broken ankles Sunday night, and on his broken back Monday, when doctors repaired a spinal fracture and fused three vertebrae.
■ Tennis
Serena Williams still out
Serena Williams will miss the rest of the season because of the knee injury that has sidelined her since Wimbledon. Williams, ranked third in the world, announced Friday that she has withdrawn from the WTA tournament beginning Oct. 27 in Philadelphia, and the season-ending Tour Championships in LA in November. This year's Australian Open and Wimbledon champion has not played since having surgery Aug. 1 to repair a partial tear in the quadriceps tendon of her left knee. "I really miss playing tennis and I can't wait to come back and compete," Williams said. "However, I feel that I need more time to prepare and get myself in the best shape possible." Williams, who withdrew from this year's US Open, had won five of the previous six grand slam titles
Comments will be moderated. Keep comments relevant to the article. Remarks containing abusive and obscene language, personal attacks of any kind or promotion will be removed and the user banned. Final decision will be at the discretion of the Taipei Times.