Cubs falter in World Series quest
NL PLAYOFFS Marlins' pitcher Josh Beckett was the hero, despite almost beaning Sammy Sosa, as Florida won itself a reprieve from an early exit
National LeagueJosh Beckett and the Florida Marlins put history on hold -- at least for a couple of days. With the Chicago Cubs set to clinch their first World Series trip in 58 years, Beckett buzzed Sammy Sosa in pitching a two-hitter and leading the Marlins to a 4-0 win in Game 5 of the NL championship series. \nIvan Rodriguez, Mike Lowell and Jeff Conine homered and the Marlins played the role of ultimate spoiler -- at least to thousands of Cubs fans at Pro Player Stadium and millions nationwide -- in closing their gap Sunday to 3-2 and sending the series back to Wrigley Field. \n"We needed a good outing from a starter. I knew that going in. They had roughed us up pretty good," Beckett said. "We needed to pitch better." \nOnly three times in LCS history and five times in World Series play have teams come back from a 3-1 deficit to win a best-of-seven matchup. \nThe Marlins began their comeback behind Beckett, who struck out 11 in the first complete game of his 51 starts in the majors. He also tied the NLCS record for fewest hits allowed in a complete game. \nEven more notable: He became the first pitcher to throw a postseason shutout against the Cubs since Babe Ruth did it for Boston in the 1918 World Series opener. \nBut Beckett's signature moment came in the fourth, when he came close to Sosa. The tension wasn't nearly as high as it was between the Yankees and Red Sox at Fenway Park in the ALCS a day earlier, but it got the ballpark buzzing. \n"He overreacted a lot. I don't know if he was trying to pull a Boston Red Sox-Yankee thing," Beckett said. "It was pretty ignorant. I'm not trying to hit him." \nEven with nearly a century of failure in their past, the Cubs aren't about to panic. At least not yet. \nMark Prior is set to start in Game 6 Tuesday night against Florida's Carl Pavano. If he's needed, fellow ace Kerry Wood would pitch Game 7 the next day as Chicago tries to reach the Series for the first time since 1945. \n"We feel confident with those guys on the mound," Cubs manager Dusty Baker said. \nAt 23, Beckett pitched the best game of his young career, allowing only two singles and a walk. He shut down a Cubs team that had totaled 33 runs in the first four games of the series. \nHowever, Beckett's first pitch in the fourth was a head-high heater to Sosa that caused the slugger to duck and stumble backward. Sosa immediately sprang to his feet and took a couple of steps toward the mound, shouting at Beckett. \nPlate umpire Larry Poncino and Rodriguez, the Marlins catcher, quickly sealed off Sosa to prevent big trouble as a few Cubs rushed to the top step of the dugout. \nRodriguez patted Sosa on the back, trying to calm down his fellow All-Star while they stood several feet up the third-base line. While Rodriguez, Sosa and Poncino were sorting it out, Beckett calmly walked in from the mound and took a new ball from the umpire's bag. \nWhen play resumed, Beckett threw a pair of 158kph fastballs and eventually struck out Sosa looking at a changeup.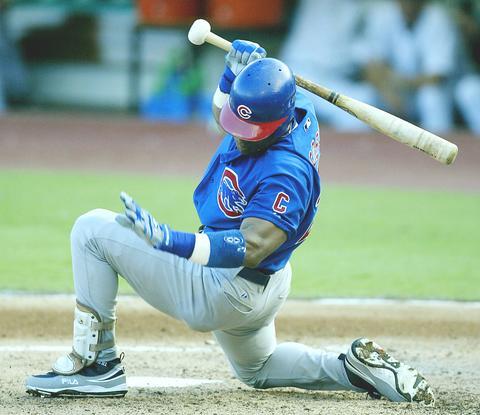 Sammy Sosa of the Chicago Cubs ducks under a pitch thrown by Josh Beckett of the Florida Marlins in the fourth inning during Game 5 of the National League Championship Series in Miami on Sunday.
PHOTO: REUTERS
Comments will be moderated. Keep comments relevant to the article. Remarks containing abusive and obscene language, personal attacks of any kind or promotion will be removed and the user banned. Final decision will be at the discretion of the Taipei Times.