Chicago gets even in series
MAJOR LEAGUE BASEBALL Alex Gonzalez homered twice and Aramis Ramirez also connected for the Cubs. But once again, Sammy Sosa woke up Wrigley Field
The Chicago Cubs put on a startling display of raw power at the plate and on the mound Wednesday as Mark Prior overwhelmed the Florida Marlins 12-3 to even the National League championship series after two games.
"This is the prime time to do it," Cubs manager Dusty Baker said. "He really hasn't had a hot streak all year. It seems when he does, he hits a home run every at-bat.
A day after he tied the game with a two-out, two-run shot in the ninth for his first postseason home run, he hit a two-run drive in the second inning that went even farther. By a lot.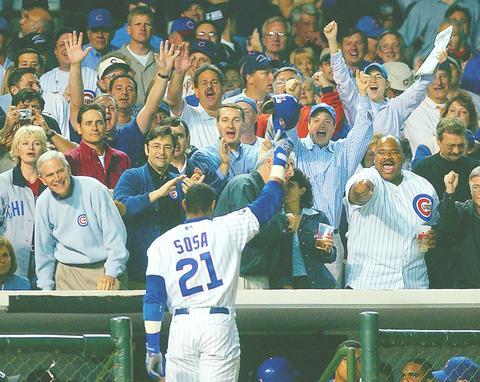 Sammy Sosa of the Cubs waves after hitting a two-run homer against the Marlins in Game 2 of the NL championship series at Wrigley Field in Chicago, Wednesday.
PHOTO: AP
Sosa launched a 148.5m shot that cleared the ivy-covered wall, sailed over the shrubbery that serves as a batter's backdrop and threatened to fly completely out of the park. Only a television camera booth kept the ball from becoming a street souvenir.
Teammate Kenny Lofton, who was on third base, shuddered as he turned around to watch it go. Marlins center fielder Juan Pierre didn't even bother to move.
"He hit that a mile. He can do that every once in a while," Gonzalez said.
Coming off his two-hit gem in the opening round against Atlanta, Prior was good enough. Of course, being handed an 11-0 lead after five innings helped the 23-year-old keep his composure.
"We fell behind too early. When you're down 8-0 in the third inning, you're in trouble," Marlins manager Jack McKeon said.
Now, the best-of-seven series shifts to Pro Player Stadium in Miami for Game 3 Friday night. While the Marlins are one of baseball's best home teams, the Cubs must like their chances with Kerry Wood pitching against Mark Redman.
Wood pitched a two-hitter and a three-hitter against the Marlins this year, striking out a total of 20, and is 4-0 against them lifetime.
Following the Marlins' 9-8, 11-inning win in the opener when the teams combined for an NLCS-record 17 extra-base hits, hitters again wore out the gaps and corners.
This time, the big hits went in Chicago's favor and so did the little ones. Lofton tied an NLCS mark with four hits, all singles.
Prior cruised until the sixth, when Derrek Lee and rookie Miguel Cabrera led off with consecutive home runs that made it 11-2.
Despite the big lead, the sellout crowd of 39,562 was well aware of how resilient the Marlins are. In fact, all four of their wins in this postseason have been comeback victories.
But before anyone could get too worried, the Cubs put any notion of a remarkable rally to rest. Left fielder Moises Alou ran back toward the wall to catch a long drive by pinch-hitter Mike Lowell, and the relay to first caught a stumbling Jeff Conine for an inning-ending double play.
Prior left with two on and no outs in the eighth to a standing ovation, having allowed three runs.
Cubs manager Dusty Baker found a neat way to finish it off, too. He brought in reliever Mark Guthrie, who served up Lowell's game-winning, pinch-hit homer in the opener, for the last two outs.
While Prior was in control, Marlins starter Brad Penny was hit hard. He gave up seven runs in two-plus innings and was hooted off the mound.
Marlins reliever Michael Tejera threw the most memorable pitch, however. His mechanics got messed up in the eighth and somehow he threw the ball over Florida's first-base dugout.
The unseasonably warm weather in Chicago brought out a swarm of ladybugs all around town this week, and they supposedly bring good luck. Whatever, the fates swung in the Cubs' favor.
Marlins shortstop Alex Gonzalez, who made two sensational plays in the late innings to keep Game 1 tied, had two balls tick off his glove for early singles. Both runners wound up scoring.
Mark Grudzielanek's hit helped load the bases in the first inning and Randall Simon slapped a two-out, two-run single to left.
Lofton bounced an RBI single off Gonzalez's glove in the second and stole second. He didn't have to run nearly as hard when Sosa connected with two outs.
Prior and Penny came out zinging and even with Wrigley buzzing, the sound of fastballs popping into catcher's mitts echoed throughout the ballpark.
The radar gun clocked Prior at 151kph and showed Penny slightly faster. Not that it was a good thing for Penny -- as the story goes, this season Marlins manager Jack McKeon had the radar readings shut off at Pro Player when Penny pitched so he wouldn't become fixated and overthrow.
The Boston Red Sox put aside curses and fatigue to burst ahead in the American League championship series.
David Ortiz, Todd Walker and Manny Ramirez homered off a shaky Mike Mussina, and the Red Sox beat the New York Yankees 5-2 in game one of the series Wednesday night.
All the chants and signs reminding Boston of its 85-year title drought only seemed to spur on the Red Sox against their old rivals, who have dominated their Northeast neighbors for decades.
Tim Wakefield befuddled New York with his knuckleball, taking a 5-0 lead into the seventh before he got wild. Three relievers from Boston's beleaguered bullpen completed the three-hitter.
"Our offense came through. It's unbelievable," Wakefield said.
After traveling from Boston to Oakland on Sunday night, then winning Game 5 on Monday night and flying back across the country, the Red Sox seemed bleary eyed when they arrived at Yankee Stadium on Tuesday. But when it came time to play, they had the energy and emotion, not New York, which had been off since winning its first-round series at Minnesota on Sunday. Wakefield said he was going on adrenaline.
"I told all my friends don't call me, because I'm going to be sleeping in," he said.
Ever since December, when Boston president Larry Lucchino called the Yankees the "Evil Empire," the Red Sox have played off imagery from "Star Wars," painting themselves as white knights trying to knock off the 26-time World Series champions.
Following their stunning comeback from a 2-0 deficit against the Athletics, Lucchino even predicted the Red Sox, who haven't won the Series since trading Babe Ruth to the Yankees in 1920 -- supposedly bringing on The Curse -- would have The Force on their side.
Yankees fans kept reminding the Red Sox of their title drought, screaming "1918," but it just seemed to fuel the Red Sox, who flashed their power and rapped out 13 hits, including four by Ramirez, who grew up close to Yankee Stadium.
Game 2 of the best-of-seven series is Thursday night with Derek Lowe trying to make it 2-0 against New York's Andy Pettitte.
Boston, which finished second to New York in the AL East for the sixth straight season, had dropped 12 of its previous 13 games in the ALCS since its last World Series appearance in 1986, including a 4-1 loss to the Yankees in the 1999 LCS.
But the Red Sox struck back on the 47th anniversary of one of the most famous games in baseball and Yankee Stadium history -- Don Larsen's perfect game against Brooklyn in Game 5 of the 1956 World Series.
Mussina, pitching on seven days' rest since losing the first-round opener against Minnesota, wasn't sharp at all, allowing three homers in a game for only the second time this year -- and for the first time in 13 postseason starts. He dropped to 4-4 in postseason play.
While Mussina didn't allow any runs in the second inning, he labored, going to 2-0 counts on four batters, including 3-0 on three.
Boston finally broke through in the fourth. Ramirez reached on a one-hopper to the right side that Mussina just managed to deflect .
Ortiz, who had been 0-for-20 against Mussina, fell behind 0-2, worked the count full and then homered into the front of the right-field upper deck.
Walker made it 3-0 when he led off the fifth with a drive high off the foul pole in right field. While right-field umpire Angel Hernandez signaled it was foul, he was immediately overruled by plate umpire Tim McClelland -- also behind the plate 20 years ago when he took a home run away from George Brett, a call later reversed by AL president Lee MacPhail.
Josh, an 18-year-old from Fair Lawn, New Jersey, who refused to give his last name, said the ball hit his right palm, which was red, and dropped straight down and didn't hit the pole.
"It was a foul ball by at least six inches," he said.
Two batters later, Ramirez homered on a drive that just cleared the right-field wall and a leaping Juan Rivera. Kevin Millar added an RBI single off reliever Jeff Nelson in the seventh for a 5-0 lead.
Wakefield, who improved to 3-0 in LCS play, took a two-hit shutout into the seventh but walked his first two batters and was replaced by Alan Embree. Jorge Posada hit an RBI double and Hideki Matsui followed with a sacrifice fly, but Aaron Boone and Nick Johnson flied out.
Mike Timlin pitched the eighth, and Scott Williamson closed out the ninth for the save.
Comments will be moderated. Keep comments relevant to the article. Remarks containing abusive and obscene language, personal attacks of any kind or promotion will be removed and the user banned. Final decision will be at the discretion of the Taipei Times.