Ramirez blasts the Red Sox forward
MLB PLAYOFFS Boston won its fourth playoff series since its last World Series title in 1918. The Red Sox will now meet the Yankees in the AL championship series
Pedro Martinez pitched seven gritty innings, and Manny Ramirez broke his slump with a decisive three-run homer as the Boston Red Sox completed a three-game playoff comeback, beating the Oakland Athletics 4-3 Monday night in Game 5 of their American League division series.
Boston got its fourth playoff series victory since its last World Series title in 1918, while Oakland's frustration continued. The A's have lost nine straight games in which they could have clinched postseason advancement, extending a major league record.
Boston meets the Yankees, its traditional rival, in the AL championship series starting Wednesday night in New York. The Red Sox had to withstand a rally attempt in the ninth to get there.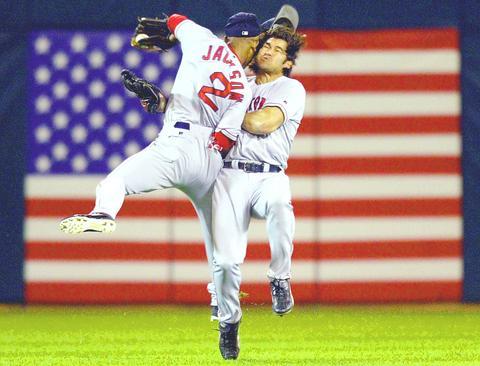 Boston Red Sox outfielders Johnny Damon, left, and Damian Jackson collide while attempting to catch a hit by Oakland Athletics' Jermaine Dye in the seventh inning in game five of the American League Division Series playoffson Monday. Jackson and Damon both left the game with undisclosed injuries.
PHOTO: EPA
Reliever Scott Williamson, making his fifth straight appearance for Boston, led off the inning by walking Scott Hatteberg and Jose Guillen. Red Sox manager Grady Little went to Derek Lowe, the Game 3 starter and Game 1 loser out of the bullpen. This time, Boston's No. 2 starter came through.
After Ramon Hernandez bunted pinch-runner Eric Byrnes and Guillen into scoring position, Lowe threw a called third strike past pinch-hitter Adam Melhuse _ the A's backup catcher who had three hits in Game 4 Sunday.
Moments later, Chris Singleton topped a weak grounder down the first-base line -- but Kevin Millar didn't charge it in time to prevent it from going foul. Lowe then walked Singleton, loading the bases.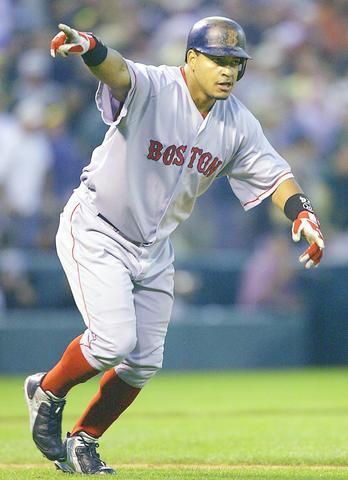 Manny Ramirez reacts after hitting a three-run home run off of Athletics' starter Barry Zito in the sixth inning of Game 5 of the AL Division playoff series.
PHOTO: EPA
The A's countered with pinch-hitter Terrence Long, who was just 2-for-7 in the series. Long took an inside fastball for another called third strike -- and the Boston bench and bullpen emptied onto the field in celebration.
"This team has been remarkable all year in our ability to never quit, never give in," Boston's Jason Varitek said.
The game that began as a tense duel between former Cy Young Award winners Martinez and Barry Zito took a different tone in the final innings after a scary injury to Damon, Boston's leadoff hitter and center fielder.
Damon left the field in an ambulance following a frightening head-to-head collision with second baseman Damian Jackson. Both players were converging on Jermaine Dye's fly ball in the seventh.
Jackson shook it off, but Damon was knocked unconscious with a concussion. The game was delayed 10 minutes until Damon, awake and alert, raised his hand to loud cheers from the Coliseum crowd as he was loaded into the ambulance on a stretcher. He was taken to a hospital for evaluation.
Boston had taken a 4-1 lead on Ramirez's homer -- punctuated by a showboating walk to first base.
Oakland battled back with runs on Miguel Tejada's double in the sixth and pinch-hitter Billy McMillon's RBI single in the eighth, which chased Martinez.
But Boston's relief crew, which blew Game 1 of the series and numerous leads during the regular season, bailed out Martinez with three straight outs in the eighth after the ace allowed two hits and a run.
It was all just a prelude to Lowe's season-saving work in the ninth.
"I knew we were going to make it because I have confidence in my teammates," Ramirez said.
The Red Sox will face the Yankees in the playoffs for just the second time, following a 4-1 loss in the 1999 AL championship series. New York won 10 of 19 games against Boston during the regular season, but the Red Sox frequently teed off on Yankees pitchers.
The A's won the first two games of a series dominated by tight games and emotional finishes, but Boston rallied for two dramatic victories at Fenway Park last weekend.
Boston became the fourth team to rally from an 0-2 deficit in a division series since the round was added to postseason play in 1995. The Red Sox also did it in 1999 against Cleveland.
Martinez, pitching on full rest, fell behind early but stayed strong in his duel with Zito, who was pitching on three days' rest for the first time in his career.
It was the first time in postseason history that two Cy Young Award winners faced each other in a decisive Game 5 or Game 7, according to the Elias Sports Bureau.
Zito took a one-run lead into the sixth after Guillen's RBI double in the fourth.
But Varitek led off the sixth with his second homer of the postseason. After Damon walked and Todd Walker was hit by a pitch with one out, Ramirez pounded a homer into left field.
Boston's imposing cleanup hitter had just three singles in 18 at-bats before the homer. Ramirez made the most of his first postseason homer since 1998, standing at the plate to admire his blast before walking slowly up the baseline while pointing at his celebrating dugout.
``I was looking in, and he gave me the pitch, and I went deep,'' said Ramirez, who struck out in his other three at-bats.
A crowd of 49,397 was well aware of the historic implications of the decisive game.
The A's got almost no contributions from Miguel Tejada and Eric Chavez. Oakland's top two run-producers during the regular season combined to go 3-for-45 in the series, and both made outs with a runner on base in the eighth.
Comments will be moderated. Keep comments relevant to the article. Remarks containing abusive and obscene language, personal attacks of any kind or promotion will be removed and the user banned. Final decision will be at the discretion of the Taipei Times.