Scottish team prepares for heat
WORLD CUP RUGBY If the Scots are to break a virtual monopoly on semifinal spots held by Australia, New Zealand, South Africa, England and France, then they'll need to win their opening two matches convincingly and then beat Fiji and the French
The Scottish rugby squad arrived at its World Cup base camp yesterday amid cloudy conditions more familiar to home than the heat and humidity expected when the six-week tournament starts in Australia. \nScotland coach Ian McGeechan said he'd put his squad through eight sessions in glasshouses at Edinburgh's botanic gardens to prepare them for the type of climatic conditions they'll likely encounter in their opening group matches in Townsville and Brisbane. \nAfter 32 hours in transit, the Scots traveled the last 100km by bus in windy and overcast conditions from Brisbane airport to Caloundra, a coastal city north of the Queensland capital. \nThe Caloundra hinterland nestles into the Glasshouse Mountains, an appropriate training base considering McGeechan's methods. \n"The training in the botanic gardens has worked, the players have changed, they have adapted," McGeechan told reporters. \nScotland, a semifinalist at the 1991 World Cup, opens its campaign against Japan at Townsville in far north Queensland on Oct. 12 and then faces the US in Brisbane on Oct. 20. \n"You get the momentum in the pool stages -- and that starts in the first game," said McGeechan. "You have to come into these games spot on -- your attitude, your preparation, your rugby all has to be spot on. \n"Sides in the World Cup that do well get that momentum from early on." \nWhile momentum was important in any case, a win over France would almost certainly help the Scots avoid a quarterfinal showdown against host Australia in Brisbane. \nMcGeechan plans to retire after the World Cup. He's been involved in four World Cup tournaments, is in his second stint as Scotland coach and has guided the British and Irish Lions on three tours. \nHe's been working on an expansive gameplan for the Scots, spreading the ball wide and often to counter teams that dominate at the set pieces. \n"We've been trying to evolve that style over the past three years and just lately we've been more consistent ... when we get it right, it does create quite a dynamic game which does suit us." \nScotland's recent form wasn't a good indicator of what to expect at the cup, McGeechan said. \nThe Scots lost 29-10 to Ireland at Murrayfield and a 23-9 upset loss to Wales at Cardiff. \n"The Welsh game was the first for a lot of players and I think they took it a little too lightly," he said. "They thought it was going to be easy which just shows that mentally, if you're not right there, then the performance doesn't come." \nMcGeechan liaised with former Australian coach Rod Macqueen on choices for World Cup training venues and selected Caloundra because it was where the world champion Wallabies went into camp when Macqueen was in charge.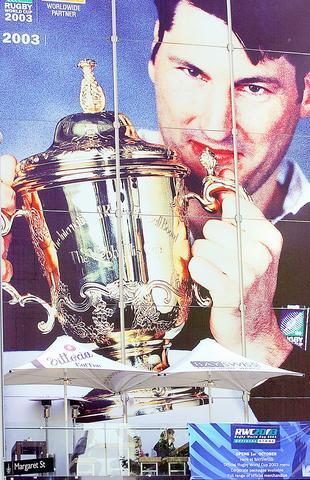 A Rugby World Cup billboard featuring former Australian captain John Eales with the Webb Ellis Cup hangs over a balcony restaurant in Sydney Tuesday. The first match of the World Cup will be Oct. 10 with hosts Australia playing Argentina.
PHOTO: AP
Comments will be moderated. Keep comments relevant to the article. Remarks containing abusive and obscene language, personal attacks of any kind or promotion will be removed and the user banned. Final decision will be at the discretion of the Taipei Times.