Big hitters put Red Sox back on track
MLB ACTION Manny Ramirez and David Ortiz hit crucial home runs to beat Oakland Athletics 14-5 and stave off a three-game sweep despite the absence of Pedro Martinez
With Pedro Martinez sidelined, Manny Ramirez homered and drove in three runs on Thursday as the Boston Red Sox avoided a three-game sweep by beating the Oakland Athletics 14-5. \n"It was only a matter of time before the Red Sox swung the bats like they did tonight," Oakland's Eric Chavez said. \nDavid Ortiz hit a three-run homer for Boston, which pulled within a game of the Athletics in the American League wild-card race. \nMartinez was scratched from his scheduled start because of a severe sore throat and fever. In his place, left-hander Casey Fossum (6-5) gave up five runs on eight hits in 5 1-3 innings. \nRich Harden (3-3) walked seven and gave up eight runs and four hits in 2 2-3 innings. Before the game, the A's put left-hander Mark Mulder on the 15-day disabled list retroactive to Wednesday with right hip tendinitis. \nBlue Jays 7, Mariners 3 \nIn Toronto, Mark Hendrickson (8-9) took a two-hit shutout into the eighth inning, then allowed a two-run homer to Dan Wilson as Toronto beat Seattle. \nAL West-leading Seattle opened a seven-game road trip by losing two of three at SkyDome. The Mariners start a four-game series at Boston on Friday. \nAngels 10, Tigers 7 \nIn Detroit, Scott Spiezio hit a tiebreaking two-run double in the seventh inning off Matt Roney (1-9) as Anaheim dealt Detroit its ninth straight loss. \nDetroit dropped to 31-95 and is just 6-28 since the All-Star break. The Tigers matched their longest losing streak this season -- they opened with nine straight loses and also dropped nine in a row from June 21-29. \nThe Tigers are the first team with three losing streaks of nine or more since the 1998 Florida Marlins, according to the Elias Sports Bureau. \nJeff DaVanon homered and doubled for the Angels, who stopped a three-game losing streak. \nOrioles 5, Devil Rays 4 \nIn Baltimore, Tony Batista homered off Jesus Colome (3-7) leading off the bottom of the 10th as Baltimore beat Tampa Bay. \nBaltimore overcame a 4-0, seventh-inning deficit. \nTwins 4, Royals 3 \nIn Minneapolis, Shannon Stewart hit a tying, three-run homer in the sixth inning and the go-ahead RBI single in the seventh to help Minnesota knock Kansas City out of first place. \nThe Royals, Chicago White Sox and Twins all began the day within a half-game of each other in the AL Central. The last time Minnesota was ahead of Kansas City was June 30. \nThe Royals, who have lost four straight games and seven of nine, play the Twins three more times this weekend. \nWhite Sox 7, Rangers 3 \nIn Chicago, Frank Thomas and Joe Crede homered to back Bartolo Colon as Chicago moved into first place in the AL Central by beating Texas. \nBrewers 5, Phillies 2 \nKeith Ginter hit a go-ahead homer off Vincente Padilla in the sixth inning and Jason Conti hit a two-run homer as the Milwaukee Brewers beat the Philadelphia Phillies to complete a three-game sweep. \nAfter a five-game winning streak, including a three-game sweep of St. Louis, the Phillies are 0-3 on a season-high 13-game, four-city road trip. Philadelphia began the day a half-game ahead of Florida in the National League wild-card race. \n"Obviously, everything is under the 'scope," Phillies manager Larry Bowa said. \nLeo Estrella (4-2) got one out for the win, and Dan Kolb pitched the ninth for his 10th save. Vincent Padilla (11-9) allowed three runs and four hits in the five innings. \nDodgers 2, Expos 1 \nIn Los Angeles, Cesar Izturis hit a pair of RBI doubles off Zach Day (7-5), and Odalis Perez (10-9) won his fourth straight start, allowing nine hits in eight innings as Los Angeles beat Montreal. \nEric Gagne got three outs for his 42nd save, extending his streak of consecutive saves converted to 50 -- four short of Tom Gordon's record. \nMets 5, Padres 1 \nIn San Diego, Ty Wigginton hit a three-run homer in the first inning off Oliver Perez (4-7) and Roger Cedeno added a two-run shot in the second as New York avoided a three-game sweep to San Diego. \nAstros 9, Cubs 3 \nIn Houston, Craig Biggio hit a two-run homer as Houston beat Kerry Wood (11-10) for the third time this season to give Houston a win over Chicago. \nCardinals 6, Pirates 3 \nIn St. Louis, Jim Edmonds hit his second homer of the game, a three-run shot off Joe Beimel in the ninth as St. Louis beat Pittsburgh. \nRockies 5, Marlins 4 \nIn Denver, Todd Helton led off the ninth inning with a homer against Braden Looper (4-3) as Colorado completed a three-game sweep of Florida. \nFlorida rallied for two runs in the eighth and tied it in the ninth on Alex Gonzalez's homer off Justin Speier (3-1). \nDiamondbacks 9, Reds 3 \nIn Phoenix, Junior Spivey homered for the second time in three games and Luis Gonzalez drove in two runs to lead Arizona over Cincinnati. \nGiants 4, Braves 3, 10 innings \nIn San Francisco, Barry Bonds beat Atlanta with an extra-inning home run for the second time in three days, connecting for his 652nd career home run in the 10th inning of San Francisco's victory. \nAfter Atlanta tied it with a stirring, three-run rally in the ninth, Bonds hit his major league-leading 39th homer on the first pitch he saw from Trey Hodges (3-2). The drive -- Bonds' 100th career homer at Pacific Bell Park -- landed in the center-field stands, and his teammates mobbed Bonds at home plate.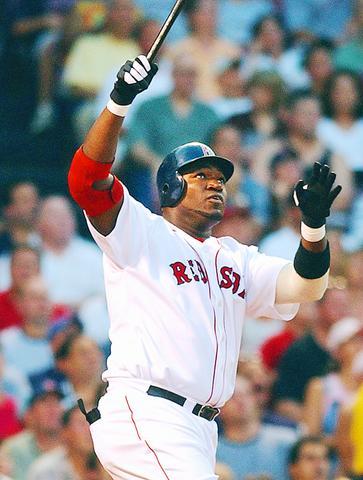 Boston Red Sox' David Ortiz raises his bat as he watches the ball go deep on his three-run home run off Oakland Athletics starting pitcher Rich Harden in the first inning at Fenway Park in Boston, on Thursday.
PHOTO: AP
Comments will be moderated. Keep comments relevant to the article. Remarks containing abusive and obscene language, personal attacks of any kind or promotion will be removed and the user banned. Final decision will be at the discretion of the Taipei Times.