Tokyo's pitchers shine in Little League World Series
Shigeki Umeda, Masato Komuro, Ippei Endoh and Yuutaro Tanaka of Tokyo combined for a perfect game Tuesday, each pitching one inning in a 17-0 win over Saudi Arabia at the Little League World Series.
Also, Venezuela beat Mexico 6-2, Netherlands Antilles topped Canada 2-1 and Richmond, Texas, beat Wilmington, Delaware 7-1. Venezuela and Netherlands Antilles will meet in Wednesday's international semifinals while Tokyo will play Mexico City in the other game on Thursday.
Richmond will play unbeaten Saugus, Massachusetts, on Thursday. Tuesday's late game had Eldridge, Iowa, against Chandler, Arizona.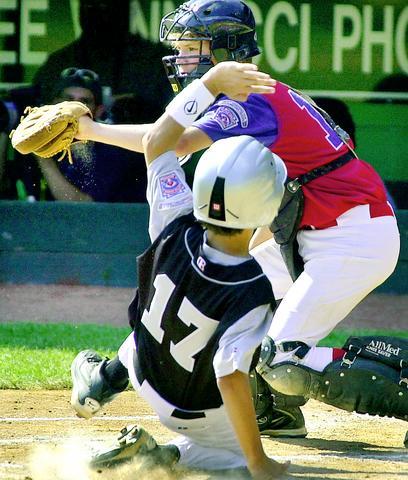 Richmond, Texas' Kimmy Michalek arrives ahead of the throw to Wilmington, Delaware catcher Scott Dougherty during fourth inning Little League World Series tournament action in South Williamsport, Penssylvania, Tuesday.
PHOTO: AP
On Tuesday, Komuro (1-0) was the winner in the four inning game.
It was the first time more than one pitcher combined for a perfect game at the series and the first perfect game at the series since Kiyoshi Tsumura pitched one for Chofu, Japan, in 1976.
Danny Almonte of Rolando Paulino Little League in the Bronx, New York, pitched a perfect game against Apopka, Florida, in 2001, but that game was erased from the record books when Little League learned Almonte was too old to play.
Tokyo (3-0) scored seven runs in the first inning.
The game was shortened because of a rule halting games in which a team is winning by at least 10 runs after four innings.
Kevin Moesquit hit a two-run double in the third inning as Willemstad, Curacao, Netherlands Antilles made the most out of two hits in beating Glace Bay, Nova Scotia, Canada, 2-1.
Rojean Cleofa opened the third inning with a single but was forced out at second on Rashid Ellis' grounder to shortstop. Jonathan Schoop walked and both runners advanced on a wild pitch before Moesquit hit a two-run double off the center field fence to put Curacao in front, 2-1.
Richmond batted around in a seven-run fourth inning to advance to the US semifinals. David Mastro homered in the first inning to give Wilmington a 1-0 lead.
In the fourth, Richmond had seven hits -- including an RBI double by Wayne Willis and RBI singles from Jimmy Michalek and Cody Robinson.
Publication Notes
Other games
* Mexico City 11, Agana, Guam 3
* Altagracia, Venezuela 7, Khovrino, Moscow 1
* Saugus, Massachusetts 4, Boynton Beach, Florida 3
Comments will be moderated. Keep comments relevant to the article. Remarks containing abusive and obscene language, personal attacks of any kind or promotion will be removed and the user banned. Final decision will be at the discretion of the Taipei Times.