Armstrong and Ullrich face off in time trial
Lance Armstrong's toughest ever Tour de France battle isn't over yet.
The most exciting Tour in recent memory has been a little too unpredictable to expect no further drama in Saturday's decisive 49km time trial.
Although four-time champion Armstrong holds a 1 minute, 5 second lead over archrival Jan Ullrich of Germany following Friday's 18th of 20 stages, such a margin, although substantial, offers no guarantee of victory.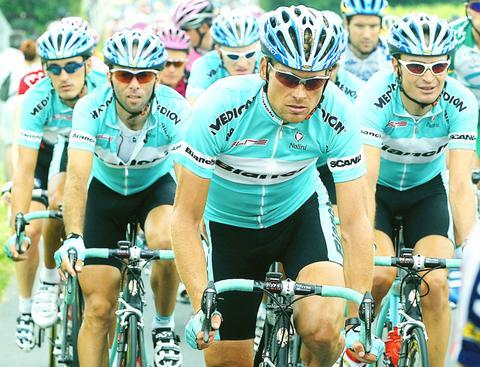 Second-placed Jan Ullrich of Germany, foreground, rides with his Team Bianchi teammates during the 18th stage of the Tour de France cycling race between Bordeaux and Saint-Maixent-l'Ecole, on Friday.
PHOTO: AP
Ullrich, a 1997 Tour winner and two-time runner-up to the Texan in 2000 and 2001, holds perhaps the psychological advantage as this tightest of tussles approaches its denouement.
In a stunning ride on July 18, Ullrich clinched the Tour's first time trial by a whopping 96 seconds, pushing a dehydrated, shattered Armstrong into second place.
He reduced the Texan's overall lead to 34 seconds that scorchingly hot day and shaved it to 15 the following afternoon in the first Pyrenees mountain grind of this punishing centennial Tour.
The talk then was of Armstrong's demise. Out of sorts and short on legs, the Texan tumbled from his bike in the third Pyrenees stage Monday -- his second crash in an event-packed Tour.
But, after Ullrich showed commendable sportsmanship to wait for his fallen adversary, Armstrong zoomed past the German in an inspiring uphill sprint to extend his lead again, this time to 1:07.
Armstrong held that advantage until Friday -- when Ullrich skimmed two small, precious, seconds back in a flat 203.5km route from Bordeaux to Saint-Maixent-L'Ecole in west-central France.
Ullrich edged Armstrong in a sprint section of the super-fast course when he placed second in the intermediate sprint a quarter-way into the stage, earning him four bonus seconds. Armstrong was third, getting two seconds -- meaning his overall lead over the 29-year-old dropped by two seconds.
"It's not important. I don't think the Tour will be decided by two seconds," a defiant Armstrong said Friday -- adding that he'd "expected" Ullrich to attack, but found the German's tactics ``a little bit risky.''
In such flat, quick stages as Friday's, a rider can be easily caught when sprinting ahead -- but Ullrich's effort paid off, if only minimally.
Spaniard Pablo Lastras won Friday's stage with an average speed of 49.938kph -- the second-fastest road stage in Tour history. Lastras beat France's Carlos Da Cruz in the last few meters (yards). Italy's Daniele Nardello, of Team Telekom, was third.
Ullrich placed 24th; Armstrong 45th -- both 24:05 behind Lastras.
Not since 1989 has the Tour been so gripping. Back then, American Greg Lemond, racing at a breakneck pace of 54.545kph, beat Frenchman Laurent Fignon by just eight seconds on the final day. Fignon slumped over his handlebars aghast at the finish -- where French fans stared in disbelief.
Comments will be moderated. Keep comments relevant to the article. Remarks containing abusive and obscene language, personal attacks of any kind or promotion will be removed and the user banned. Final decision will be at the discretion of the Taipei Times.