Taiwan's own now starts for Colorado
MAJOR LEAGUE BASEBALL Tsao Chin-hui has made an indelible mark in the record books of America's beloved sport as the first Taiwanese to pitch in the big leagues
Tsao Chin-hui (曹錦輝) became Major League Baseball's first Taiwanese pitcher and won in his debut as the Colorado Rockies beat the Milwaukee Brewers 7-3 on Friday night.
Tsao allowed three runs on eight hits in 6 1-3 innings, and Larry Walker and Preston Wilson homered for Colorado, which won for just the third time in nine games since the All-Star break.
Tsao played in front of nearly 40,000 fans and the win silenced doubters concerned with the 22-year-old's recent direct promotion to the majors from Double-A Tulsa, completely skipping any playing time with the Rockies' Triple-A affiliation in Colorado Springs.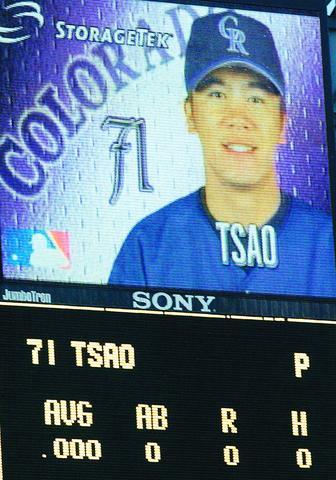 Chin-Hui Tsao of Taiwan is seen on the scoreboard with a blank slate of statistics as he started his first Major League Baseball game for the Colorado Rockies in Denver, on Friday.
PHOTO: REUTERS
"The team wanted to give him [Tsao] as much big league exposure as possible to help prepare him for the future," Tsao's agent Dean Yuan (袁定文) of the Naluwan Corp told local media at a post-game press conference. "That's why he is playing in the majors now, instead of in September."
During the game, Tsao quickly learned why Coors Field is referred to as "the pitcher's grave" as he watched his second pitch of the game to Brewers leadoff man Eric Young sailed over the left field fence for a solo home run.
The Brewers would make it 2-0 in the second inning on pitcher Wes Obermueller's run-scoring single, after collecting two straight hits off Tsao to put runners on the corners.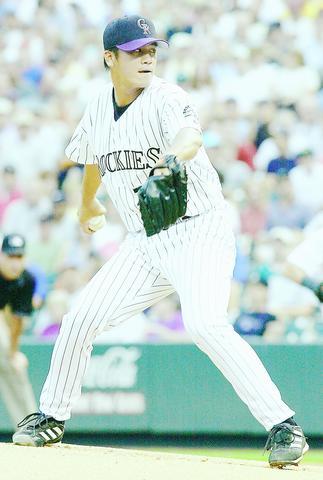 Colorado Rockies rookie starting pitcher Chin-hui Tsao throws to Milwaukee Brewers batter Richie Sexson in the first inning in Denver on Friday. Tsao made history as the first Taiwanese pitcher to play in the big leagues.
PHOTO: AP
The Rockies offense came right back in the bottom of the same inning as it cut the lead in half on third baseman Chris Stynes' two-out RBI single to give Tsao some much needed assurance.
That seemed to have an effect on Tsao because he would settle in and retire nine of the next 11 batters that he faced, giving up only a single and a walk in three scoreless innings.
The Rockies bats then suddenly came alive and pounded Brewers starter Obermueller for three runs in the bottom of the fourth, highlighted by back-to-back blasts by all-star centerfielder Preston Wilson and right fielder Larry Walker to give Tsao his first lead of the game at 4-2.
The Brewers made things interesting against Tsao in the top of the sixth on right fielder John Vander Wall's solo home run to deep right to make it 4-3. But the youngster kept his composure and stopped any further damage with three quick outs to close out the inning.
Tsao remained in the game with a 4-3 lead and one out in the seventh frame before he was relieved by left-hander Javier Lopez with a runner on first.
Lopez would strike out the next two batters to end the threat in the seventh and lead the way for relievers Adam Bernero and Justin Speier who held the Brewers scoreless the rest of the way to preserve the 7-3 victory for Tsao.
The native of Hualien gave up three runs on eight hits and fanned five in 6-1/3 innings of play for the game.
"Overall, it was a decent outing for Tsao," Richard Wang, CPBL director of international affairs, said in a telephone interview with the Taipei Times from Coors Field. "I wish he had more ground-outs [4] than fly-outs [10], because any fly ball has a chance to be gone in [the thin air of] Coors Field."
The Rockies' coaching staff was pleased with Tsao's performance despite his shaky start.
"I was very pleased with his effort, especially since the second bullet he fired up there ended up in the left-field bleachers," Rockies manager Clint Hurdle told the American media. "I thought he was very resilient, he was very focused."
Tsao, savoring the taste of his first major-league victory, was more critical than his manager.
"I would rate myself in the 70th percentile today," Tsao told local reporters in a telephone interview. "You definitely can't make too many mistakes here in the big leagues, because the hitters here will make you pay every time."
The Rockies issued 40 extra media credentials, including 20 from Taiwanese media, and the game was televised in Taiwan. Several fans waived mini Taiwanese flags during the game and a group of Asian fans behind Colorado's dugout held up "K" signs each time Tsao struck out a batter -- five for the game.
Los Angeles outfielder Chen Chin-feng became the first Taiwanese player in the majors last September at Coors Field.
Wes Obermueller (0-1) allowed four runs -- three earned -- on five hits in six innings in his first appearance this season.
The Brewers opened a 10-game road trip with their seventh straight loss at Coors Field.
Marlins 11, Phillies 5
In Miami, Consecutive bases-loaded walks issued by Philadelphia relievers Mike Williams and Carlos Silva forced home the tying and go-ahead runs for Florida, which scored eight times in the eighth inning to beat the Phillies.
Florida drew five walks in the inning against Williams (1-4) and Silva to take the lead, then broke it open on consecutive run-scoring singles by Miguel Cabrera, Alex Gonzalez, Todd Hollandsworth and Juan Pierre.
Derrek Lee homered, doubled, singled and walked twice for Florida, which beat Philadelphia for the sixth straight time and moved within four games of the Phillies in the NL wild-card race.
Placido Polanco's three-run homer off Ugueth Urbina (1-0) gave Philadelphia a 4-3 lead in the seventh, but it was short-lived.
Giants 5, Padres 2
Pedro Feliz hit a three-run homer in the ninth inning for the second game-ending shot in two days by San Francisco, which won its ninth straight. Feliz started in left field in place of slugger Barry Bonds, who missed the game to be with his father, Bobby, who underwent open-heart surgery.
Bonds hit a game-ending homer Thursday and also made a run-saving throw to the plate on his 39th birthday.
Feliz came up with runners on second and third and one out and was mobbed at home plate by his teammates after hitting his 10th homer of the season on a 3-2 pitch from Jay Witasick (2-2).
Felix Rodriguez (6-0) pitched one inning for the victory.
Derek Jeter's sacrifice fly in the ninth inning gave New York a 4-3 victory over Boston on Friday night and moved the Yankees 3 1/2 games ahead of the Red Sox in the AL East.
Enrique Wilson led off the ninth with a single, stole second and advanced to third on a groundout before Jeter looped a fly to center field off Red Sox closer Kim Byung-hyun (3-3).
Mariano Rivera (5-0) gave up a one-out double to Nomar Garciaparra in the bottom of the ninth and walked Manny Ramirez, but struck out Kevin Millar and got Jeremy Giambi to line out to second base to seal the win.
Rivera, in relief of Armando Benitez, allowed Jason Varitek's bloop single that tied it at 3 in the eighth. The Yankees took a 3-2 lead on Bernie Williams' RBI single off Pedro Martinez in the seventh.
Martinez threw 128 pitches -- his most since May 1, 2001, when he threw 136 in eight innings against Seattle.
Martinez gave up seven hits and struck out 10 in 6 2-3 innings.
White Sox 7, Devil Rays 2
In Chicago, Frank Thomas hit his 400th career home run, becoming the 36th player in major league history to reach the mark, as Chicago beat Tampa Bay.
There were two on-field attacks at US Cellular Field in the past year. Kansas City Royals first base coach Tom Gamboa was attacked by a father and son during a game against the White Sox at Chicago last September.
Umpire Laz Diaz was accosted by a fan at the same ballpark in April.
Carlos Lee also homered, and Esteban Loaiza (13-5) allowed two runs and eight hits in 6 1-3 innings for the White Sox, who have won eight straight -- their longest streak since winning nine straight July 1-9 in 1977.
Twins 6, Indians 5
In Cleveland, Doug Mientkiewicz hit a tiebreaking double in the ninth inning, leading Minnesota over Cleveland.
Danys Baez (0-7) gave up a single to Cristian Guzman leading off the ninth. Guzman stole second and scored on a two-out hit by Mientkiewicz, who finished with two doubles and two RBIs.
LaTroy Hawkins (8-2) got two outs in the eighth for the win.
Eddie Guardado pitched a perfect ninth, striking out two for his 24th save.
Blue Jays 5, Orioles 3
In Toronto, Cory Lidle won for the first time in more than a month and Carlos Delgado drove in four runs, including his AL-leading 29th homer, as Toronto beat Baltimore. Delgado's three-run shot off Jason Johnson (8-5) was his first homer in 72 at-bats since July 2 -- his longest drought this season. The All-Star first baseman leads the majors with 103 RBIs and is the first Toronto player to have 100 RBIs in six straight seasons.
Lidle (11-8) went 0-4 with a 10.86 ERA in his previous five starts. He allowed three runs on nine hits in seven innings.
Mariners 11, Rangers 5
In Seattle, Mike Cameron, Ichiro Suzuki and Bret Boone homered in a six-run fourth inning as Seattle beat Texas.
Boone drove in four runs with a pair of two-run homers for the AL West-leading Mariners, who hit four homers in a game for the second time this season.
Suzuki, who has a career-best 10 homers this season, and Cameron each drove in three runs.
Texas' Rafael Palmeiro hit his 512th home run to move past Mel Ott into a tie for 14th place on the career list with Ernie Banks and Eddie Mathews. Next up is Ted Williams and Willie McCovey at 521.
ESPN broadcasts MLB games live on Friday, Saturday and Sunday in Taiwan.
Comments will be moderated. Keep comments relevant to the article. Remarks containing abusive and obscene language, personal attacks of any kind or promotion will be removed and the user banned. Final decision will be at the discretion of the Taipei Times.