Teenager beats Magnus Norman
CROATIA Sixth-seeded Rafael Nadal secured a 3-0 lead against Norman in the first set, and the Swede lost his last chance to break in the eighth game of the second set
Spanish teenager Rafael Nadal reached his first ATP semifinal Friday, beating former Croatia Open champion Magnus Norman of Sweden 6-3, 6-4 in the US$452,000 tournament. \nNadal will next face top-seeded countryman and defending champion Carlos Moya, who ousted eighth-seeded David Ferrer of Spain 6-1, 6-2. \n"I don't think I have a lot of chance against [Moya], but it certainly would be a good match," Nadal said before Moya's victory. Nadal beat Moya at the Hamburg Masters in May. \nThe sixth-seeded Nadal secured a 3-0 lead against Norman -- the 1999 winner and 1998 finalist -- in the first set, and the Swede lost his last chance to break in the eighth game of the second set. \n"It was a hard match for both of us," Nadal said. "It wasn't my best day. But the most important thing is that I won." \nNadal is ranked 58th and is likely to break into the top 50 on a 12-match win streak in the tournament. Moya, who beat Ferrer in the final here last year, profited from his opponent's numerous unforced errors while Ferrer smashed his racket on the ground three times during the match. \n"I was self-confident, and he was tired," Moya said. "It would be much harder" to defeat Nadal. \nIn the most dramatic match of the tournament, which lasted 2 1/2 hours, second-seeded Fernando Gonzalez of Chile was ousted by seventh-seeded Italian Filippo Volandri 4-6, 6-2, 7-6 (4). \nGonzalez, who retired in the semifinals in Stuttgart last weekend due to stomach pains, suddenly vomited on the court at match point in the second set. \nAfter that, he openly showed fatigue and pain, but continued to fight. He lost another two match points, but also stripped Volandri of one at 6-5 in the third set. Volandri prevailed in the tiebreak. \nIt was not immediately clear what troubled Gonzalez. \nIn the semifinals on Saturday, Volandri will face Dominik Hrbaty of Slovakia, who downed Alberto Martin of Spain 7-5, 6-2.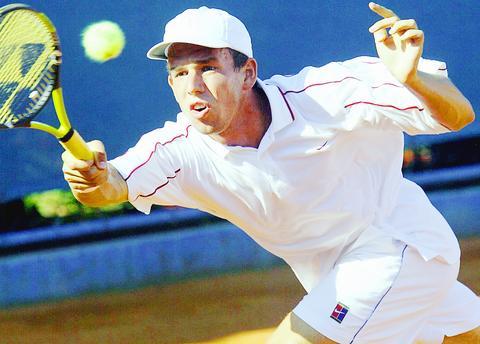 Dominik Hrbaty of Slovakia returns a forehand against Alberto Martin from Spain during their quarterfinal match of Croatia Open ATP Tour in Umag, on Friday.
PHOTO: AFP
Comments will be moderated. Keep comments relevant to the article. Remarks containing abusive and obscene language, personal attacks of any kind or promotion will be removed and the user banned. Final decision will be at the discretion of the Taipei Times.