Dokic gets upset by Vento-Kabchi
Jelena Dokic was upset at the Bank of the West Classic on Friday, beaten by qualifier Maria Vento-Kabchi of Venezuela 6-4, 6-3. \nThird-seeded Jennifer Capriati nearly lost her composure when a set-deciding line call went against her, but she rallied to beat ninth-seeded Lisa Raymond 6-1, 6-7 (5), 6-4 in front of a sellout crowd. \n"I was trying not to get frustrated," Capriati said. "I kept serving at a hard pace. She was playing well but I think she was getting a little bit tired." \nKim Clijsters, the second seed, beat unseeded Marie-Gaianeh Mikaelian 4-6, 6-0, 6-1 in another quarterfinal match. Clijsters advanced to the semifinals and will face Francesca Schiavone, who beat Amy Frazier 7-6 (5), 6-3. \n"It will be a great match because I know how to play against her," Schiavone said. "She's a fantastic player and I've learned a lot from her." \nIn the late match, Capriati took charge by winning the final 15 points of the first set, but Raymond responded with a strong second set to force a tiebreaker. Capriati saved three set points before a line call gave the set to Raymond. \nCapriati vehemently protested the call, earning a code violation. After a long bathroom break, she emerged with a new outfit and more choice words for the chair umpire. \n"I got out what I wanted to get out and I felt better after that," she said. \n"I'm not going to let things like that make me lose." \nShe fell behind 3-1 in the third set, but saved two break points and then started hitting the ball harder. She rolled to the finish, closing out Raymond with a series of big groundstrokes. \n"I didn't get enough first serves in when I was up a break in the third set," Raymond said. \n"If I believed a little bit I could have been the one standing here the winner. There was some great tennis out there." \nVento-Kabchi, who failed to qualify in her first four events of the year, broke Dokic to go up 4-3 in the second set, then closed the match with five straight points. \n"She just didn't miss," Dokic said. "She played a good match and she didn't give me a chance at all. She didn't make many errors." \nVento-Kabchi turned pro full-time nine years ago and will play Capriati in her first major WTA Tour semifinal. \n"This feels very special because I had to beat two of the top players in the world right now," said Vento-Kabchi, who defeated eighth-seeded Nadia Petrova in the first round. \n"I've been playing great this week and been able to keep my concentration. This is what I needed to gain confidence." \nAfter having difficulty in the first set of her match, Clijsters won 25 of 35 points in the second and was never seriously threatened. \n"In the first set she was going for all the shots and everything was going her way," said the second-ranked Clijsters. \n"After that I kept breaking her and got more confidence in my return. I feel like I'm moving well and defending good. I'm very happy with the way I'm playing at the moment."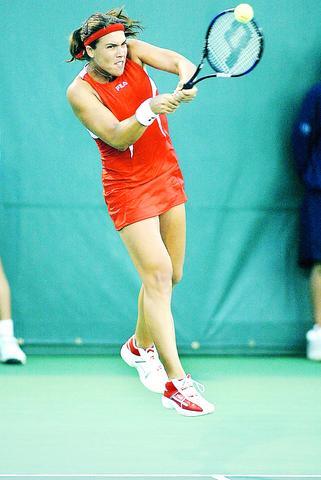 Jennifer Capriati hits a backhand return to Lisa Raymond during their Bank of the West Classic quarterfinal match in Stanford, California, on Friday. Capriati won 6-1, 6-7 (5), 6-4.
PHOTO: AP
Comments will be moderated. Keep comments relevant to the article. Remarks containing abusive and obscene language, personal attacks of any kind or promotion will be removed and the user banned. Final decision will be at the discretion of the Taipei Times.