Tale of two riders in Tour de France
Lance Armstrong is a superstar trying to battle his way into the history books. Jan Ullrich is a spunky underdog trying to break out of a runners-up rut. \nThe two dominant figures of this year's Tour de France -- possibly the world's most grueling athletic event -- drew closer on Thursday to their day of reckoning, finishing neck-and-neck in the pancake-flat 17th stage. \nToday, the four-time Tour champion and the four-time Tour runner-up face a great battle in the individual time trial, the stage expected to decide who will stand astride the winner's podium tomorrow. \nArmstrong, heavily favored to win the race, holds a 67-second lead over Ullrich, a 29-year-old German who on occasion has come razor-close to ripping the overall leader's jersey off the 31-year-old Texan's back. \nThursday's 181km stage was won by Servais Knaven, the first Dutch rider to take a stage on this centenary Tour. \nArmstrong achieved his aim of staying safe, out of any crashes. His US Postal Service team, racing in a long line at the front of the main pack of riders, guided him toward the finish in Bordeaux, southwestern France's wine capital. \nArmstrong, the four-time champion pursuing Spanish great Miguel Indurain's record of five successive wins, placed 28th, just behind Ullrich, in 27th. They finished in the same time, 8 minutes and 6 seconds behind Knaven, meaning Armstrong preserved his lead with just three days of racing to go. \nArmstrong and Ullrich are fixing their attention on today, when they race against the clock seeking to clinch the overall Tour title. \nUllrich, a silver medalist in the event at the 2000 Sydney Olympics, is hoping for a repeat of his crushing defeat of Armstrong in a time trial last Friday, when he bit a whooping 96 seconds off Armstrong's overall lead, setting the stage for a grippingly close final week in the three-week 3,427.5km clockwise slog around France. \n"I want to win this Tour. I have never been so close to Armstrong. I feel now my top form is coming," Ullrich, runner-up to Armstrong in 2000 and 2001, said in a posting on his Web site this week. \nArmstrong, however, was dehydrated that day because of a heat wave that scorched the Tour. He has never lost the last time trial at the Tour since his first win in 1999 and said on Wednesday that he has no intention of doing so now. His mood has been more buoyant since his dramatic stage victory on Monday in the Pyrenees, when he recovered from a fall and powered past Ullrich to build on his previously razor-thin overall lead. \n"Ullrich is a dangerous rider for the time trial," Armstrong's Postal teammate, Jose Luis Rubiera, said on Thursday. "But I think in normal conditions Lance would not have lost that time during the [last] time trial." \nYesterday, the Tour was due to venture off on another flat stage from Bordeaux, where Armstrong's aim is again expected to be keeping fresh and uninjured for today's clash with Ullrich. \nKnaven, of the Italian Quickstep-Davitamon team, was delighted with his first Tour stage win. \n"I've always been second, third, fourth," he said, tears in his eyes. "Today I won. Incredible." \nItalian Paolo Bossoni of the Caldirola-So.Di team finished second, ahead of France's Christophe Mengin, of fdjeux.com, in third. Highlighting the flatness of the stage, Knaven finished in just 3 hours, 54 minutes and 23 seconds, racing at a speedy average of 46kph.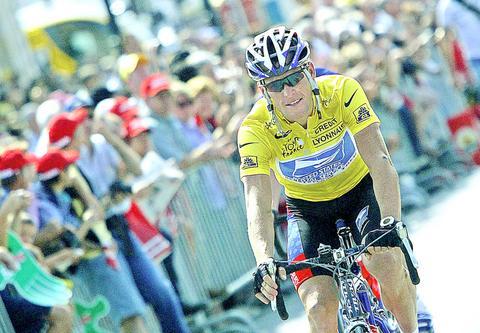 Lance Armstrong rides before the start of the 18th stage of the 90th Tour de France cycling race between Bordeaux and Saint-Maixent-l'Ecole yesterday.
PHOTO: AFP
Comments will be moderated. Keep comments relevant to the article. Remarks containing abusive and obscene language, personal attacks of any kind or promotion will be removed and the user banned. Final decision will be at the discretion of the Taipei Times.