Press pack trails Tyson to court
TROUBLE It seems the public still want a piece of Iron Mike, despite his appearance in Brooklyn Criminal Court for fighting two men in a hotel lobby
Past his prime or not, Mike Tyson, the aging brawler and former heavyweight champion of the world, seemed no less a star on Thursday in Brooklyn Criminal Court than he has been in the boxing ring over the past two decades. \nSmall armies of television cameramen and photographers lined up three deep to catch him strolling with an entourage out of court, where he pleaded not guilty to state charges in the beating of two men in a Brooklyn hotel lobby last month. \nArmed and nervous, state court officers escorted the famous prize fighter out of the building. Reporters surrounded Tyson, walking in baby steps as a single organic mass, jamming microphones and tape recorders in his face, some asking for a comment, others keeping oddly quiet, as if cowed by his reputation for violently losing his cool. \nFrom the balcony of the court building's sweaty lobby, a crowd of employees and passers-by waved and shouted, "Mike Tyson!" as the boxer, the court officers and the media mob passed underneath. Tyson, calm and silent during his 20 minutes in the spotlight, looked up, smiled and waved to his fans, who cheered even louder. \n"He's friendly and engaging with members of the public," said Mel Sachs, one of Tyson's lawyers. \nThat may not be evident to the two men Samuel Velez and Nestor Alvarez-Ramos, whose beating at the hands of Tyson on June 21 led Brooklyn prosecutors to charge him with seven misdemeanor counts that include assault, harassment and disorderly conduct. \nThe two men said they approached Tyson in a Marriott hotel in Brooklyn around 5:30am, after spending most of the previous night out on the town. \nVelez and Alvarez-Ramos told the police they had only asked Tyson, 37, for an autograph, and that Tyson reacted by pounding Velez in the head and body and knocking Alvarez-Ramos into a reception stand. \nThursday in court, Sachs told Judge John Carter that Tyson had been provoked and, considering the circumstances, had been justified. "They told him, `You got fists. We got guns,"' Sachs said, with his client beside him and nine state court and city police officers hovering nearby. \nLater, outside the court building, Sachs told reporters: "Mike Tyson exercised restraint. This a bad, weak case." \nIn an interview on Thursday afternoon, Sachs, who also represented Yankees pitcher David Wells after a man punched him in a Manhattan diner last September, said Velez had reached toward his waist after threatening Tyson. \n"Mike Tyson had every reason to believe that he had a gun," Sachs said. \nVelez and Alvarez-Ramos deny having made threats. In fact, five days after the brawl, Velez, 31, of Reading, Philadelphia, told The Daily News in an interview from a Rikers Island jail that he had approached Tyson "out of love, out of respect." \nBoth men were charged with menacing and harassment and are scheduled to make their own appearance in Brooklyn Criminal Court next week, officials said. \nThursday, Carter ordered the Brooklyn assistant district attorney prosecuting Tyson, John O'Hara, to hand over hospital records detailing injuries to Velez and Alvarez-Ramos, as well as a hotel security tape documenting the melee. \nThe videotape shows Tyson assaulting the two men, pausing to remove his jacket, then resuming the attack, the authorities said. At one point, he chased one of the men around the check-in desk. The tape also shows one of the men picking up a stanchion and thrusting it toward Tyson. \nTyson is due back in court for a preliminary hearing on Sept. 30. Tyson, who was knocked out in the eighth round by Lennox Lewis in his most recent bid for the heavyweight title, would face up to a year in prison if convicted. \nHe has already gone to prison twice in the last 11 years: for three years after a 1992 conviction for raping a woman in an Indianapolis hotel room, and briefly in 1999 for assaulting two people in a car that had rear-ended his vehicle. \nTyson's most notorious act inside a boxing ring was biting off a portion of Evander Holyfield's ear during a 1997 title fight that, by most expert accounts, he was losing.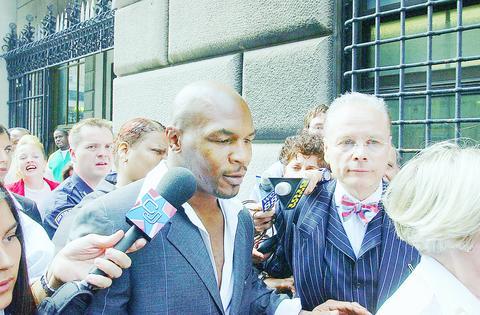 Mike Tyson, center, and his lawyer Mel Sachs, right, are followed by media after a criminal court appearance on Thursday in Brooklyn, New York. Tyson's appearance was scheduled for his part in a brawl with two Pennsylvania men outside the New York Marriott.
PHOTO: AP
Comments will be moderated. Keep comments relevant to the article. Remarks containing abusive and obscene language, personal attacks of any kind or promotion will be removed and the user banned. Final decision will be at the discretion of the Taipei Times.