`Beikehanmu' gets Kunming buzzing
SPANISH GOLD David Beckham arrived in China yesterday with Real Madrid to kick off an Asian tour that the club hopes will boost exposure in football's biggest potential market
David Beckham and his Real Madrid teammates landed yesterday in China, greeted by folk dancers with elephants and cheering fans hoping for a glimpse of the Spanish soccer powerhouse's newest player.
The team is due to work out in Kunming, in the mountains of China's southwest, before launching an Asian promotional tour with a match Aug. 2 against an all-star Chinese team. The game will be Beckham's first with Real Madrid.
About 400 fans lined the street to the training camp as Beckham and his teammates, looking tired after a flight from Madrid and wearing garlands of flowers presented by a Chinese welcoming committee, arrived by bus from the airport.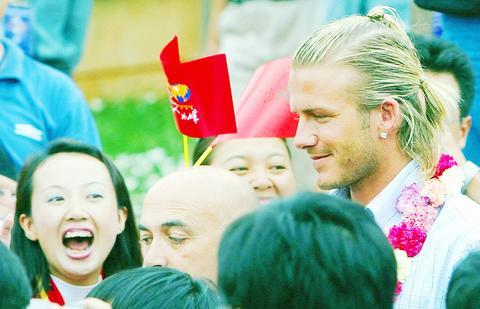 A Chinese woman, left, screams as Real Madrid's midfielder David Beckham arrives at a training center in Kunming, the capital of China's southwestern province of Yunnan yesterday. Real Madrid, with newly added icon David Beckham arrived in China to launch their two-week Asian roadshow as part of a bid to challenge the English Premier League's regional dominance in jerseys, billboards and televisions.
PHOTO: REUTERS
Madrid's 25-player lineup also includes stars Ronaldo, Zinedine Zidane, Luis Figo, Raul Gonzalez and Roberto Carlos.
The festivities included folk dancers, musicians playing drums and cymbals and four elephants. Fans waved signs saying "Beckham I Love You!" and "Figo Crazy For You" and red flags with the logo of Madrid's Asian tour.
"I am so excited. I have no words to [describe] that I saw Beckham today," said Liao Wending, a 22-year-old factory worker who took the day off to see the team arrive. "I'm so moved, I was screaming and shouting as he walked by."
Fans in white Real Madrid T-shirts reached out toward the players as they approached the training camp. Some players stopped to shake hands, but the increasingly press-shy Beckham, surrounded by a dozen Chinese photographers, just gave a slight smile.
"He's so handsome and he has so much class and breeding," said Deng Fang, 26, a tobacco factory employee and cheerleader for the Kunming soccer team.
"He was so calm," she said. "But I'm really sad I didn't get to shake his hand."
Soccer is hugely popular in China, with tens of millions of fans following 15 teams in the country's top league and dozens of smaller clubs.
China has sent players to British teams. And though few have spent time in China, Beckham -- known in Chinese as Beikehanmu -- and other foreign stars are already celebrities here.
He Yajing, a 16-year-old fan from Chongqing who traveled hundreds of kilometers to Kunming to see Beckham, blushed as she listed all the Beckham memorabilia she owns -- posters, T-shirts, dolls, books.
"The pile is pretty big," she said.
A sign on one busy road in Kunming, a city of about 3.5 million people dotted with lakes and surrounded by lush mountains, said "Warmly welcome Real Madrid."
Advertisements for the team's arrival were posted on public buses. A Kunming newspaper last week featured Beckham and his wife, the former Spice Girl Victoria Beckham, on its front page.
The tour is expected to boost Madrid's income through merchandising and marketing and is aimed at helping the club widen its global appeal. The club will earn a reported US$3 million in match fees.
Real Madrid meets FC Tokyo in Tokyo Aug. 5 and plays China in Hong Kong three days later.
Madrid's final game against Malaysia scheduled for Aug. 10 in Kuala Lumpur was canceled after the country's soccer federation balked at an appearance fee for the Spanish team that was reported to be US$2.9 million.
Comments will be moderated. Keep comments relevant to the article. Remarks containing abusive and obscene language, personal attacks of any kind or promotion will be removed and the user banned. Final decision will be at the discretion of the Taipei Times.