Battle of the brothers heads to UK
A showdown of Schumachers in the British Grand Prix could determine dominance at this point in the Formula One season. \nRalf Schumacher is seeking a third consecutive victory tomorrow, and brother Michael is trying to rebound from two straight disappointing finishes. \nMichael, a five-time series champion, leads his younger brother by only 11 points in the standings after Ralf's victories in the European Grand Prix and French Grand Prix. But the elder Schumacher knows things run in cycles. \n"You have your highs and lows. They are on the high, and we are not so much on the high at this point," Michael said. "And I think we can turn it around again." \nRalf took the pole in the European and French races, and teammate Juan Pablo Montoya finished second both times. \nSince the Monaco Grand Prix on June 1, when Montoya won, the Williams-BMW team has dominated the Ferraris of Michael and teammate Rubens Barrichello. \n"So far we have been able to fight for the victory in every race," Michael said. "Probably the last two races that was not so much the case. But I am pretty optimistic we can fight for the victories from now on." \nRainy and cool conditions might put a damper on the Williams drivers' bid to stay hot. Ralf knows the wet conditions forecast for Sunday might not be good for his Michelin tires. \n"It would be great to keep this momentum going," he said. "But we are very aware that weather conditions will play an influential role. Wet tires can be competitive, but it appears sometimes to be difficult. It depends on what Bridgestone has done." \nBridgestone, Ferrari's tire supplier, has always seemed better in wet conditions because of superior grip on the track. \nLast year's race on a wet track went to Michael with Barrichello second. \nMichael, with four victories in 10 races this season, is eight points ahead of Kimi Raikkonen. The McLaren driver hasn't won since March in Malaysia. \nFour of the next five races -- a run interrupted only by Montoya's victory in Monte Carlo -- went to Michael. \nAt this time last year, Michael had already clinched the title with six races left. \nHe is not one of those who believes the improvement of the opposition's Michelin tires is responsible for his struggles this season. \n"Success or not having success doesn't come from a single factor," he said. "We have to work on every department." \nMeanwhile, McLaren's David Coulthard, Britain's big hope of a home grand prix winner this weekend, set the pace in yesterday's first free practice. \nThe Scot, race winner in 1999 and 2000 but effectively out of the title reckoning this year after being outperformed by Raikkonen, lapped in one minute 20.039 seconds. \nAustralian Mark Webber, who lives nearby and treats Silverstone as a second home race, was second quickest for Jaguar but 0.307 slower than Coulthard in the hour-long session before first qualifying. \nSpaniard Fernando Alonso backed up Renault's hopes of a strong showing this weekend with the third best lap ahead of Barrichello.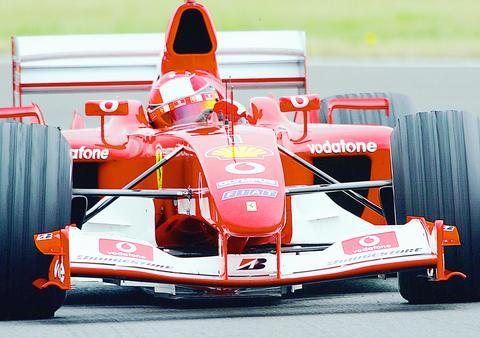 Michael Schumacher steers his car on the Silverstone racetrack yesterday during the first free practice session of the British Formula One Grand Prix.
PHOTO: AFP
Comments will be moderated. Keep comments relevant to the article. Remarks containing abusive and obscene language, personal attacks of any kind or promotion will be removed and the user banned. Final decision will be at the discretion of the Taipei Times.