Weather takes its toll at British Open
DIFFICULT DAY Only five players finished under par as wind, rain and the occasional sunshine made playing conditions at Royal St. George's unpredictable
A lost ball by Tiger Woods. A triumphant return for Greg Norman. A stunning struggle for Ernie Els. \nAnd by the way, who is Hennie Otto? \nMeet the leader in the first round of a British Open that was as unpredictable as the quirky links on which it was played. \nSunshine, rain and a steady blast of wind off Sandwich Bay produced a slew of surprises, none more than the sight of Otto, a 27-year-old South African, making one long putt after another at Royal St. George's for a 3-under 68. \nOtto, who had to qualify for the British Open earlier this week, took a one-stroke lead over Norman and Davis Love III after both of them bogeyed the 18th for a 69. \nThe only other players to break par were S.K. Ho and Fredrik Jacobson, who played bogey free despite 56kph gusts late in the afternoon. \nOtto was thrilled with the first tee time of the day -- 6:30am -- because the forecast was for thunderstorms in the afternoon. He got to Royal St. George's and it was raining. \nGo figure. \n"You've got to relax and take what the course gives you," Otto said. \nRoyal St. George's certainly doled it out. \n -- Woods hit his opening tee shot in the right rough, and 25 officials scouring a patch of thick grass the size of a kiddie pool never found it. The lost ball led to a triple bogey, and he had to play the final four holes in 2 under just to shoot 73. \n -- Trying to become the first player in 20 years to defend his title, Els didn't make a birdie and opened with a 78, his worst round ever at the British Open. \n -- Four past major winners were among more than two dozen players who shot in the 80s. The most noteworthy was David Duval, who played well except for two triple bogeys and a quadruple bogey on his way to an 83. \n -- Colin Montgomerie got off easy. He tripped on his way to breakfast, injured his hand and withdrew after seven holes. \nEqually surprising was Norman, even though he won 10 years ago when the British Open was last held at Royal St. George's. \nStill, the Shark hasn't won in five years. That shock of blond hair is tinged with streaks of gray, and a few more wrinkles surround those piercing blue eyes. Norman, 48, has played only two tournaments this year while dealing with a bad back. \nIs he back? \n"If I get myself in position after the first two rounds, hopefully momentum will start to build," Norman said. "I think 69 is a good start to that momentum. I hope I can keep pushing it forward." \nAt times, it looked as if he never left, especially on the par-5 fourth. Norman punched a 4-iron that scooted up the severe shelf of the green and trickled down the slope to 16cm for a tap-in eagle. \n"You've got to be able to feel comfortable with those shots," he said. \nLove, who has never seriously contended in his favorite major, made only one mistake in an otherwise solid round. He played conservatively off the 18th tee with a 3-wood that left him a 4-iron to the green. He missed to the left, and failed to save par. \nTom Watson flirted with the lead for the second straight time in a major. He fell apart at the end, a double bogey-bogey finish for 71. \nAlso at even-par 71 was Charles Howell III, Fred Couples and Gary Evans, known best for losing his ball on the 17th hole at Muirfield last year. \nWoods can relate. \nHe knew he was in deep rough, and it wasn't long before he realized he was in deep trouble. As he walked up the first fairway, he saw a search party of two dozen people in a desperate attempt to find his ball. \n"Did you guys see where it went?" Woods inquired of thousands of fans, who pointed him this way and that as his frustration grew. \nWoods cursed as he got into a cart for the long ride back to the tee. He picked up two birdies, then gave them back with three consecutive bogeys by driving into bunkers and into more rough, one shot traveling some 10m. \nThe good news? \n"I kept myself in the tournament," Woods said. \nThat was no small task on a links that punished players when they least expected it. \nThe rough was so high in spots that Shigeki Maruyama dug deep into the grass with a wedge on the fourth hole and two balls came out. Another one was buried beneath his ball, probably left behind the last time the British Open was played here. \nJerry Kelly hit four shots that traveled a combined 14 feet on the first hole. He made an 11, and had to withdraw with an injury after his club met a clump of grass that didn't budge late in his round of 86. \nThe wind was so vicious that Phil Mickelson was assessed a one-stroke penalty when his ball moved on the 15th green as he stood over the ball, giving him a double bogey. \nMickelson was tied for the lead at 3 under with a short birdie putt on No. 8, but finished with a 74. At one point, he went seven holes without a par -- an eagle, two birdies and four bogeys.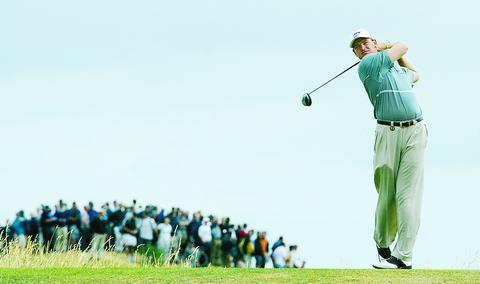 South Africa's Ernie Els watches the flight of his ball as he drives off at the fifth tee on the second day of the British Open at Royal St George's in Sandwich, south eastern England, yesterday.
PHOTO: REUTERS
Comments will be moderated. Keep comments relevant to the article. Remarks containing abusive and obscene language, personal attacks of any kind or promotion will be removed and the user banned. Final decision will be at the discretion of the Taipei Times.