Sizzling Matsui gets Yankees out of jail
MLB ACTION The Japanese slugger hit a homer in the ninth to help the New York outfit to a win over the Indians and himself to an average a shade under .300
Hideki Matsui led off the ninth inning with a home run on Thursday to give the New York Yankees a come-from-behind 5-4 win over the Cleveland Indians.
"If you watch him, he doesn't get overly excited," Yankees manager Joe Torre said. "Where he came from, he was counted on quite a bit."
Matsui hit 332 home runs for the Yomiuri Giants in a 10-year career in Japan before signing a US$21 million, three-year contract with New York.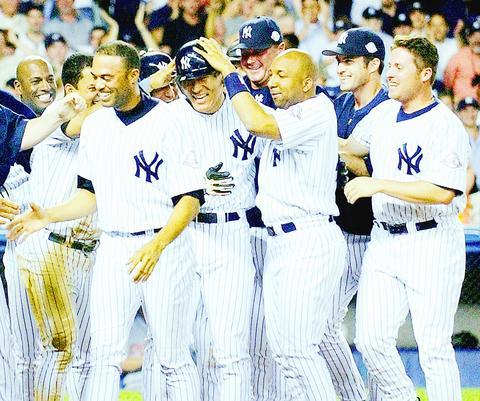 New York Yankees' Hideki Matsui, center, is mobbed by teammates after hitting a walk-off home run in the bottom of the ninth inning against Cleveland Indians pitcher David Riske to win the game, 5-4, on Thursday at Yankee Stadium in New York.
PHOTO: AP
He had given New York fans flashes of his ability that made him a three-time Japanese Most Valuable Player. He hit a grand slam on opening day at Yankee Stadium but slumped in May.
Matsui's performance on Thursday left him with a .299 average, 10 homers and 66 RBIs. He was the American League rookie of the month in June.
"You don't hit .350 by luck; he's a pretty good hitter," Derek Jeter said. "I think it's taken a while for him to adjust to the pitchers, but now I think he's doing it."
Matsui hit a 1-0 pitch from David Riske into the center-field bleachers. Jeter's two-run homer in the eighth off Riske (2-2) brought the Yankees back from a 4-2 deficit.
"Two pitches right down the middle, and they hit them," Riske said. "I didn't do my job tonight."
Even with new setup man Armando Benitez in the bullpen, Torre stuck with what has worked for him since 1997 by bringing in closer Mariano Rivera (4-0) to work the ninth with the score tied.
"If we didn't tie it, he was coming," Torre said of Benitez. "But we do this all the time at home. If it's tied in the ninth inning, that's Mo time."
Benitez, acquired from the Mets on Wednesday in a trade for Jason Anderson and two prospects, was warming up in the bullpen when Matsui homered.
The Yankees have won three of four and reopened a three-game lead over Boston in the AL East.
Red Sox 5, Blue Jays 2
At Boston, Roy Halladay won his 14th straight decision, pitching a nine-hitter for his second complete game of the season as Toronto beat Boston Red Sox 5-2 at Fenway Park.
"Cy Young did a pretty good job against us out there," Boston manager Grady Little said on Thursday night, a glowing comparison to baseball's winningest pitcher. "He is on quite a roll."
The streak is the majors' longest since Roger Clemens won 16 consecutive decisions for the New York Yankees in 2001. Clemens also has the Toronto club record of 15, set in 1998.
"He's a special pitcher," Toronto manager Carlos Tosca said. "He probably prepares both physically and mentally as well as anybody that I've ever been around."
Orioles 2, Angels 1
At Baltimore, Rodrigo Lopez allowed five hits in seven innings and Jeff Conine homered as the Orioles ended Anaheim's five-game winning streak.
Luis Matos had two hits and an RBI for the Orioles, who improved to 5-1 against the defending world champions. Anaheim was 7-2 against Baltimore last year.
Rangers 12, Devil Rays 6
At St. Petersburg, Florida, Juan Gonzalez went 3-for-5 with four RBIs for Texas.
Gonzalez hit his 24th homer of the season, a three-run drive, and added a run-scoring double.
John Thomson (7-9) allowed three runs and seven hits in 7 2-3 innings, striking out nine as he won his third straight decision.
Twins 6, Athletics 2
At Minneapolis, Torii Hunter and A.J. Pierzynski each drove in two runs and Rick Reed pitched seven solid innings as Minnesota ended an eight-game losing streak.
Royals 7, Mariners 1
At Kansas City, Missouri, Jose Lima won his sixth straight start but left with a groin injury.
Lima (6-0) allowed five hits in 5 1-3 innings, striking out five, walking two and hitting a batter. With a runner on first in the sixth, Lima bent over in pain after a 1-1 pitch to Randy Winn. Jason Grimsley relieved.
Tigers 10, White Sox 9
At Chicago, Dmitri Young homered and drove in three runs as Detroit won a game delayed more than three hours by rain.
The Tigers led 9-1 in the fifth, but had to hang on after Chris Mears gave up homers to Carlos Lee and Carl Everett with two outs in the ninth.
AP, CINCINNATI
Poor Ken Griffey Jr. He just can't stay healthy.
The 11-time All-Star will miss the rest of the season after rupturing a tendon in his right ankle on Thursday night, the latest in a string of major injuries for the Cincinnati center fielder.
"Obviously, it's devastating. It's a shame. He's heartbroken," Reds general manager Jim Bowden said in a telephone interview. "I talked to Junior earlier, and I told him that we're all praying for him."
Griffey was hurt while running out a double after pausing at home plate as if he thought his drive to left field would be a home run.
He had to speed up and was hurt just after rounding first in the sixth inning of the Reds' 5-4 home loss to the Houston Astros. The center fielder was scheduled to have surgery yesterday.
Once thought to be a threat to break Hank Aaron's record of 755 homers, Griffey has dropped from the game's elite because of injuries. He hit .247 with 26 RBIs in 53 games this season.
Griffey had been bothered by a sore tendon for about a week and was getting treatment before games.
"The MRI was very clear. The tendon was torn," Bowden said. "There was no alternative but to surgically repair it."
Injuries to both legs and his right shoulder have caused Griffey to miss 140 games since the 2000 season, including 33 so far this year.
Braves 3, Mets 2
Mark DeRosa's check-swing infield single in the ninth scored Vinny Castilla from third against John Franco (0-2), a day after the Mets dealt Armando Benitez to the Yankees.
At Turner Field, Greg Maddux (8-8) pitched an eight-hitter for his first complete game of the season, and the second for the Braves. New York lost for the seventh time in eight games.
Diamondbacks 9, Padres 1
Curt Schilling (5-4) won for the first time since returning from the disabled list, allowing one run -- unearned because of his error -- and eight hits in seven innings.
He struck out eight and walked one in his second start since coming off the DL with a broken right hand.
Dodgers 6, Cardinals 3
Hideo Nomo (10-8) hit a two-run homer and an RBI double while allowing just two hits an unearned run in six innings at Los Angeles.
Rickey Henderson, signed earlier this week, went 1-for-4. Jeromy Burnitz, acquired from the Mets, went hitless in four at-bats.
Giants 8, Rockies 4
Edgardo Alfonzo had three hits and drove in two runs and Rich Aurilia had two RBIs and doubled twice.
Damian Moss (8-6) won for the first time in five starts and the NL West-leading Giants got their sixth victory in nine games.
Colorado's Todd Helton went 4-for-5 with two doubles and two RBIs, but the visiting Rockies committed three errors in the first four innings.
Brewers 7, Pirates 5
John Vander Wal's third grand slam this season helped open a 7-0 lead and visiting Milwaukee held on despite Craig Wilson's pinch-hit slam.
Phillies, 5, Expos 2
Marlon Byrd, who went 4-for-5, hit a two-out, three-run homer in the 11th off Tim Drew (0-2) as the Phillies won for the sixth time in seven games. Visiting Montreal has lost eight of 10.
Dan Plesac (2-0) pitched a perfect 11th.
Comments will be moderated. Keep comments relevant to the article. Remarks containing abusive and obscene language, personal attacks of any kind or promotion will be removed and the user banned. Final decision will be at the discretion of the Taipei Times.