Showers put damper on the matches
WIMBLEDON Continued suspension of a face off between Tim Henman of England and Sebastien Grosjean of Spain added to the tournament's thrill
No Englishman has won Wimbledon since 1936, so British fans are accustomed to waiting. And they did a lot of it Wednesday. \nThe first two men's quarterfinal matches, including one involving England's Tim Henman, were stopped four times because of rain and then finally suspended for the day. \nNo. 13-seeded Sebastien Grosjean led No. 10 Henman 7-6 (8), 3-6, 6-3, 1-2. Unseeded Mark Philippoussis rallied and was serving with a two-point lead over Alexander Popp 4-6, 4-6, 6-3, 6-3, 2-2, 30-0. \nThree delays totaled nearly four hours before the matches resumed Wednesday evening, but drizzle and darkness again halted play for the night. \nThe other quarterfinals were postponed until Thursday. No. 5 Andy Roddick is scheduled to play unseeded Jonas Bjorkman, and No. 4 Roger Federer will play No. 8 Sjeng Schalken. \nThe women's semifinals are also Thursday. Defending champion Serena Williams will play French Open champion Justine Henin-Hardenne, who pulled an upset in their semifinal match at Paris four weeks ago. Two-time champion Venus Williams will face Kim Clijsters. \nPhilippoussis, who tied a tournament record with 46 aces in his fourth-round upset of Andre Agassi, had 26 against the 2.01m Popp when play was stopped. Philippoussis is trying to overcome a two-set deficit for the fourth time in his career. \nHenman and Grosjean played a roller-coaster first set twice interrupted by rain. Henman rallied from a 5-1 deficit in the opening set and held four set points in the tiebreaker but couldn't convert them. Three consecutive passing shots for winners helped Grosjean break serve en route to a 4-1 lead. Then came a one-hour delay. \nWhen play resumed, Henman lost his serve again to make it 5-1. Then came more rain. \nSunshine broke through, and the Centre Court crowd roared. Then Henman mounted a comeback, and the cheers became even louder. He broke serve twice, the second time by winning four consecutive points. \nWhen he held serve for 5-5, fans waved Union Jacks. \nIn the tiebreaker, Henman served leading 6-3. \nBut Grosjean saved three consecutive set points when Henman floated a volley long, dumped a difficult volley in the net and hit a backhand wide. \nHenman had another set point at 8-7 but put a backhand in the net. Grosjean hit a lunging volley for a winner, then called a forehand crosscourt for another winner and the set. It took 2 hours, 36 minutes, delays included. \nHenman lost his serve in the next game, then broke in the second and eighth games to win the second set and even the match. But he lost his serve twice more in the third set, and Grosjean served it out at love. \nOn the women's side, the best of Belgium -- Clijsters and Henin-Hardenne -- will try to prevent another all-Williams final at Wimbledon. \n"For Kim and me, it's going to be very difficult, for sure," Henin-Hardenne said. \nSerena beat Venus in last year's final -- and in four of the past five Grand Slam finals. The lone exception was at the French Open four weeks ago, where Henin-Hardenne earned her first major title by beating Clijsters. \nSerena has been ranked No. 1 for the past year, but the Belgians are second and third and gaining on her. If she loses Thursday, Clijsters will become No. 1 for the first time. \n"It's hard to keep up with the Belgian girls," Williams said with a grin. "They're playing every week and winning all the time. I don't play every week, but I might have to start." \nWhen Williams does play, she usually wins. She has won 38 of her past 39 Grand Slam matches, including a quarterfinal comeback Tuesday against No. 8-seeded Jennifer Capriati, 2-6, 6-2, 6-3. \nThe victory was her eighth in a row over Capriati. \n"She had to play her best tennis there to raise her game completely to beat me," Capriati said. "I don't think I gave her the match. She had to step it up." \nNo. 4 Venus Williams won the final five games and the last 11 points to beat No. 5 Lindsay Davenport 6-2, 2-6, 6-1. Williams dropped a set for the first time in the tournament, but still improved to 25-1 at Wimbledon over the past four years. \n"If you get this far, you have to be doing something right," the elder Williams said. "I'll just have to keep on with the same things." \nDavenport, the 1999 champion, said the match may have been her last at Wimbledon. Newly married and hampered by injuries in recent years, Davenport said she plans to play the US Open but may be nearing retirement. \n"There are absolutely no plans made," the 27-year-old Davenport said. "It's not saying that it's over. It's just saying that I'm not sure." \nClijsters, seeded second, who was stung on her stomach by a bee during the first set but rallied past No. 27 Silvia Farina Elia 5-7, 6-0, 6-1.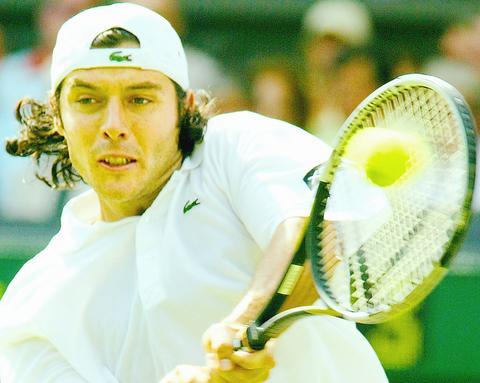 France's Sebastien Grosjean returns to Britain's Tim Henman during their quarter-final match at the Wimbledon Tennis Championships in London, on Wednesday.
PHOTO: REUTERS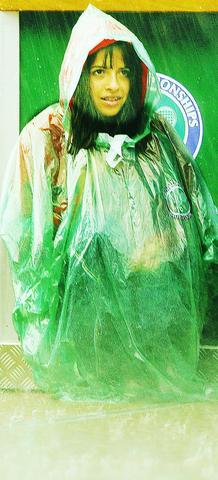 A fan attempts to shelter from the rain at the Wimbledon Tennis Championships in London on Wednesday.
PHOTO: REUTERS
Comments will be moderated. Keep comments relevant to the article. Remarks containing abusive and obscene language, personal attacks of any kind or promotion will be removed and the user banned. Final decision will be at the discretion of the Taipei Times.