Suppan completes winner for Pirates
MAJOR LEAGUE BASEBALL Kenny Lofton and Jason Kendall ignited Pittsburgh's early scoring against starter Shawn Chacon by reaching base in three of the first four innings
Matt Stairs homered and drove in four runs and Jeff Suppan pitched Pittsburgh's first complete game in more than a year as the Pirates beat the Colorado Rockies 9-0 Sunday. \n"That was the most effective game pitched against us all season," Rockies manager Clint Hurdle said. "I can't say more than that." \nKenny Lofton and Jason Kendall sparked all of Pittsburgh's scoring against starter Shawn Chacon (11-4) by reaching base in three of the first four innings. Chacon was trying to become the majors' first 12-game winner, but left trailing 6-0 after four innings. \n"It's important for the leadoff guy to get on because anything can happen," Lofton said. "Things worked out today and we hope we can keep it going." \nSuppan (6-7) pitched a four-hitter for the Pirates' first complete-game shutout of the season. They have two shutouts by multiple pitchers. \n"We scored early and kept scoring runs and our defense was outstanding," said Suppan, who hadn't thrown a shutout since April 29, 2002, with the Royals. "I took it inning by inning and was able to keep making my pitches. Everything kind of happened for us." \nThe Pirates had gone 170 games without a complete game since Jimmy Anderson, now in the Reds' organization, beat Cincinnati on June 16, 2002. \nExpos 10, Blue Jays 2 \nTomo Ohka pitched 6 2-3 no-hit innings and didn't allow an earned run in his first complete game this season as the Montreal Expos beat the Blue Jays 10-2 Sunday. \nBut Ohka wanted even more after holding the powerful Blue Jays to a season-low two hits. \n"I'm not satisfied with the outing," Ohka said through an interpreter. "I would have been very happy if I had a no-hitter." \nCarlos Delgado broke up the no-hit bid with a seventh-inning double that scored Frank Catalanotto, who reached on an error. \n"I didn't know anybody was capable of doing that do us," Toronto manager Carlos Tosca said of Ohka's performance. \nOhka (7-7) allowed two runs -- both unearned. \nHe hit Reed Johnson with a pitch leading off the third to give Toronto its only base runner in the first six innings. Ohka struck out four and walked none. \nHe kept his no-hit bid alive in the fifth by robbing Delgado of a hit with a stabbing grab of a comebacker. \nOn April 11, Ohka allowed just one hit -- a fourth-inning single -- in eight innings of a 10-0 win over the New York Mets. \nMike Bordick hit an RBI single in the eighth for Toronto's only other hit. \n"He had as dominating a performance as you're going to see. It's too bad he didn't complete it," Montreal manager Frank Robinson said of the no-hit bid. \n"I've seen him pitch outstanding games, but this was just a tremendous performance. He was just in complete control." \nRon Calloway went 3-for-5 with four RBIs for the Expos, who split six games with the Blue Jays this season. The teams will share the Pearson Cup, awarded to the winner of the interleague series. Each team has won the trophy three times, and there were three ties. \nThe trophy was named for former Canadian prime minister Lester B. Pearson. \nThe Blue Jays finished interleague play 10-8. Montreal was 9-9. \nToronto starter Kelvim Escobar (5-5) loaded the bases in the second inning before Calloway hit a two-run single that gave Montreal a 2-0 lead. \nCatalanotto reached safely in the seventh by hitting a grounder to first baseman Edwards Guzman, who dropped the ball and threw wildly to Ohka at the bag. \nThe Expos then employed a shift against the left-handed Delgado, who found the opening in the opposite field for his RBI double. \nMontreal scored six runs in the eighth on Jose Vidro's solo home run, Calloway's RBI single, Guzman's two-run single and on third baseman Eric Hinske's fielding error, that scored two runs. \nJohnson reached on Ohka's throwing error in the bottom of the eighth and scored on Bordick's RBI single. \nEscobar allowed three runs on eight hits in seven-plus innings. \nCalloway hit an RBI single in the ninth, and Mike Barrett added an RBI grounder.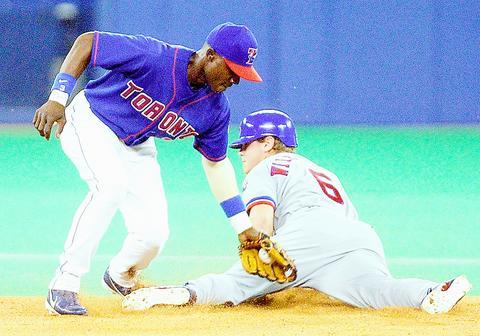 Toronto Blue Jays second baseman Orlando Hudson, left, is late on the tag as Montreal Expos' Brad Wilkerson safely steals second base during the second inning of interleague play in Toronto, Sunday. The Expos beat the Blue Jays, 10-2.
PHOTO: AP
Comments will be moderated. Keep comments relevant to the article. Remarks containing abusive and obscene language, personal attacks of any kind or promotion will be removed and the user banned. Final decision will be at the discretion of the Taipei Times.