Men overboard in Sydney-Hobart
DEEP DISAPPOINTMENT Two sailors were plunged into choppy waters after two separate collisions between boats, after the start of the Sydney-Hobart race yesterday
Australian maxi Alfa Romeo opened a big lead early in the Sydney-Hobart yacht race yesterday after a dramatic start in which two sailors were thrown overboard in separate collisions between smaller yachts.
A fleet of 57 yachts started in heavy rain, mist and poor visibility but that number was cut by two within minutes after two collisions left boats holed and crippled.
Australian 13m yacht Valheru was left with a gaping hole when it was hit by joint French-Australian entrant Peugeot Racing.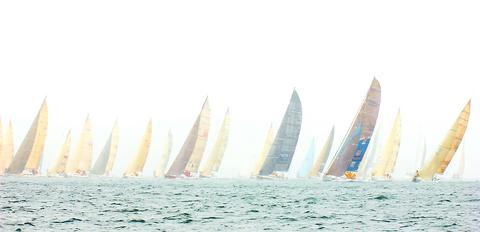 Competitors cross the start line of the 58th Sydney to Hobart race at Sydney Harbour yesterday. A fleet of 57 yachts started in heavy rain, mist and poor visibility in the annual 1,167km race to the island of Tasmania.
PHOTO: REUTERS
Valheru was rammed amidships after Peugeot's mainsail jammed while Peugeot skipper Christophe Vanek was trying to give way to his Tasmanian rival.
Valheru crewman Peter Fletcher was thrown into a choppy Sydney Harbour but was quickly rescued by officials in a chase boat. Fletcher was unhurt, race spokesman Peter Campbell said.
"It was very, very unlucky," Vanek told Channel Ten television shortly after the collision. "We have to assess the damage now," he said.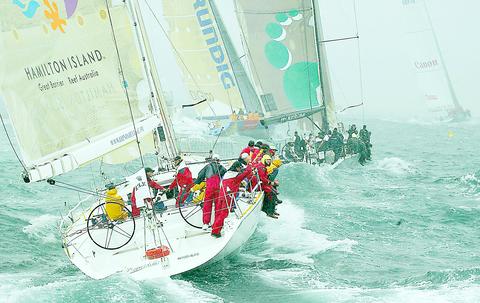 British maxi Canon, right, skippered by Mike Slade leads Nicorette, second right, Grundig , second left, and Bindabella, at the start of the race.
PHOTO: REUTERS
Peugeot was forced to make a penalty turn before resuming the race. Vanek said he would decide whether to continue in the race after checking his boat's seaworthiness further out to sea.
Australia's Trump Card also pulled out with a holed stern after it was hit by Sydney boat Loki seconds after the starting gun was fired by Mount Everest climber Sir Edmund Hillary.
Trump Card crewman Richard Cole was thrown into the water by the force of the collision and dragged for about 50m underwater before he was rescued unhurt, Campbell said.
At the head of the fleet, the state-of-the-art carbon fiber maxi Alfa Romeo quickly established a big lead over British rival Canon Leopard and led the fleet out of Sydney Heads and into the Tasman Sea for the race south down Australia's east coast.
Sydney-based New Zealand businessman Neville Crichton's sleek gray yacht carved through the water as fresh easterly winds marked the start of the gruelling 630 nautical mile (1,167km) race to the island state of Tasmania.
The conditions suited Alfa Romeo as it reached out of Sydney Harbour ahead of British businessman Mike Slade's super maxi Canon Leopard, which at 29.5m is by far the biggest boat in the fleet.
Alfa Romeo's speed in all conditions meant the pre-race favorite could threaten the race record of one day, 19 hours, 48 minutes and two seconds set in 1999 by Danish flyer Nokia.
"The Sydney-Hobart has a reputation for destroying the plans of yachts labelled as favorite to win the race," Crichton warned before the start.
Alfa Romeo and Canon Leopard were followed by Australian boats Skandia Wild Thing and Grundig and Swedish maxi Nicorette.
Nicorette, skippered by Finn Ludde Ingvall, won the Sydney-Hobart in 2000 and came second last year after it was knocked on its side by a water spout, or sea tornado, while crossing the notoriously rough Bass Strait.
Forecasters said the wind was expected to turn further south and freshen to 20 knots (37kph) later yesterday, with a southerly change expected again today as the lead yachts sail through Bass Strait between the Australian mainland and Tasmania. Six sailors died when freak storms hit the 1998 race.
Comments will be moderated. Keep comments relevant to the article. Remarks containing abusive and obscene language, personal attacks of any kind or promotion will be removed and the user banned. Final decision will be at the discretion of the Taipei Times.