Go karting takes checkered flag
CIRCUIT TRAINING Go karting has been described as a kindergarten for professional auto racing and in India it has become the latest thing, with new circuits and events
Karting, a poor cousin of Formula One, is becoming all the rage in India as racing fans hold competitions around the country on smaller tracks with smaller cars.
As Formula One fans get a feel of car racing by going karting, the racing fraternity keeps an eye on promising youngsters, hoping they will get serious about the bigger sport.
"The participation in karting competitions is to be seen to be believed," said Sanjay Sharma, chief organizer of the JK Tyre national karting championships. "We've grown a lot over the past few years."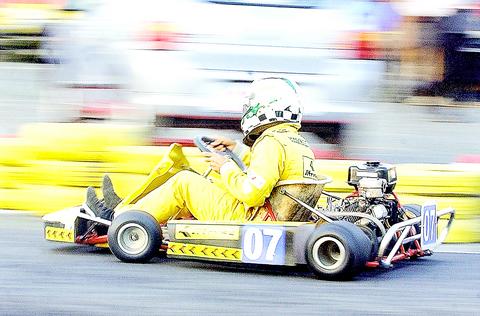 A kart driver tries out the track before an exhibition race during the National Karting Championship in New Delhi, last week. Karting, a poor cousin of Formula One, is becoming all the rage in India as racing fans hold competitions around the country on smaller tracks with smaller cars.
PHOTO: AFP
Karting is held with 800cc engines on smaller tracks similar in design to those used for the more glamorous Formula One.
The idea is to give drivers a feel of the real situation and to discover of they have the talent to make a splash in the sport.
"From having regional meets in 1997 we graduated to a national competition by 2000. With the popularity of Formula One also increasing manifold on television in India, the future is bright," said Sharma.
"There was always scope for car racing in India. Over the past few decades, car rallying has held a place of its own because of the difficult terrain in India.
"Slowly, the attention has shifted to the faster version of the sport going with the global trend of making all sports faster. Television viewer ratings of these programs are unbelievably high."
Sharma said that if the tube attracted youngsters to the sport, karting was drawing them to the track.
"There are several karting tracks around the country now which people frequent. As for competitions, thanks to sponsors, the entrance fees have been kept low. The best part is people even come out to watch events."
Top Indian car racer Narain Karthikeyan, who has been close to qualifying for Formula One over the past few years, also felt karting was important to groom promising drivers.
"Karting is the best way to promote and popularize motor racing. I would call it the kindergarten of Formula One driving as one gets a feel of car racing," said Karthikeyan.
But the 26-year-old said seeing a top few Indians reach the Formula One level would remain a dream for some time.
"I am testing for Formula One but no one else is close to that. Winning amateur car racing events is one thing and competing at the top level a different thing altogether. True capability can't be judged like this.
"In fact, there is a lot of difference between the Asian and world standards. There are not many good drivers [in Asia] outside Japan. In fact, I don't think anyone else is anywhere near Formula One from this part of the world.
"People are now more aware of the sport, largely because of television. People now recognize me, but it was quite different when I started."
In other Asian countries such as Taiwan, Malaysia and Indonesia, go karting is developing as a relatively cheap, safe and viable alternative to racing bigger autos.
Some of these drivers are then going on to finishing school in Europe to qualify for Formula One.
Karthikeyan hoped more Indians would take car racing seriously and that once a couple of them compete at a top level, interest would also increase.
For that, karting may have a big role to play.
Comments will be moderated. Keep comments relevant to the article. Remarks containing abusive and obscene language, personal attacks of any kind or promotion will be removed and the user banned. Final decision will be at the discretion of the Taipei Times.