Tienmu thriller ends in victory for Hawks
BALLPARK GLORY The Daiei Hawks scored a game-winning home run in the ninth inning to win Japan's first regular-season professional baseball game held abroad
Japan's Daiei Hawks and the Orix Bluewaves clashed at Tienmu Stadium in Taipei last night, the first time a team from Japan has played a regular season game outside the country.
The game ended in a thrilling victory for the Daiei Hawks as Matsunaka Nobuhiko belted a towering shot over the right side of the fence to break a 4-4 tie in the bottom of the ninth.
Taiwan's political heavyweights turned up for the game and President Chen Shui-bian (陳水扁) said, "Long ago baseball established a strong relationship between the two countries, we are hoping to further develop such friendship through more games and competitions." Premier Yu Shyi-kun threw a good first pitch to Japan's popular baseball star Matsuho Aya.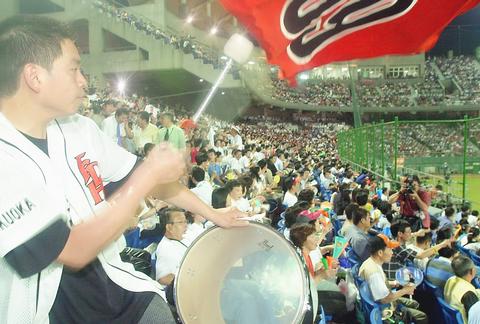 Fans of Japan's Daiei Hawks root for their team at Tienmu Baseball Stadium last night. The Daiei Hawks beat the Orix Bluewaves 5-4.
PHOTO: LIN CHENG-KUNG. TAIPEI TIMES
A capacity crowd of over 10,000 watched as Orix's first baseman Fernando Seguinol hit a solo home run to leftfield to score the first run.
Seguinol later hit another two-run shot that cleared the center field, to make the score three to nothing.
The Hawks, however, grabbed their chances, hitting hitting three solo home runs in one inning to tie the game at three apiece.
After the third home run was hit by the Hawks, Bluewave's starter Kaneda Masahiko was replaced by the reliever.
The Hawks moved into the lead for the first time in the bottom of eighth with two hits and one pass ball to lead the game 4:3.
But the Bluewaves immediately came back with another run, scored on the top of the ninth, to even the scores.
With the game tied it looked like the first Japanese professional baseball game abroad would go extra, when Matsunaka Nobuhiko, who was one-for-three on the night, came to the plate.
With a giant swing the ball was out of the park and the Hawks took the match.
Matsunaka was voted "Hero of the night" by press members in the stadium.
Hawks manager Sadaharu Oh -- Japan's home-run king -- said after the game, "We were so happy to come to Taiwan to play these two games.
"I hope by scheduling more games in the future, baseball can be even more popular in both Taiwan and Japan.
"People who love baseball can be more connected because of the games held abroad," Oh said.
The second game between the Hawks and Bluewaves will be played today at Tienmu Stadium, starting at 3:45pm.
Comments will be moderated. Keep comments relevant to the article. Remarks containing abusive and obscene language, personal attacks of any kind or promotion will be removed and the user banned. Final decision will be at the discretion of the Taipei Times.