New mall continues `illegal' sales
The Core Pacific City shopping mall continued "trial" sales yesterday despite the Taipei City Go-vernment's warnings not to open for business until it passes its final fire safety inspection and receives an operating license. \nWhile mall officials denied that the move was a public challenge to the authority of the city government, city officials said that they would keep issuing tickets until the mall obtained an operating license. \nAccording to standard practice, the mall will not be allowed to apply for an operating license until it first passes fire safety checks. \nAlthough the main structure of the building has passed a preliminary safety check, it has not yet passed the second-phase check, which is conducted after interior furnishings have been installed. \nRuan Hsin-nang (阮信囊), vice president of Core Pacific City, said that they have a legitimate reason to continue "trial" sales, which are considered illegal by the city government. \n"We do not dare challenge the authority of the city government. However, the fact is that trial sales are a popular practice with shopping centers before they officially open. Besides, no existing laws forbid this," he said. Yuan said that only through trial sales can they find out whether the facility is genuinely safe and if the services provided meet customer needs. \nOriginally scheduled to hold a grand opening ceremony yesterday morning, management scaled down the event to an "appreciation" cocktail party and continued "trial" sales which began on Monday. \nAfter inspecting the fire safety system on Monday, the Fire Department issued a first warning yesterday, requesting that mall management improve the system within a month or to face a fine of between NT$6,000 and NT$30,000. \nThe Department of Construction Management also issued a NT$60,000 ticket on Monday for management failure to obtain an operating license before opening for business. The department may issue another ticket in a month's time if the mall is still operating without a license.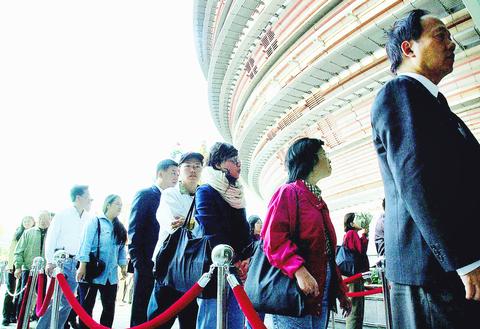 Thousands of people wait in line to shop at the Core Pacific City shopping mall, despite the fact that the mall doesn't have an operating license.
PHOTO: CHU PEI-HSIUNG, TAIPEI TIMES
Comments will be moderated. Keep comments relevant to the article. Remarks containing abusive and obscene language, personal attacks of any kind or promotion will be removed and the user banned. Final decision will be at the discretion of the Taipei Times.