Angry anti-nuclear activists promise to continue the battle
BACKLASH Activists and Kungliao residents have vowed retribution for what they see as an act of betrayal by the DPP for agreeing to continue construction of the plant
Antinuclear activists expressed their strong opposition yesterday to what they called the Executive Yuan's "surrender" to the Legislative Yuan, in agreeing to resume construction of the halted Fourth Nuclear Power Plant. \nResidents of Kungliao (貢寮) township, Taipei County, where the plant is located, yesterday condemned political figures who they said had broken residents' hearts by betraying antinuclear activists. \n"We look down upon those DPP members who have betrayed the people, lied to their supporters, and turned their backs on the party's anti-nuclear platform," Kungliao township Chief Chao Kuo-tung (趙國棟) said. \nAngry residents said that Premier Chang Chun-hsiung (張俊雄), a DPP member, should have visited Kungliao to see the real situation there. Because of declining fishery resources off the north coast of Taiwan, Kungliao fishermen are struggling to survive. The high unemployment rate there has forced young people look elsewhere for a living. Fishermen in Kungliao complained that the construction of the plant had contributed to a deterioration of the marine environment. \nKungliao residents in the Yenliao Anti-Nuclear Self-Help Association (鹽寮反核自救會) called President Chen Shui-bian (陳水扁) "a traitor," and vowed to punish him severely. \nActivists from more than 50 groups protested in front of the Executive Yuan yesterday morning, railing against what they called the "illegal" resumption of construction. \nActivists urged the Executive Yuan to heed censures pertaining to the construction issued by the Control Yuan. The Control Yuan issued three censures in April, May and November, 1999 relating to the environmental impact assessment for the plant, and the discovery of an Aboriginal historic site inside the construction site. \n"If construction is to be resumed, the least the Executive Yuan can do is to order a new environmental impact assessment," said Shih Shin-min (施信民), chairman of Taiwan Environmental Protection Union (TEPU). \nShih said that activists were particularly angry at the decision to resume construction because issues such as environmental damage, insufficient safety measures and radioactive waste disposal remained unaddressed. \nTEPU has allied with other groups to establish a Nuclear Free Country Action Alliance (非核國家行動聯盟), which will demonstrate in Taipei on Feb. 24 for a referendum to decide the future of the Fourth Nuclear Power Plant. \nActivists said that at least five advisors to the president, including former DPP chairman Lin I-hsiung (林義雄), plan to join the demonstration. Activists said that more than 10,000 people will express their anger on the streets that day.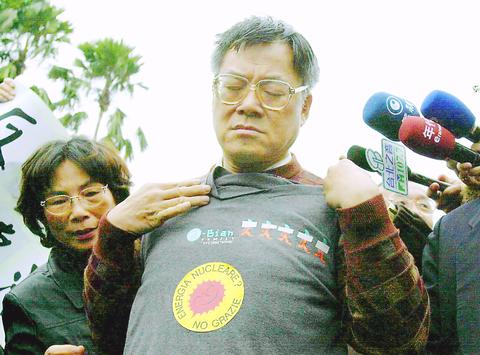 Taiwan's Green Party representative Kao Cheng-yen, along with anti-nuclear residents in Kungliao township, display yesterday an anti-nuclear T-shirt that President Chen Shui-bian distributed as part of his presidential campaign last year. Kao said Chen was "blind" in allowing the plant to go forward.
PHOTO: CHIANG YING-YING, TAIPEI TIMES
Comments will be moderated. Keep comments relevant to the article. Remarks containing abusive and obscene language, personal attacks of any kind or promotion will be removed and the user banned. Final decision will be at the discretion of the Taipei Times.