Chen stresses peace and security to military
NEW YEAR'S GREETINGS In a speech to the military, the president again reached out to China, saying the government is continuing to promote cross-strait stability
President Chen Shui-bian (陳水扁) said yesterday his government would seek dialogue with Beijing to avoid unnecessary cross-strait conflicts. \nChen said he hoped "cross-strait relations would move in a positive direction and bilateral talks could be resumed at the earliest possible opportunity to avoid unnecessary conflict caused by distance and misunderstanding," Chen said. \n"Peace and security across the Taiwan Strait are the keys to the ROC's development and survival," he told some 1,700 service personnel at a Lunar New Year luncheon at the Ministry of National Defense yesterday. \nChen said his government would be prudent in its dealings with China given the sensitivity and importance of cross-strait relations and their impact on security in the region. \nTaiwan, meanwhile, would continue to strengthen its defense capabilities to fend off any military threats from the mainland, he said. \n"We are ready for war but we don't seek war. We want to avoid war but we are not afraid of war," he said. \nTaiwan's armed forces are being upgraded with new weaponry to beef up their combat capabilities, a move which "has alarmed China." \nThe president said the government has consistently attached great importance to cross-strait relations and has exercised extreme prudence in handling related issues to avoid triggering instability and unrest in the Asia-Pacific region. \nNoting that peace and security in the Taiwan Strait are crucial to Taiwan's survival and development, Chen said the ultimate goal of the ROC's military build-up and combat preparedness is to stop war or deter any attempt to invade the country. \nHe said a number of steps taken by the military in recent years, including replacement of its aging arsenal with new-generation weaponry systems, restructuring of its military units, intensified manpower training, upgrading of combat skills, strategy and anti-invasion capabilities, and the development of an integrated command, control, communication and intelligence gathering system, are all aimed at establishing an elite deterrent force to maintain regional peace and stability. \nFor the common well-being of the people on both sides of the Taiwan Strait, Chen said he earnestly hopes that cross-strait relations can develop under a sound mechanism. \n"To reach this goal, the two sides must sit down to talk," Chen noted, adding that Beijing should open its doors to cross-strait consultations on a range of issues of mutual concern. \nChen went on to say that in the face of China's perennial military threat, Taiwan cannot afford any retreat and must take on any challenges that lie ahead. \n"All of our people must respect our military servicemen and support all well-designed military build-up plans to beef up our defense capabilities and upgrade our defense technology," he urged. \nHe also expressed his appreciation for the devoted service of the country's military servicemen and their contributions to safeguarding national security. \nTies between Taiwan and China have moved towards a stalemate since Chen took office last May. \nBeijing has demanded that Chen accept its "one-China" principle as a precondition for the resumption of bilateral talks. China suspended dialogue in mid 1995 to protest the visit to the US by then president Lee Teng-hui (李登輝).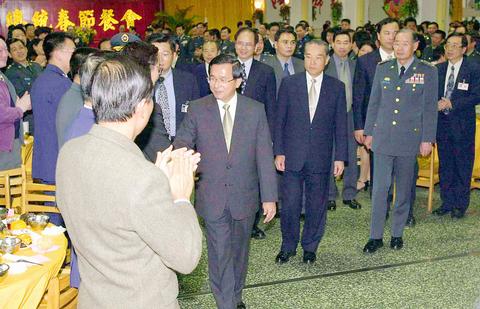 President Chen Shui-bian told a lunch of service personnel at the Ministry of National Defense yesterday that:"Peace and security across the Taiwan Strait are the keys to the ROC's development and survival."
PHOTO: SHING TING-WEI, TAIPEI TIMES
Comments will be moderated. Keep comments relevant to the article. Remarks containing abusive and obscene language, personal attacks of any kind or promotion will be removed and the user banned. Final decision will be at the discretion of the Taipei Times.