Dog lovers mob center after culling rumor
CANINE SALVATION Supporters of man's best friend descended on the Taipei Municipal Animal Shelter to adopt dogs, after rumors they would be put down before the Chinese New Year holiday
Posing with her dog in the warm winter morning sun yesterday, Tu Ning-tzu (杜寧子) finally had a smile on her face. \nTu, 45, had originally planned to adopt four dogs, but the Taipei Municipal Animal Shelter (台北市立動物之家) in Neihu District allows only a maximum of two per person at a time. \nShe picked a black-and-white female mongrel, which she named Mary Jane. It is the rule of the shelter that dog owners and their dogs have their pictures taken before they leave the shelter. \nTu has a speech impediment and although she could not always clearly enunciate her words, her message was clear. "You just have to love and protect them," she said. \nTu is a volunteer for the ROC Stray Dogs Salvation Guild (中華民國流浪狗救援協會) and keeps about 200 dogs herself in Mucha, Wenshan District. \nShe was one of 20 dog lovers who came to the shelter yesterday to adopt the dogs. \nRumors have been circulating that the shelter is to kill all of the resident dogs before the Chinese New Year holiday, which starts tomorrow and ends on Jan. 28. \nNew Party City Councilor Huang Shan-shan (黃珊珊) on Wednesday even held a press conference to condemn the shelter's alleged intention, and called on the public to visit the shelter and sign up for an adoption. \n"A more suitable name for the Animal Shelter would be `Animal Terminator' if it plans to empty out the place before the New Year," she said. "It should at least encourage the public to come and adopt the dogs before it actually carries out the task." \nDaniel Lin (林修正), director of the animal shelter, dismissed the rumor. \n"I'd like to make one thing clear here. We're not going to kill all the dogs before the New Year holidays. We encourage the public to come and adopt the dogs, and we'll extend our office hours until 5pm [tomorrow]," he said. \nLin added that the shelter will also have two staffers on duty each day during the seven-day holiday. It has also been offering incentives to encourage adoption until tomorrow. \nStarting Jan. 1, the shelter has been charging only NT$500 for adoption, and waived the NT$200 vaccination and NT$300 electronic tagging fees. \nTo encourage dog owners to have their dogs neutered, the government subsidy for neutering a male dog has also increased from NT$800 to NT$1,500, and that for neutering a female dog has risen from NT$1,500 to NT$3,000. \nLee Chia-cheng (李家誠) yesterday came to the shelter to look for a guard dog for his father, who lost his dog in a car accident a week ago. \nHe spent only NT$100 to transfer registration of the yellow male mongrel into his name. "It was love at first sight," said the 23-year-old law student. \nChen Szu-ming (陳思銘), first lieutenant of a missile base in Taoyuan County, came to look for 10 guard dogs for the base. "We're looking for large dogs who are alert, healthy and without skin diseases," Chen said. \nChen walked away with only three but promised to come back for more after the New Year holiday period. \nAs of yesterday, the shelter has 72 dogs, including four puppies delivered Thursday night. It has hopes to lower the number to between 50 and 60 before the Chinese New Year. \nThe public is welcome to visit the shelter, located at 42, Alley 328, Ankang Rd, Neihu. Tel 02-2791-1817.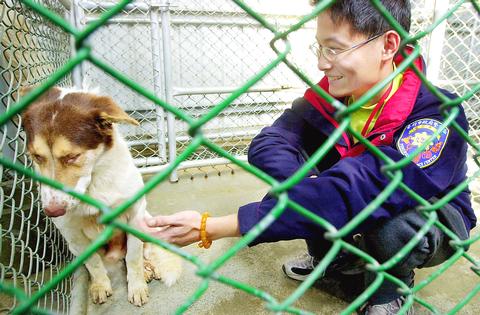 Tseng Chun-chiao, a Taipei City policeman who has adopted three stray dogs already, yesterday tries to win the trust of a fourth dog he hopes to bring home from the Taipei Municipal Animal Shelter.
PHOTO: CHEN CHENG-CHANG, TAIPEI TIMES
Comments will be moderated. Keep comments relevant to the article. Remarks containing abusive and obscene language, personal attacks of any kind or promotion will be removed and the user banned. Final decision will be at the discretion of the Taipei Times.