World's largest Tangka unveiled in Ta-an Park
The world's biggest Tangka, or hand-painted painting of the Buddha, will appear at Taipei's Ta-an Park this morning in an activity called "Sunning the Buddha " (曬大佛). It is the centerpiece of a three-day Tibetan cultural festival which began last night.
The painting is around 14.5m high and 9m wide and was painted over four months by 34 artists, who used more than 20,000 pieces of gold foil. The Tangka was officially recognized by the Guinness World of Records on March 16 as being the largest in the world.
Lamas representing four sects of Tibetan Buddhism will jointly greet the Tangka and display outside as the high point of the festival.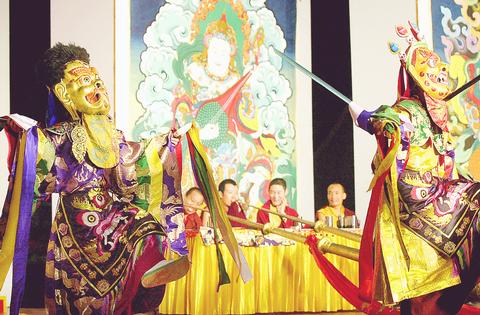 A traditional Tibetan Chambon dance was performed yesterday at the festival of Tibetan culture at the Ta-an Park in Taipei.
PHOTO: CHEN CHENG-CHANG, TAIPEI TIMES
"Sunning the Buddha" is a traditional ritual. Tibetans traditionally place a huge painting or embroidery of the Buddha on the slope of a hill, so lamas and laypersons can pay their respects to the Buddha. Apart from the Tangka, a huge Tibetan tent able to accommodate 200 people will also be displayed in the park.
Other aspects of Tibetan culture, such as the religious dance known as the Chambon, the Lingka folk festival, folk songs, the ritual "flowers dropping on the Buddha"(花雨浴佛), traditional foods and costumes available for the public to borrow to wear will also be on display.
"Tibetan culture equals Buddhist culture," said Chueh-An-Tsering (覺安慈仁), commissioner of the Mongolian and Tibetan Affairs Commission. He said there are approximately 150 Tibetan Buddhist groups and more than 500,000 believers in Tibetan Buddhism in Taiwan.
Great public interest in Tibetan Buddhism and cultures prompted the commission and the Taipei City Government to hold the festival, the largest Tibetan cultural activity ever to be held in Taiwan.
Comments will be moderated. Keep comments relevant to the article. Remarks containing abusive and obscene language, personal attacks of any kind or promotion will be removed and the user banned. Final decision will be at the discretion of the Taipei Times.