Taipei begins tree tours
To raise public awareness about preserving natural resources, Taipei's Bureau of Cultural Affairs (文化局) yesterday launched the first of a series of walking tours which visit the city's oldest trees.
Lung Ying-tai (龍應台), director of the Bureau of Cultural Affairs, yesterday told participants gathering at Nanchung Park (南昌公園) in Chungshan District that it is important to protect the city's old trees.
"They not only provide us with shelter, but are also living creatures just like you and I," Lung said. "We owe them an apology when we accidentally step on them or bump into them. They're older than our grandparents. They're the genuine indigenous people of this land."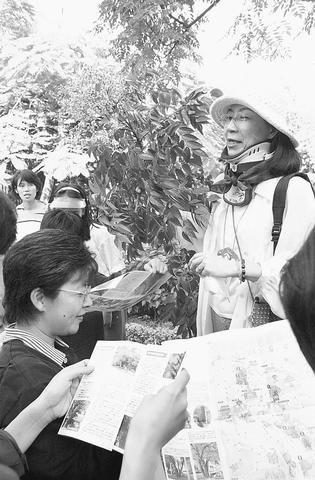 A tour guide outlines the history of one of Taipei's oldest trees during a city-organized tour yesterday.
PHOTO: GEORGE TSORNG, TAIPEI TIMES
The tours, dubbed a "Historical Stroll of the Old Trees in Taipei City" (城中老樹暨歷史漫遊), are being held under the auspices of the bureau and are sponsored by the Hsi Liu Environmental Greening Foundation (錫塯環境綠化基金會).
The public is being encouraged to pick up literature on the tours, available at MRT stations, district offices, the bureau and the foundation, as a reference guide to visiting the old trees growing in the city's seven districts -- Chungshan, Shihlin, Peitou, Wenshan, Hsinyi, Neihu and Nankang.
The pamphlet, among other things, includes a map indicating where the trees are located in each district, as well as their history.
Yesterday's tour, which covered the Chungshan District, is part of a series of four tours. Tours of the Chungshan District will continue until January. The next of the series, which covers Shihlin and Peitou districts, is slated to begin in February and will also last for three months.
Yesterday's activity was part of the bureau's campaign to prepare for the passage of the Taipei City Tree Protection Autonomy Regulation (台北市樹木保護自治條例), which received approval at the city affairs meeting in June this year and currently awaits approval by the City Council.
The regulation protects trees that are more than 100 years old, taller than 15m and larger than 2.5m in diameter. Those who cut the protected trees without first obtaining approval from the bureau will face a fine of up to NT$100,000.
After the bureau kicked off a census of the city's trees on Sept. 25, at least 90 old trees have been recorded, most of them banyan trees.
Although yesterday's three-hour tour in Chungshan District seemed tiring, Alan Hwang, a 21-year-old exchange student from the University of California at Davis, said he learned something from the activity.
"The guide told us interesting stories about each tree and taught us useful things about trees," he said.
Hwang was on a field trip with his teacher and six other classmates from the language center at National Taiwan University.
Huang Pi-hua (黃碧華), who came with her two sons aged two and seven, said it was a meaningful and educational activity.
"I like my boys to see with their own eyes what kind of trees they are and how beautiful they are. After all, it's different from learning it in the classroom," she said.
Ko Chung-han (柯中涵) and her 12-year old classmate, Lee Jui (李瑞), said it was a nice day out for both of them.
"We don't usually go out to see the trees and sky because we have to study," Lee said.
Comments will be moderated. Keep comments relevant to the article. Remarks containing abusive and obscene language, personal attacks of any kind or promotion will be removed and the user banned. Final decision will be at the discretion of the Taipei Times.