Energy promises not kept
POWER POLICY Renewable energy was a key point in the DPP's election manifesto, but environmentalists say little action has been taken by the government or Taipower
As the focus of media coverage has shifted from the scrapping of the Fourth Nuclear Power Plant to President Chen Shui-bian's (陳水扁) alleged extramarital affair, anti-nuclear activists have called upon the government to address fundamental energy issues. \nEnvironmentalists have again called for the authorities to work towards fulfilling previous promises to to adjust energy policy in a bid to promote sources of renewable energy, including solar, wind, biomass energy and others. \n"At the very least we would like to see Taipower draft schemes for promoting sources of renewable energy," Lai Wei-chieh (賴偉傑), secretary-general of the Green Citizens' Action Alliance (GCAA, 綠色公民行動聯盟), told the Taipei Times. \nEnvironmentalists said that promoting renewable energy should not be just an election-time slogan engineered to attract the "green vote." \nNo change at Taipower \nThe DPP's victory in the presidential election may have given activists some optimism, strengthening commitment among anti-nuclear demonstrators who called for an end to construction of the Fourth Nuclear Power Plant. \nMeanwhile, discussions at international conferences on promoting renewable energy has helped shape the vision local activists have of what the future of Taiwan's energy policy should be. \nEnvironmentalists are expecting Taiwan's government to show some determination to adjust existing energy policy in line with modern thinking. The scenario within Taipower, however, is that nothing has changed. \nAccording to confidential sources from the company, there is no sign that Taipower is planning to adopt renewable energy sources to make up for the deficiency of around 2500 megawatts that will be caused by the cancellation of the Fourth Nuclear Power Plant. \nBased on recent discussion between Taipower and the Energy Commission under the Ministry of Economic Affairs, it is clear that decentralized small-scale power stations -- which are welcomed by developed countries -- are not being considered as alternatives to nuclear power. \n"Taipower is considering allowing a few power plant builders to construct large-scale 1500 megawatt or 500 megawatt plants in northern Taiwan as alternatives," the source said. \nIn other words it would appear that all the innovative ideas proposed by energy experts and anti-nuclear activists from developed countries over the past few months have fallen on deaf ears. Neither Taipower nor the Energy Commission have taken such ideas seriously. \nAll talk and no action \nEnvironmentalists are disappointed with the fact that no sign of energy policy change has been seen, even though the Energy Commission has just signed a memorandum of understanding with the Danish Energy Agency last week. The memorandum is a basis for recommending technologies related to wind power and biomass energy developed in Denmark, a country that has devoted itself to the promotion of renewable energy. \nAlthough Energy Commission officials claim that they have contacted other countries -- among them the US and the Netherlands -- to discuss future international cooperation in energy sector, there is no guarantee that Taiwan's power policy will be tailored around their models. \nAccording to the Energy Commission, sources of renewable energy will account for only 3 percent of Taiwan's energy supply by the year 2020. The policy was announced by former premier Vincent Siew (蕭萬長) in 1998, based on conclusions made by the National Energy Conference (全國能源會議) held that same year. \nTaipower does not see it as not necessary to adopt renewable energy to promote decentralized power because the Energy Commission has not set policy that specifies it should do so. \nThe ideal picture \nEnvironmentalists have disagreed with some conclusions reached by the National Energy Conference in 1998 and urged the government to increase dependency on sources of renewable energy. \nActivists believe that alternatives to conventional power generation -- such as thermal stations or nuclear plants -- can make less of a harmful impact on the environment. \nFor example, using biomass energy, which is generated from animal waste, has been regarded as a shining example of environmental protection. \nActivists and energy analysts held another energy conference later to draw up what they called an "ideal picture" of Taiwan's energy policy, and during the recent controversy over the Fourth Nuclear Power Plant, they advocated renewable energy. \nOn the issue in question, environmental officials are siding with environmentalists. Taiwan Environmental Protection Administrator Lin Jun-yi (林俊義) praised Denmark's determination to promote renewable energy last week during a meeting with a representative of the Danish Energy Agency. \nBy the year 2030 more than 45 percent of Denmark's energy needs will be met by wind power. Compared with other countries, Taiwan's goal of "promoting" renewable energy sources seems humble indeed. \nLin himself has said that Taiwan should have made more efforts to promote renewable energy because energy and the environment are closely linked. \nThose concerned about environmental protection, however, are "outsiders" in energy-related policy-making circles and their voice has little impact upon proceedings. \nSources within the "insiders" -- the energy officials -- told the Taipei Times that it took a long time to adjust Taiwan's policies due to the complicated procedures involved bring them into law. \n"In addition to complicated procedures surrounding the implementation of new laws, other difficulties, such as Taipower's privatization, the prospect of national power shortages, and other difficulties, also hamper adjusting energy policy," said Chuang Shih-ming (莊世明), director of Energy Commission's policy and international affairs division. \nChuang said that conclusions made by the National Energy Conference in 1998 would not be abandoned until related laws were revised. \nA long way to go \nLegislators have said that it remains unclear when the Ministry of Economic Affairs will adjust energy policy, but that the power supply ratio drawn up by the National Energy Conference in 1998 would definitely be changed. \n"If the [fourth nuclear] plant is scrapped for ever, nuclear energy will never make up the around-20 percent of the total power supply as the conference decided," anti-nuclear legislator Eugene Jao (趙永清) told the Taipei Times. \nJao said that revising laws relating to liberalization of the electricity industry would be the first step in adjusting energy policy. Proposing a renewable energy law (再生能源法) was the next, he said. \n"Unfortunately, we only see that the government is encouraging the building of independent power plants. That alone is not enough," Jao said. "It's obvious that adjusting energy policy will take years. We don't even see a timetable yet for liberalization." \nIn addition, Jao said that he feared opposition parties -- accounting for two-thirds of the seats at the Legislative Yuan -- would request legislation to be enacted that would allow the continued construction of the Fourth Nuclear Power Plant. \n"A final victory for the anti-nuclear movement in Taiwan is still a very long way off," Jao said. \n"A fact ignored by the majority of people is that the legal status of the Fourth Nuclear Power Plant has not been changed," said a confidential source from Taipower, pointing out that the plant's fate is far from sealed.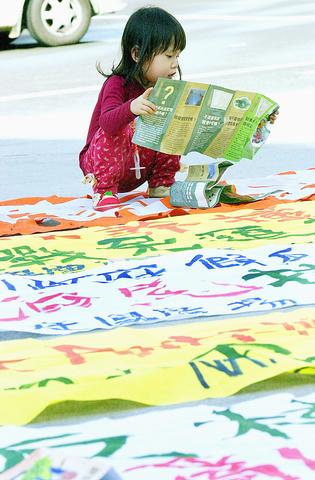 A girl reads a brochure at an anti-nuclear rally in Taipei yesterday.
PHOTO: GEORGE TSORNG, TAIPEI TIMES
Comments will be moderated. Keep comments relevant to the article. Remarks containing abusive and obscene language, personal attacks of any kind or promotion will be removed and the user banned. Final decision will be at the discretion of the Taipei Times.