MRT exhibit celebrates 100 years
HISTORY CAPTURED Mayor Ma Ying-jeou had some sentimental thoughts on Taipei's development after seeing award-winning photo exhibits chronicling a century of the city's history
The time is 1965, the place is the old Taipei train station. A young man inside the train waves a reluctant farewell to his mother on the platform. The black-and-white picture is the first prize winner of a city-sponsored photo exhibition which kicked off yesterday.
At the lighting ceremony early last night at the City Hall stop of the east-west bound MRT line, Taipei city mayor Ma Ying-jeou (馬英九), who was born and raised in Taipei, said the event has nostalgic meaning.
"When I think of the now highly modernized Hsinyi planning area where high rise skyscrapers are ubiquitous, it's hard to imagine that it used to be an area full of lakes and rice fields," he said. "The pictures which chronicle the evolution of the Greater Taipei area over the past 100 years give us an opportunity to reminisce about old Taipei and discover a new Taipei."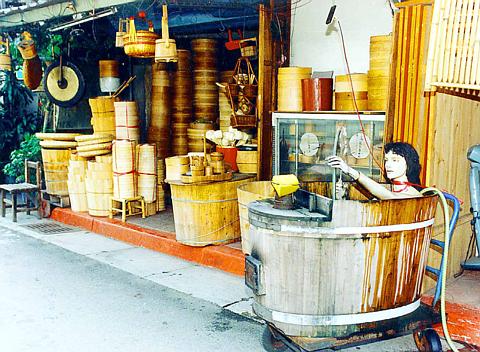 Wood tub shop (bronze winner).
PHOTO: LIU WEI-TUN
Starting yesterday through the end of July, the general public and MRT commuters are welcome to visit the city-sponsored photo exhibition dubbed "century-old appointment, seeing Taipei -- the city's 100-year photo exhibition" (世紀之約,看見台北:城市百年攝影展) at the nine stops of the MRT Banchiao-Nankung line and the Tamshui stop.
A total of 46 fabric strips as big as 4 by 6m displaying award-winning pictures are featured inside the nine stations. On display outside the stations are the works of 10 renowned local photographers.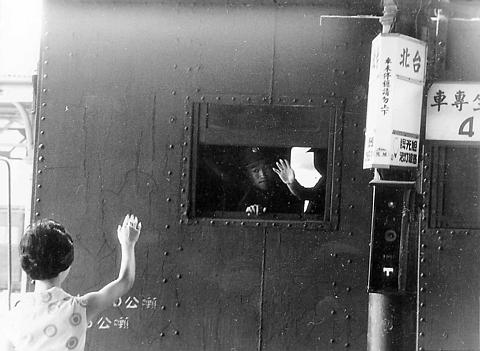 Farewell (gold winner).
PHOTO: WU YUNG-SHUN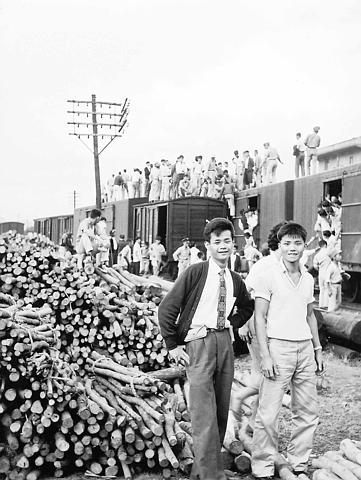 Full cargo train on the Hsintien line (bronze winner).
PHOTO: LIAO YEN-CHENG
Comments will be moderated. Keep comments relevant to the article. Remarks containing abusive and obscene language, personal attacks of any kind or promotion will be removed and the user banned. Final decision will be at the discretion of the Taipei Times.