Chen hopes to make visit to Central, South America
HANDSHAKING The president-elect was feted by the ambassadors of the six Latin American nations that have diplomatic ties with Taiwan and said that relations would stay strong
President-elect Chen Shui-bian (陳水扁) announced yesterday he plans to make a formal state visit to Central and South America after his inauguration to return the steadfast friendship shown by Taiwan's allies in the region.
Incoming Minister of Foreign Affairs Tien Hung-mao (田弘茂), meanwhile, said that the trip will be made as long as the situation within the country remains normal, and that visits could possibly be made within a year.
Chen was speaking at a reception hosted by officials from Central American embassies in Taiwan to honor the new president-elect.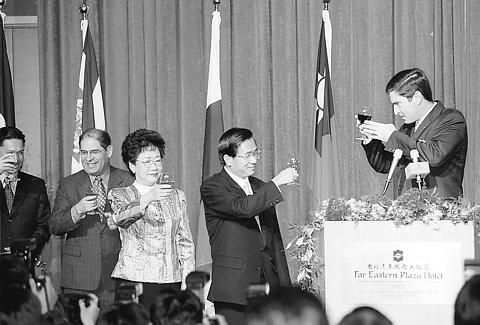 Ambassadors from six central American countries celebrate with President-elect Chen Shui-bian and Vice President-elect Annette Lu during a ceremony yesterday at the Far Eastern Plaza Hotel in Taipei.
PHOTO: GEORGE TSORNG, TAIPEI TIMES N
The six ambassadors -- from Panama, Honduras, Costa Rica, El Salvador, Guatemala and Nicaragua -- represent Taiwan's strongest diplomatic allies, along with a bloc of countries from Africa.
At the opening of the reception, Panamanian ambassador Jose Antonio Dominguez, speaking on behalf of the other Central American ambassadors, congratulated Chen on his presidential victory.
Chen, in return, praised the level of support Taiwan has received from its diplomatic allies and said that he would strive to establish even better lines of cooperation and communication with them.
After stressing there would be continuity in the new government's foreign policy, Chen said he would take further steps to develop bilateral and multilateral relations with other countries.
He also said that he hopes there will be an opportunity to hold a summit meeting with leaders of the six countries next year.
Incoming minister Tien, who was also among the guests at yesterday's event, said he agreed with the decision to continue the KMT government's foreign policy.
Still, Tien said that Chen would further enhance multilateral relations with countries that do not hold diplomatic ties with Taiwan.
Outgoing Minister of Foreign Affairs Cheng Chien-jen (程建人), also present at the reception, agreed with Chen's proposed trip meet with the heads of state of Taiwan's allies.
Cheng -- who will act as Taiwan's chief representative to the US, said that positive developments in foreign relations would influence both cross-strait issues and domestic affairs.
The hosts of the event included Panamanian ambassador Jose Antonio Dominguez, Margarita Duron de Galvez from Honduras, Costa Rica's Oscar Alvarez, El Salvador ambassador Francisco R. Santana, Nicaragua's Luis A. Wong, and the charge'd affaires of Guatemala, Patricia Lavagnino.
Comments will be moderated. Keep comments relevant to the article. Remarks containing abusive and obscene language, personal attacks of any kind or promotion will be removed and the user banned. Final decision will be at the discretion of the Taipei Times.