Foreigners enter city's public service in Shihlin
BETTER COMMUNICATION Four volunteers have formed the vanguard of a new volunteer staff that will provide information to newcomers to the city
Three foreign residents of Taipei's Shihlin district formally joined the district's administrative office yesterday, signing on as voluntary workers at the office's information service desk for foreigners, as part of the Taipei City government's initiative to help better the quality of life for the city's foreign residents.
At an inauguration ceremony for the information service center yesterday, Stephanie Bourreau, Ginger Roberts and Rie Oyama found themselves in the spotlight. The reason was simple: they have become the first foreign residents in Taipei to be hired as unpaid "special consultants to the Mayor," to work at district offices. Another to join the scheme later is Denise Kwan, currently on vacation in the US.
Mayor Ma Ying-jeou (馬英九) said the move was part of an election promise to make Taipei a more "international" city.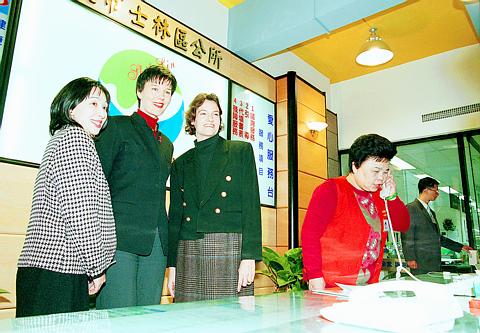 Three foreign volunteers, from left, Rie Oyama of Japan, Ginger Roberts of the US, and Stephanie Bourreau of France, pose for reporters at an opening ceremony for a "For Your Convenience" service counter at the Shihlin District Administration office yesterday.
PHOTO: CHIANG YING-YINGN
Ma said he not only cared about "city diplomacy" -- establishing sister city ties to enhance cultural and economic exchanges -- but also what he dubbed "internal city engagement."
"By internal city engagement, I hope we can help foreign residents feel respected during their time here and help them to retain pleasant memories of the city after they leave," he said.
As the Shihlin district area has the largest concentration of foreign residents in Taipei -- around 80,000 -- Ma said it's natural for the city government to target the district first where measures have already been taken to enhance communication between local and foreign residents.
For instance, the Shihlin district office was first to hold face-to-face talks with foreign community leaders last May -- which officials said paved the way for more regular contacts between the district office and the foreign community.
Ian Campbell Stephenson, director of the Shihlin-based Community Services Center, which has for years worked toward helping foreigners adjust to Taiwan, said the district office's information service desk for foreigners would "provide a much needed service to help the international community find their way."
"It's exciting that foreigners can have a role, not just being on the outskirts but being a part of the community," said Stephenson, who was dubbed by city officials as the prime mover behind the scenes.
When asked why only four joined the scheme, Stephenson said it was just a start.
"This can test the waters to see how it works. In fact, I've had phone calls (from foreign residents) every day to ask if they could be a part of this," Stephenson said.
The foreign volunteers said they simply wanted to be able to help others.
"We enjoy Taipei very much, so we would like all newcomers to be able to adapt to life here as quickly as possible," said Bourreau, who hails from France.
Oyama, a Japanese national fluent in Mandarin also spoke of her willingness to help.
"Six or seven years ago when I first came here, I was at a loss, but my Japanese friends helped me a lot and I really appreciated their assistance. Now that I've become used to life in Taipei, I am able to help others," she said.
Roberts said simple day-to-day things such as learning where to get a driver's license and how to pay the phone bill are some of the little things that can get new residents on their feet.
Those interested in seeking help from these voluntary workers can visit the 9th floor of the Shihlin district administrative center building, or call (02)2882-6200 ext. 777.
Comments will be moderated. Keep comments relevant to the article. Remarks containing abusive and obscene language, personal attacks of any kind or promotion will be removed and the user banned. Final decision will be at the discretion of the Taipei Times.