Tupurkovski puts hopes in Taiwan economic aid
FOREIGN RELATIONS Taiwan officials have said aid plans, on hold since the Kosovo conflict, should be back on track soon
Macedonian Deputy Prime Minister Vasil Tupurkovski today concludes a three-day trip to Taiwan, the first by a Macedonian official since the country's presidential election last November.
Although no specific plans for economic cooperation have been announced so far during his visit, officials have said they expect a renewal of interest in implementing projects that had been put on hold by the Kosovo crisis last spring.
"Macedonia values our cooperative relations with Taiwan," said Tupurkovski.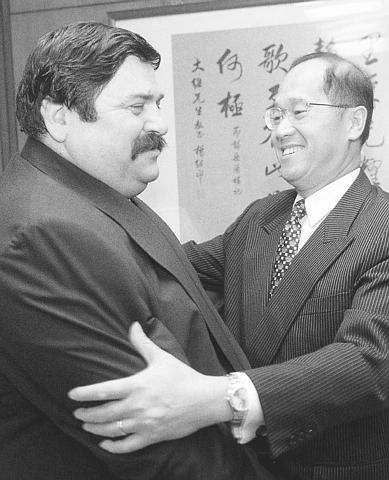 Taiwan's Deputy Foreign Minister Lee Ta-wei meets Macedonian official Vasil Tupurkovski to discuss bilateral cooperation projects.
PHOTO: SUNG CHIH-HSIUNG, LIBERTY TIMESN
"We hope Taiwan's assistance will help us push through social and economic reforms," he said.
Vice Minister of Foreign Affairs David Lee (李大維) affirmed that previous plans for economic cooperation between the two countries would now go ahead.
Macedonia's ailing economy took a nosedive last year during the Kosovo conflict after an estimated 240,000 Kosovar Albanians took refuge on its side of the Serbian-Macedonian border. The conflict ended eventually with NATO intervention, but plans for Macedonia's economic development were nevertheless frozen as it scrambled to cope with the refugee crisis.
During his trip, Tupurkovski met with Chiang Pin-kung (江丙坤), Chairman of the Council for Economic Planning and Development, and foreign ministry officials to discuss specifics of bilateral economic cooperation plans.
Taiwan has constructed an export processing zone near the capital Skopje and plans are in the works to build a trade center in the center of the city.
When Premier Vincent Siew (蕭萬長) visited Macedonia last August, he offered an aid package of US$80 million, including US$20 million for the construction of public housing, US$31 million to the European Bank for Rehabilitation and Development for the Macedonian portion of the "Balkan Action Plan," and US$10.5 million for infrastructure projects.
Tupurkovski, the former director-general of Macedonia's Agency of Reconstruction and Development, is the architect of ties between Macedonia and Taiwan.
Comments will be moderated. Keep comments relevant to the article. Remarks containing abusive and obscene language, personal attacks of any kind or promotion will be removed and the user banned. Final decision will be at the discretion of the Taipei Times.