Senior officials to be called in Soong scandal hearings
The Taipei District Court is set today to begin summoning some 80 people -- including former senior provincial government officials -- for questioning as part of its investigation into the financial scandal surrounding independent presidential candidate James Soong (宋楚瑜).
According to reports yesterday, Hung Tai-wen (洪泰文), the court's chief prosecutor, plans to summon the first 10 people for questioning tomorrow.
However, the key figures in the scandal, such as Soong himself, his son Soong Cheng-yuan (宋鎮遠), his sister-in-law Chen Pi-yun (陳碧雲) and Chen's son Wang Tzu-chang (王自強), are reportedly not among the people to be called.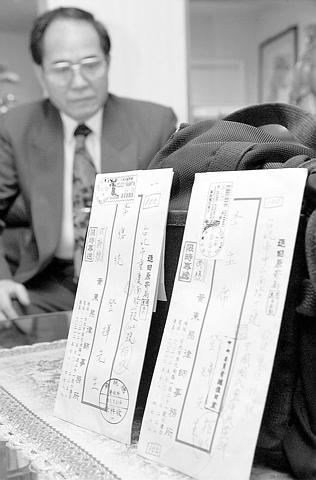 Huang Tung-hsiung, a lawyer working for James Soong, displays two letters which contain checks valued at NT$240 million. He mailed the letters, one to the Presidential Office and one to KMT Party Headquarters, but both have been returned unopened.
PHOTO: HUANG MING-CHIEN, LIBERTY TIMES
Chen, Soong's financial advisor, allegedly used several accounts, including those of the junior Soong, her own son and Soong's son-in-law, to hold or transfer hundreds of millions of NT dollars.
KMT officials have said repeatedly that Soong took or accepted the money from the party.
Hung has reportedly asked an anti-money laundering unit of the Investigation Bureau (調查局洗錢防制中心) to look into the unusual flows of money in and out of Chen's accounts, as well as the remission records of Soong and his son.
In related news, an official at the Control Yuan yesterday confirmed that it has issued summonses to Chen and a former official of the Taiwan Provincial Government as part of its probe into the scandal and that Soong himself will soon be called.
The watchdog body's special task force's investigation reportedly has found a former provincial government official, a core member of the Soong camp, used his account to remit large sums of funds to the US for the former governor.
"The money that passed through his account is more than what Chen Pi-yun handled," reports said yesterday, quoting unnamed sources.
The Control Yuan official said that since Chen is not a public servant, she is under no obligation to appear before the watchdog body, but at least she has been given a chance to defend herself.
Comments will be moderated. Keep comments relevant to the article. Remarks containing abusive and obscene language, personal attacks of any kind or promotion will be removed and the user banned. Final decision will be at the discretion of the Taipei Times.