Opposition slams KMT fund idea
PUBLIC ASSETS President Lee has denied recent accusations that his party is laundering its assets and admitted the separation of politics and business is long overdue
Presidential candidate Lien Chan's (連戰) proposal to put the KMT's billions into a trust fund continued to come under attack yesterday, as the DPP presented what it said were further, concrete details of how the party has silently siphoned off public assets over the years.
Amid the claims, however, President Lee Teng-hui (李登輝) and KMT Secretary General, Huang Kun-huei(黃昆輝), continued to put their voices behind the move and the party's commitment to reform.
In a seemingly synchronized attack, DPP presidential candidate Chen Shui-bian (陳水扁), his spokesman and DPP lawmakers published details of what they claimed were KMT abuses of government assets.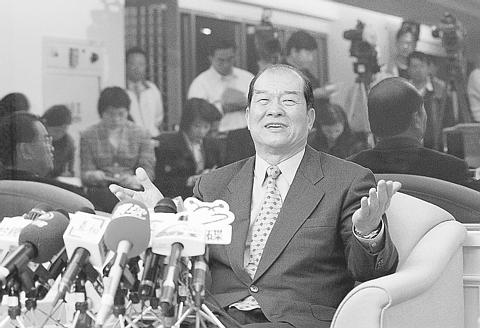 KMT Secretary General Huang Kun-hui answers reporters' questions yesterday about how the KMT will divest its assets into a trust fund.
PHOTO: CHEN CHENG-CHANG, TAIPEI TIMES
First and foremost was a fear that China Development Industrial Bank Chairman Liu Tai-ying (劉泰英) was already selling off KMT assets to cover the party's tracks.
"We believe Liu Tai-ying has already transferred some NT$16 billion of stocks that are owned by the KMT," said DPP legislative caucus leader Chen Chi-mai (陳其邁).
"When we are finished [establishing laws], those assets the KMT plans to put into trust will all be gone."
DPP lawmaker Cho Jong-tai (卓榮泰), alleged 13 KMT enterprises had already sold shares to more than 10 different independent companies who have close connections with the KMT.
Cho's list included such big names as Hung Kuo Group (宏國集團), Kuo Yang Construction (國揚建設), Hung Tai Group (宏泰集團), Nice Enterprise (耐斯企業), Koo's Group, Ho Hsin -- an affiliate of Koo's Group (和信集團), and Tuntex Group (東帝士集團).
The KMT and Liu Tai-ying are not sure whether they will be able to stay in power after the presidential election on March, "so they are selling off their assets as soon as possible at rock-bottom prices," Chen said.
The KMT did not respond to the accusation that shares were being dumped by close associates of the party, but did promise it would continue efforts to divest its financial vestiges and if fault were to be found legal action would be taken.
"If there is adequate evidence to prove the KMT obtained its assets by illegal measures, we will take the proper steps in conformity with the law," said Huang.
Huang also promised to meet requests that an independent task force be set up to look into the party's assets, saying an 11 member group would be established tomorrow, which will include representatives from the general public.
DPP presidential candidate Chen's campaign spokesman, Lee Yi-yang (李逸洋), also accused the KMT of abusing its power and state funds to accumulate land for itself.
Lee said that after Taiwan was handed over to the KMT by the Japanese, the party sold land from the state to itself.
"Land for the Broadcasting Corporation of China (BBC, 中廣公司) and the Central Motion Picture Corporation (中影公司) were both taken over by the KMT after the Japanese left Taiwan, instead of being handed over to the state," Lee said. "These plots of land should have been handed over to the ROC but were snatched by the KMT."
The KMT currently owns 19 theatres, which it took during that period, Lee said.
DPP presidential candidate, Chen Shui-bian, said that if elected he would establish an independent committee to look into the KMT's assets, and return whatever money had been stolen from the KMT and put it into retirement funds and National Health Insurance and other social welfare funds.
President Lee Teng-hui, speaking at an Examination Yuan forum yesterday, denied accusations the party had stolen its assets from the government, but admitted that the problem should have been taken care of long ago.
As for how much of the KMT's assets were tied up in stocks, one of Lien Chan's spokesmen, Eric Chu (朱立倫) said that a complete accounting of the KMT's finances could be completed near the end of February.
Publication Notes
The DPP accuses the KMT of illegally taking possession of the following assets handed over by the Japanese colonial government when Taiwan reverted to the Republic of China in 1945.
1. Central Motion Picture Corporation
1945 The KMT's Department of Cultural Affairs took over 19 Japanese movie theaters in Taiwan.
1947 The KMT provincial headquarters took over the 19 theaters and established a motion picture company.
1954 The KMT's motion picture company was enlarged to become the Central Motion Picture Corporation
2. Broadcasting Corporation of China
1945 The KMT took over Japan's broadcasting association in Taiwan to form a broadcasting company of its own.
1949 The broadcasting company was renamed Broadcasting Corporation of China, and took possession of real estate property including the company's building on Jen-ai Road in Taipei City.
Comments will be moderated. Keep comments relevant to the article. Remarks containing abusive and obscene language, personal attacks of any kind or promotion will be removed and the user banned. Final decision will be at the discretion of the Taipei Times.