FPG workers want bonus increase
PAY DISPUTE Employees from nine unions at Formosa Plastics make 4.5 times their monthly salary in year-end bonuses, but they feel the company owes them more
Nearly 1000 employees of the Formosa Plastics Group (FPG, 台塑關係企業), Taiwan's largest private business, protested in front of the conglomerate's headquarters in Taipei yesterday, demanding a raise in their annual New Year bonus amid claims that FPG management had conducted unfair negotiations.
The protesters were made up of members of the nine labor unions associated with Formosa Plastics in southern Taiwan. The demonstrators said they were taking action because of their inability to receive any response from management on the issue of annual bonuses.
"We are also protesting for more reasonable welfare compensation. And on the annual bonus issue, the management has never given us a satisfactory response," said Chang Po-hsun (張伯壎), general director of the Jenwu factory union based in Kaohsiung County. He also said workers have been upset with the one-way communication for years.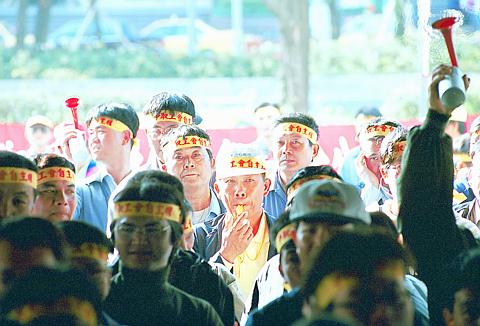 Workers from Nan Ya Plastics Corp plants protest against the company's unfair distribution of year-end bonuses at the Formosa Plastics building in Taipei.
PHOTO: CHEN CHENG-CHANG, TAIPEI TIMES
Protesters, composed of factory workers from affiliated companies, including Formosa Plastics Corp (台塑?膝q), Nan Ya Plastics Corp (南亞??u), Formosa heavy Industries Corp (台塑-?u) and Yung Chia Chemicals Corp (永1??u), asked for Formosa Plastics chairman Wang Yung-ching (?y揖羹y) to negotiate with them in person.
Workers, wearing caps with slogans saying "fighting for union autonomy," stressed that they were not satisfied with the current annual bonus -- 4.5 months of their basic salary (?薪) -- the same amount they received in 1997. According to a survey conducted by a local TV station, the annual bonus for Formosa Plastics' workers is the largest in the industry.
Workers claimed that the NT$16.3 billion profit Formosa Plastics made in the first three quarters of 1999 had exceeded that for 1997, which had not been a good year for the petrochemical industry. The workers said the average range of raises was less in 1999 than for the previous year, and now the annual bonus was not being increased.
Formosa Plastics chairman Wang, who later showed up to speak with the demonstrators, said the annual bonus could not be changed, but that "a more satisfactory raise will be considered as soon as possible."
Formosa Plastics officials defended their business practices and employee relations. "We have to take shareholders' rights and interests into account, because a larger investment in the business enterprise was made last year," said a Formosa Plastics official.
However, workers said they were not satisfied with an outcome as vague as this, and would demonstrate again next week.
"We hoped the management would improve existing methods of distributing their income by profit sharing and institutionalizing annual bonuses," said Chang.
Commenting on the demonstration, Tung Tai-chi (?泰琪), an official at the Council of Labor Affairs (3狻e會) said that a number of steps should be taken to resolve such disputes, including treating the annual bonus as a performance-related incentive, as well as signing contracts with workers in advance.
Comments will be moderated. Keep comments relevant to the article. Remarks containing abusive and obscene language, personal attacks of any kind or promotion will be removed and the user banned. Final decision will be at the discretion of the Taipei Times.