Suicide rates fall after gay marriage legalized in Sweden and Denmark 同婚合法可挽救生命 瑞典、丹麥多年有成
Suicide rates among those in same-sex relationships have fallen significantly in both Denmark and Sweden since the legalization of gay marriage, according to a study, although whatever their marital status, homosexual people remain more likely to take their own life.
The joint study by the Danish Research Institute for Suicide Prevention and researchers from Stockholm University compared suicide rates for people in same-sex and heterosexual relationships between 1989 and 2002, and 2003 and 2016.
Denmark became the first country in the world to allow same-sex civil partnerships in 1989, with neighboring Sweden following six years later. Same-sex marriage, now authorized in 28 countries, became legal in Sweden in 2009 and 2012 in Denmark.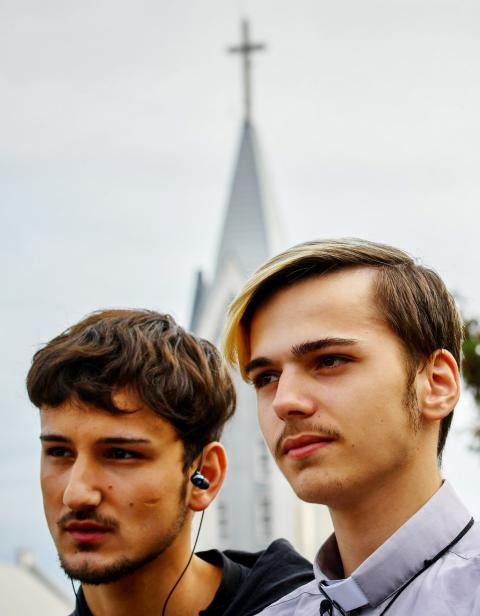 Social activist Cosmin Olteanu, right, and his partner Victor, left, talk with a journalist in Bacau, Romania on Sept. 27 last year. 社運人士寇思敏‧歐塔努(右)及其伴侶維克多(左),二○一八年九月二十七日在羅馬尼亞巴克烏接受記者採訪。
Photo: AFP
照片:法新社
Researchers found that between the two periods, the number of suicides among people in same-sex unions fell by 46 percent, compared to a decline of about 28 percent in the number of suicides by people in heterosexual relationships.
"Although suicide rates in the general populations of Denmark and Sweden have been decreasing in recent decades, the rate for those living in same-sex marriage declined at a steeper pace, which has not been noted previously," the study concluded, which followed 28,000 people in same-sex partnerships for an average of 11 years.
Annette Erlangsen, the lead author, suggested that along with other gay rights legislation, same-sex marriage may have reduced feelings of social stigmatization among some homosexual people. "Being married is protective against suicide," she told the Thomson Reuters Foundation.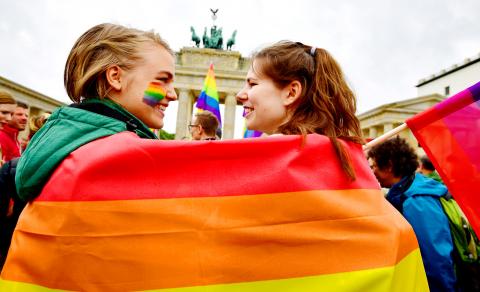 In this file photo taken on June 30, 2017, two women are wrapped in a rainbow flag as they attend a rally in front of the Brandenburg Gate in Berlin. Same-sex partners of EU citizens have the right to live in any EU member state, irrespective of their nationality, the bloc's top court, the European Court of Justice, ruled on June 5 last year, even in countries that do not recognize gay marriage. "Although the Member States have the freedom whether or not to authorize marriage between persons of the same sex, they may not obstruct the freedom of residence of an EU citizen by refusing to grant his same-sex spouse, a national of a country that is not an EU Member State, a derived right of residence in their territory," the court said. 兩名女子裹著彩虹旗,在德國柏林布蘭登堡門前參加同志集會。攝於二○一七年六月三十日。歐盟最高法院(歐洲法院)於二○一八年六月五日裁定,歐盟公民的同性伴侶不論其國籍為何,皆有權在任何歐盟國家居住,即便該國不承認同性戀婚姻。法院表示:「儘管歐盟成員國可自由決定是否承認同性婚姻,但不得藉由拒絕給予歐盟公民之非歐盟國籍同性配偶相關權益,來限制歐盟公民在歐盟領土上之居住自由」。
Photo: AFP
照片:法新社
But she noted that the study, published in the Journal of Epidemiology and Community Health, still showed that more than twice as many people in same-sex marriages and unions killed themselves than those in opposite-sex marriages.
"Of course, it is positive to see that the suicide rate has almost halved. But it remains worryingly high, especially considering that the suicide rate may be higher among non-married people," she told the Danish newspaper Information.
According to a 2018 report comparing 35 studies from 10 countries, young LGBT+ people are at least three times more likely to attempt suicide than straight people of the same age, although the risk may be reduced by pro-equality legislation.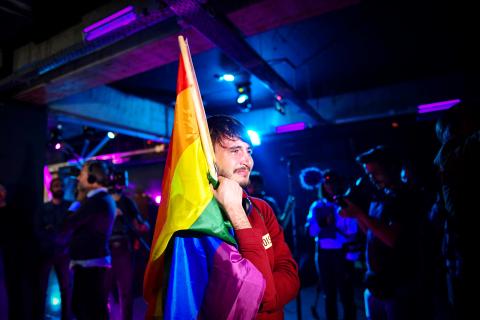 A member of the LGBT community waits for the results of a referendum in Bucharest, Romania on Oct. 7 last year. Romanians went to the polls on Oct. 6 and 7 last year to vote on whether the constitution should characterize marriage as explicitly between a man and woman, an initiative that aimed to block same-sex partnerships. The referendum failed as the turnout was below the required threshold.
一名同志二○一八年十月七日在羅馬尼亞布加勒斯特一夜店中等待公投結果,情緒激動。羅馬尼亞於二○一八年十月六日至七日進行投票,決定憲法是否可將婚姻明確定義為一男一女,該公投之目的在阻擋同性伴侶關係。該反同婚修憲公投最後因投票率未過門檻而失敗。
Photo: AFP
照片:法新社
Despite Scandinavia's reputation as a progressive leader on LGBT+ rights, a study published last month revealed that almost one third of Danish men considered sex between two men to be morally wrong.
(The Guardian)
一項研究顯示,丹麥和瑞典自同性婚姻合法化以來,有同性伴侶之人的自殺率都大幅下降,雖然同性戀者自殺的可能性仍然較高,無論其婚姻狀態為何。
丹麥預防自殺研究所與瑞典斯德哥爾摩大學研究人員所共同進行的這項研究,比較了一九八九至二○○二年,以及二○○三至二○一六年這兩段期間,有伴侶之同性戀者和有伴侶之異性戀者的自殺率。
丹麥在一九八九年成為世界上第一個承認同性民事伴侶關係的國家,鄰國瑞典在六年後跟進。瑞典和丹麥分別在二○○九及二○一二年合法化同性婚姻,目前全球共有二十八國承認同性婚姻。
研究人員比較這兩段時期的數據,發現有伴侶之同志的自殺人數下降了百分之四十六,而有伴侶之異性戀者的自殺人數下降了約百分之二十八。
「雖然丹麥和瑞典總人口的自殺率近數十年來一直在下降,但已婚同志的自殺率卻以更快的速度下降,這是以前從未被指出的」。這項研究追蹤了兩萬八千位有伴侶的同志,為期平均十一年後,得出此結論。
該研究的主要作者安妮特‧艾爾朗森表示,同性婚姻和其他同志權利立法,可能讓一些同志減少了被社會污名化的感覺。她對湯森路透基金會說:「處在婚姻中可以保護人免於自殺」。
但是她指出,這項發表於《流行病學和社區健康期刊》的研究仍然顯示,處於同性婚姻及民事結合關係中人的自殺人數,是異性婚姻的兩倍以上。
「看到﹝同志的﹞自殺率減少了將近一半,當然是很正面的。但自殺率仍是令人擔憂地高,尤其是想到未婚﹝同志﹞的自殺率可能更高」,她向丹麥報紙《信息報》表示。
二○一八年所發表的一份報告,對來自十個國家∕地區的三十五項研究進行比較後發現,儘管同志平權的立法可能降低年輕LGBT+族群﹝LGBT指的是lesbian(女同志)、gay(男同志)、bisexual(雙性戀者),以及transgender(跨性別者)﹞的自殺傾向,但他們自殺的可能性仍是同齡異性戀者的三倍以上。
儘管斯堪的納維亞半島被譽為LGBT+權利的進步領袖,但上月發表的一項研究顯示,有幾乎三分之一的丹麥男性認為兩個男人間的性行為在道德上是錯誤的。
(台北時報林俐凱編譯)
Follow Up
讀後練習
Questions
1. Which country was the first to legalize same-sex unions? In which year? In what form?
2. Why did the LGBT+ suicide rate fall after same-sex marriage legalization?
3. How many countries in the world have legalized same-sex marriage to date?
4. In your opinion, why do you think some people may object to the legalization of same-sex marriage?
(Lin Lee-kai, Taipei Times)
Publication Notes
TODAY'S WORDS
今日單字
1. legalization n.
合法化
(he2 fa3 hua4)
2. marital status phr. 婚姻狀態
(hun1 yin1 zhuang4 tai4)
3. homosexual adj.
同性戀的
(tong2 xing4 lian4 de5)
4. heterosexual adj.
異性戀的
(yi4 xing4 lian4 de5)
5. stigmatization n.
污名化
(wu1 ming2 hua4)
6. same-sex marriage phr.
同性婚姻
(tong2 xing4 hun1 yin1)
7. straight adj.
非同性戀的
(fei1 tong2 xing4 lian4 de5)
8. progressive adj.
進步的
(jin4 bu4 de5)
Comments will be moderated. Keep comments relevant to the article. Remarks containing abusive and obscene language, personal attacks of any kind or promotion will be removed and the user banned. Final decision will be at the discretion of the Taipei Times.