2019 Pikachu Outbreak in Yokohama, Japan for second year 2019皮卡丘大量發生中 日本橫濱登場
Pokemon Go fans from Taiwan and across the world visited Yokohama, Japan in great excitement last week, as the "Pikachu Outbreak" returned between Aug. 6 and 12. With over 2,000 Pikachu this year, the city set a new record for having the most Pikachu at the event ever.
Pikachu are a species of Pokemon, fictional creatures that appear in the popular Pokemon series. Apart from shows during the day, night performances using the latest LED technology featured this year. Some train stations even replaced the sound when passengers exited the ticket gates with the word "Pikachu," said in the character's voice.
Meanwhile, following the success earlier this year of live-action film Pokemon Detective Pikachu, Legendary Pictures is reportedly working on a sequel. The box-office hit opened in Taiwan in May, and was among the top 10 highest-grossing movies in first half of this year, bringing in NT$160 million (about US$5.1 million) in ticket receipts.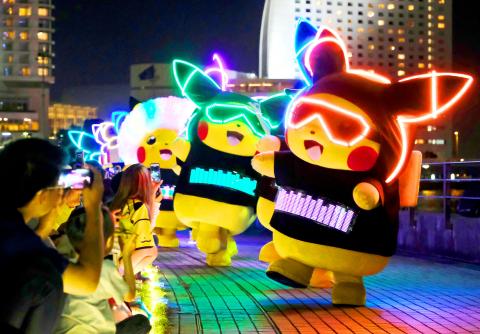 Performers dressed as Pikachu during the Pikachu parade in Yokohama, Japan, on Aug. 8. 表演者打扮成皮卡丘,於八月八日在日本橫濱參加皮卡丘大遊行。
Photo: AFP
照片︰法新社
(Eddy Chang, Taipei Times)
來自台灣和全球的無數寶可夢粉絲們,上週興奮地再次齊聚日本橫濱,參加八月六日至十二日舉行的「皮卡丘大量發生中」活動。該市今年更創下紀錄,以超過兩千隻皮卡丘,成為歷年來表演者最多的一屆。
皮卡丘是熱門電玩遊戲寶可夢系列中虛構的生物,屬於一種被稱為寶可夢的物種。這次除了白天的演出,晚上還特別推出結合最新LED科技的表演。某些車站還將車票閘門原來的音效換成該角色的聲音,旅客出站時閘門就會喊「皮卡丘」。
而隨著今年稍早的真人電影《名偵探皮卡丘》全球熱賣後,據報導指出,傳奇影業正著手籌拍續集。這部賣座電影五月在台灣上映,以一億六千萬台幣(大約五百一十萬美元〉的票房,成為台灣上半年的十大賣座影片之一。
(台北時報張聖恩〉
Publication Notes
TODAY'S WORDS
今日單字
1. outbreak n.
暴發
(bao4 fa1)
2. species n.
物種
(wu4 zhong3)
3. fictional adj.
虛構的
(xu1 gou4 de5)
4. creature n.
生物
(sheng1 wu4)
5. sequel n.
續集
(xu4 ji2)
Comments will be moderated. Keep comments relevant to the article. Remarks containing abusive and obscene language, personal attacks of any kind or promotion will be removed and the user banned. Final decision will be at the discretion of the Taipei Times.