Han Kuo-yu criticized for tree climb stunt 韓國瑜爬樹看防疫 提出發泡劑填樹洞惹議
The dengue fever epidemic in Kaohsiung continues to worsen: as of Wednesday, 45 cases of the viral disease have been confirmed in the municipality. Last week, Kaohsiung Mayor Han Kuo-yu, together with officials from Kaohsiung City Government Department of Health, carried out a "hands-on" review of the city's epidemic prevention measures. Han's inspection tour included examining guttering on the roofs of buildings but also took in tree hollows, which can turn into a vector source for mosquitoes carrying the disease if water accumulates inside.
Han, who has a short and stocky physique, scaled a tree by himself to inspect a tree hollow. Han told the assembled press pack that workers should use expanding insulation foam and prune trees to prevent the spread of dengue fever, sparking controversy online.
Kaohsiung City Councilor Huang Jie posted on Facebook that it would have been better if Han had used the opportunity to demonstrate to the public the importance of removing containers of stagnant water and tidying up within residential areas. Huang said this would be a far more effective method of epidemic prevention and added a more pragmatic course of action would be for the mayor to assume overall command back at Kaohsiung City Hall from where he could supervise the allocation of manpower and resources. Huang expressed concern that filling up tree hollows with expanding insulation foam could pose an existential threat to the city's woodpecker population.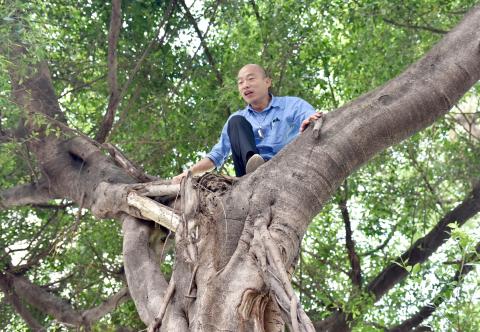 Kaohsiung Mayor Han Kuo-yu poses for a photograph while climbing a tree in Kaohsiung on Wednesday during an inspection of dengue fever prevention work. 高雄市長韓國瑜二十四日視察登革熱時,突然爬上樹看樹洞。
Photo: CNA
照片:中央社
Responding to the news last Thursday, Kaohsiung Love Trees Society director Chuang Chieh-jen said a far more significant vector source of dengue fever is ditches and drains within the city where water has been allowed to accumulate over the long term. Chuang said using expanding insulation foam will simply damage the trees' trunks and cause rot and decay. Chuang suggested using sand to fill hollows or alternatively drilling small holes to allow accumulated water to naturally drain away.
Chuang added that the primary cause of tree hollows is the pruning of branches of a 5cm diameter thickness or greater, which causes ulceration to the tree trunk. Chuang called on Han to review his administration's policy on tree pruning and ban the pruning of branches between 5-10cm in diameter.
Responding to criticism, the director of the Public Works Bureau's Maintenance Office, Wang Miao-chen, said that the expanding insulation foam used was non-absorbent and said tree hollows often form naturally as a way to protect the bark of the trunk and are not created by pruning. Wang said foam will not cause the trunk to rot and added that using foam is a feasible, effective and long-lasting solution. Kaohsiung's frequent thunder and rain storms means that using expanding foam can save manpower and resources, said Wang.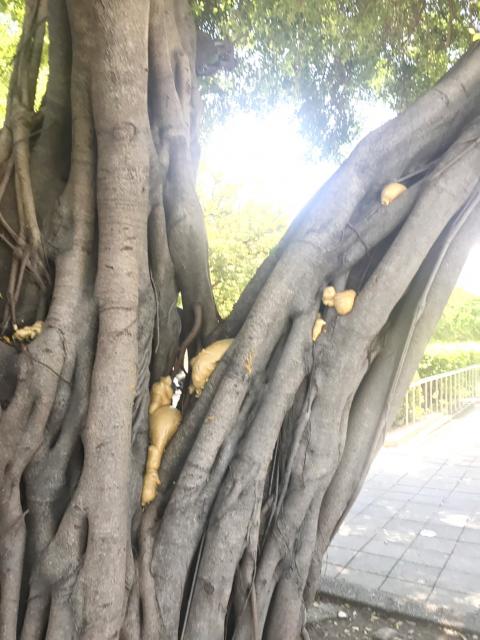 A banyan tree with trunk hollows is seen in Kaohsiung. 高雄一棵有樹洞的榕樹。
Photo: CNA
照片:中央社
Answering questions last week, Han said that climbing a tree shows he attaches great importance to tackling the epidemic, adding he trusts that officials and contractors will be able to see that he is taking the problem seriously and has the resolve to get a grip of the situation.
"If experts believe this will damage the trees, I will take their views on board," but for the time being we will continue to employ this method.
Han added he climbed the tree for the good of the city's residents, that he feels no shame and that any criticism or parodies of him are water off a duck's back.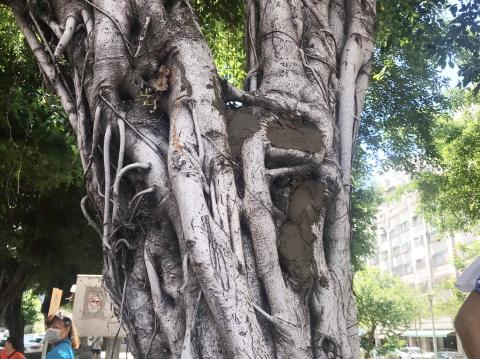 A banyan tree with trunk hollows is pictured in Kaohsiung. 高雄一棵有樹洞的榕樹。
Photo: CNA
照片:中央社
(Translated by Edward Jones, Taipei Times)
高雄市登革熱疫情持續加溫,至二十日為止本土登革熱確診病例已四十五例,為有效防疫,高雄市長韓國瑜上週由衛生局陪同勘察防疫情形,不僅查看屋簷排水槽的防疫,也針對樹洞成病媒孳生源提出因應之道。
韓國瑜矯健的身手爬樹察看樹洞,危險的動作被熱議,他說以發泡劑及修剪枝葉的方式防疫也在網路社群成為討論話題。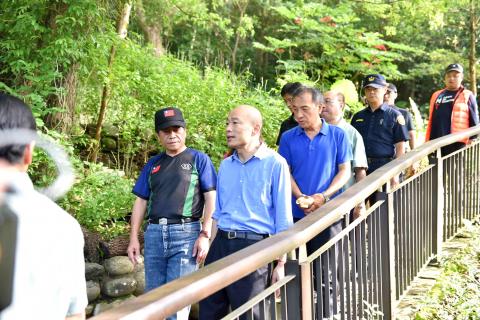 Han, front row right, walks with officials on the way to inspect trees within a butterfly nature reserve in Kaohsiung on Wednesday last week. 高雄市長韓國瑜由官員陪同,二十四日前往高雄紫斑蝶園區進行視察。
Photo: Taipei Times
照片:自由時報記者黃佳琳
時代力量高雄市議員黃捷在臉書留言建議韓國瑜還是以示範如何在居家環境消除積水容器或環境為主,較能擴大防疫效果,也建議韓好好坐鎮調度人力和資源更務實。她同時擔心樹洞都被堵住,啄木鳥在城市中恐難以存續。
高雄愛樹人團長莊傑任上週四指出,比起小小樹洞,水溝長年積水才是真正大宗的病媒孳生源,對於韓國瑜要以發泡劑填補樹洞的說法,他認為只會造成樹木傷口腐爛,建議用沙子填補或鑽小洞排水更天然有效。
莊傑任說,樹洞積水多起因於直徑五公分以上枝條修剪造成的潰爛,籲市府修正修剪枝條作業規範,禁止五到十公分以上枝條修剪。
市府養工處副處長王妙珍受訪指出,樹洞採用發泡劑非吸水式,再者,樹洞是天然形成且多有表皮保護而非新形成的傷口,不致於造成腐爛,為防範登革熱,樹洞用發泡劑填充是可行且效果較長久的方法;尤其高雄常有雷陣雨,樹洞以發泡劑填補,可節省人力與經費。
韓國瑜上週受訪,回應有關爬樹看防疫一事,他說會爬上樹去看樹洞代表他重視,相信官員或施工團隊人員會感受到市長重視並有做好防疫的決心。
至於護樹團體及防疫專家質疑用發泡劑補樹洞的作法,韓國瑜說「如果專家認為這樣發泡劑傷害樹木、我會從善如流」;但此時此刻仍用這個方法填補樹洞。
爬樹看防疫惹議,韓國瑜說「我的出發點是為市民,問心無愧不在意被批評、kuso(惡搞)。
(中央社)
Follow Up
課後練習
Questions
1. Was Han Kuo-yu's tree climb a political stunt, or a serious attempt to promote awareness in the fight against dengue fever?
2. What else could be done by government officials to combat the spread of dengue fever and other mosquito-borne diseases?
3. Are there any habits or practices in Taiwan that encourage mosquito breeding?
4. To encourage homeowners to clear away stagnant water and keep their homes tidy, since Feb. 2016 the Singaporean government has issued a S$200 (NT$4,500/US$146) fine to any home found to be a breeding ground for mosquitoes. Would a similar policy work in Taiwan?
(Edward Jones, Taipei Times)
Comments will be moderated. Keep comments relevant to the article. Remarks containing abusive and obscene language, personal attacks of any kind or promotion will be removed and the user banned. Final decision will be at the discretion of the Taipei Times.