Vienna bids farewell to iconic Life Ball AIDS fundraiser 再見傳奇「生命舞會」 維也納愛滋募款舞會謝幕
The Austrian capital of Vienna bade farewell to the iconic Life Ball AIDS charity fundraiser Saturday last week as its extravagant costumes and celebrity guests took over the city's town hall for the last time.
Launched by former make-up artist Gery Keszler, among others, the ball has raised around 30 million euros (US$34 million) for anti-AIDS causes within Austria and abroad since its first edition in 1993, organizers say. Keszler announced last month that this year's edition of the ball would be the last due to a lack of funding.
Rooted firmly in the activism of Vienna's own LGBT community, the Life Ball has become one of the world's biggest AIDS charity events over the past three decades, attracting up to 45,000 guests and on-lookers a year.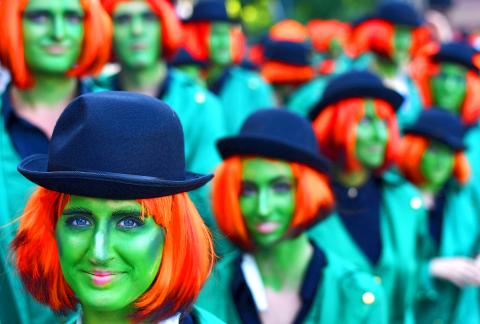 Artists wait prior to their performance during the 26th "Life Ball" AIDS charity event on June 8 at Vienna's City hall. 在六月八日於維也納市政廳舉辦的第二十六屆「生命舞會」愛滋慈善活動前,演出者等待表演開始。
Photo: AFP
照片:法新社
In an emotional speech at the end of the opening ceremony, Keszler insisted he and his colleagues had had no choice but to make this year's edition the very last.
Organizers say the ball is no longer viable as, paradoxically, advances in treatment and prognosis for people with HIV and AIDS have meant fewer donors are willing to contribute to such causes.
However, many guests on the red carpet on Saturday said they hoped that the Ball could continue in some form and Vienna city authorities haven't ruled out a possible revival of the event at some point in the future. Keszler said he would discuss in the coming months if "something positive can be grown out of the heritage of the Life Ball."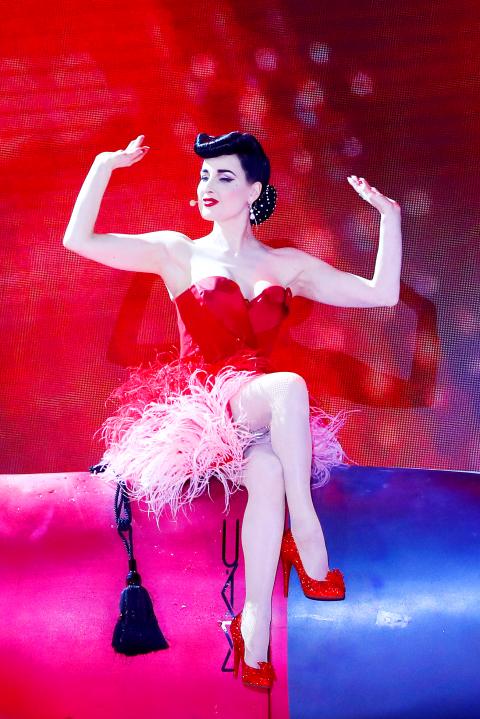 US burlesque dancer Dita Von Teese performs during the opening ceremony of the 26th Life Ball in Vienna, Austria on June 8. 在奧地利維也納舉行的第二十六屆「生命舞會」開幕式上,美國著名的脫衣舞孃Dita Von Teese 帶來演出,攝於六月八日。
Photo: Reuters
照片:路透
AIDS, or the Acquired Immunodeficiency Syndrome, is the most advanced stage of infection with the Human Immunodeficiency Virus (HIV), which targets the immune system. The World Health Organization estimated that around 36.9 million people were living with HIV at the end of 2017, with 1.8 million people newly infected that year and 940,000 HIV-related deaths.
(AFP)
穿著華麗誇張服飾的扮裝藝人和名人貴客,上週六最後一次步入維也納市政廳,向奧地利首都這場極具指標性的愛滋病慈善募款大會「Life Ball」(生命舞會)珍重道別。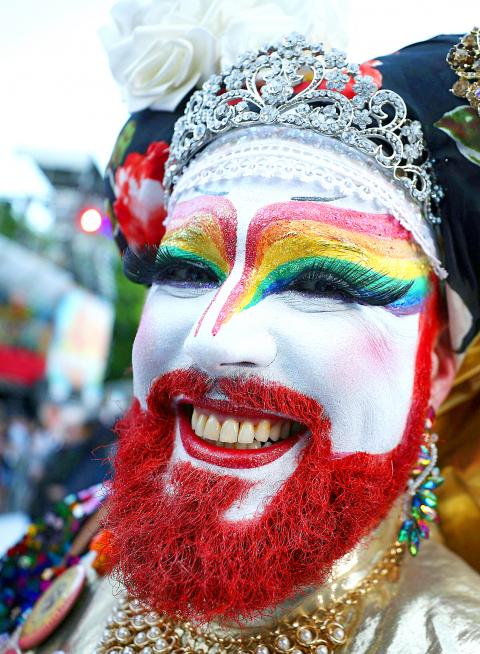 A guest poses upon his arrival for the 26th "Life Ball" AIDS charity event on June 8 at Vienna's City hall. 一名賓客抵達第二十六屆「生命舞會」愛滋慈善活動,在舉辦場地維也納市政廳前向鏡頭微笑,攝於六月八日。
Photo: AFP
照片:法新社
主辦單位表示,由前化妝藝術師蓋瑞‧凱茲勒等人創辦的這場舞會,自從一九九三年初次登場至今,已於奧地利和國外各地籌措到約三千萬歐元(三千四百萬美元),用於對抗愛滋病。凱茲勒在上個月宣布,由於缺乏資金的緣故,今年的舞會將會是最後一場。
「生命舞會」深深根基於維也納當地LGBT社群的行動主義,創辦至今,已成為過去三十年來世界上最大的愛滋病慈善活動之一,每年吸引多達四萬五千名賓客與觀眾。
在開幕式結尾之際,凱茲勒發表了一場情緒動人的演說,他強調他和共事的夥伴們沒有別的選擇,只能讓今年的舞會成為最後一場。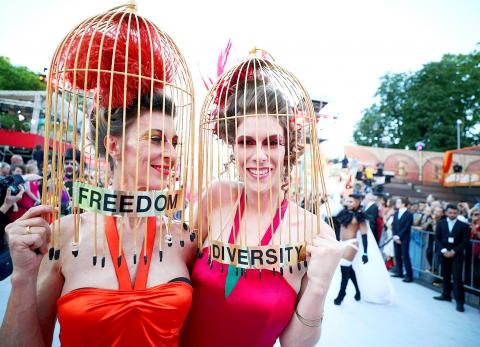 Guests pose upon their arrival at the 26th "Life Ball" AIDS charity event on June 8 at Vienna's City hall. 賓客們抵達第二十六屆「生命舞會」愛滋慈善活動,在舉辦場地維也納市政廳前向鏡頭微笑,攝於六月八日。
Photo: AFP
照片:法新社
主辦單位表示,這場舞會已不再具有可行性,原因有點矛盾──治療方式和預後醫學的進步,對HIV帶原者以及愛滋病人帶來福音,也就意味著更少的捐款人願意為這樣的動機捐獻。
儘管如此,週六仍然有許多賓客在紅地毯上表示,他們希望舞會能夠以某種形式繼續舉辦,維也納市當局也指出他們並未排除讓舞會在日後某個時間點復辦的可能性。凱茲勒表示,如果「某些正面成果,能從生命舞會的傳統中發芽茁壯」,他會在接下來的幾個月討論繼續舉辦的可能性。
愛滋病,或稱後天免疫缺乏症候群,是攻擊免疫系統的人類免疫缺乏病毒(HIV),對人體造成感染的最後階段。根據世界衛生組織估計,至二○一七年底,全球大約有三千六百九十萬人為HIV帶原者,有一百八十萬人為該年度的新感染者,並造成九十四萬人死於HIV導致的相關疾病。
(台北時報章厚明譯)
Comments will be moderated. Keep comments relevant to the article. Remarks containing abusive and obscene language, personal attacks of any kind or promotion will be removed and the user banned. Final decision will be at the discretion of the Taipei Times.