Why Taiwanese are so sensitive to price hikes 對物價很敏感的台灣
A series of reports on food and drink vendors across the country raising prices have recently been circulating in domestic media, with everything from pork belly rice to hand-shaken drinks, pizza and fried chicken coming under the microscope.
It is difficult to think of another country in the world that places such a high degree of attention on price rises as Taiwan. The public's acute sensitivity toward commodity prices is a result of virtual wage stagnation coupled with frequent commodity price rises, which has lead to a feeling of disenfranchisement among the public.
It might be difficult for non-Taiwanese to comprehend why news about food and drink price hikes should command so many column inches in Taiwanese newspapers and media outlets. Why is it that Taiwanese public opinion gets so het up over price increases of just NT$5 or NT$10, and why does the media feel it necessary to respond with almost blanket coverage? If consumers chose not to buy these products, would the impact really be that significant?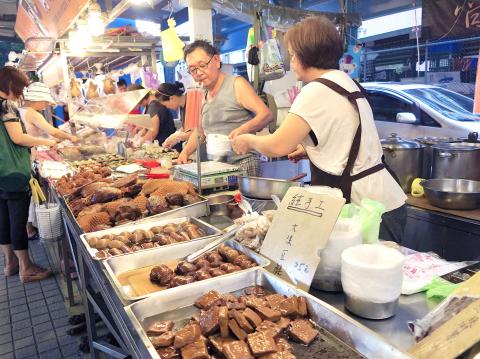 Customers buy food products marinated in soy sauce at an evening market in Taipei's Neihu District in an undated picture. 消費者在台北內湖區黃昏市場買滷味食品。
Photo: CNA
照片:中央社
In fact, the impact would be huge. In recent years, the public has become very sensitive toward commodity prices, as in Taiwan everything goes up except for people's salaries. This is especially true for consumers of food and beverages, since these purchases form a regular part of their daily lives. Consequently, any price hikes attract criticism and resentment.
According to data released by the Directorate-General of Budget, Accounting and Statistics, in November last year the average salary in Taiwan was NT$41,249, an increase of 2.56 percent on the previous year's figure. Some commentators therefore argue that this comparison is unfair, since salaries have in fact increased, not stagnated.
So let's take the 2.56 percent increase figure as an example. In Taiwan, food and drink prices are set in round numbers; as a result, every time prices increase, they rise by NT$5 or NT$10. So, if the retail price of a beverage rises from NT$40 to NT$45, this is equal to an increase of 12.5 percent, an increase much steeper than that of average salaries. Moreover, while average salaries may have increased, it remains true that a great many people's salaries have not.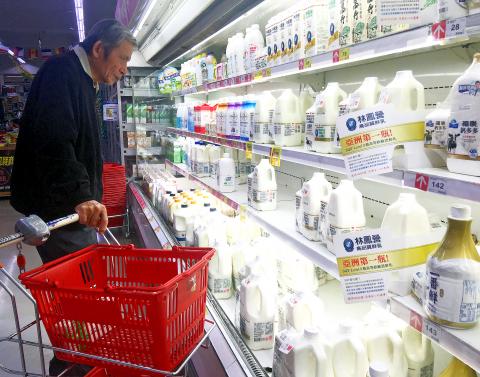 A man peruses the dairy section of a supermarket in Taipei in an undated picture. 一名男子在台北超市瀏覽乳品區一景。
Photo: CNA
照片:中央社
When contrasted with neighboring countries, domestic commodity prices are stable, nor does Taiwan have an inflation problem. Taiwan's consumer price index has held steady at just over 1 percent. However, salaries and incomes have stagnated so that any increase to daily food and drink prices will naturally have a direct impact on people's pockets. Suppose everyone's salaries increased by 10 or 15 percent, would anyone still quibble about a NT$5 or NT$10 bump in the price of a drink or fried chicken?
(Translated by Edward Jones, Taipei Times)
最近各地不斷傳出餐飲產品漲價消息,從滷肉飯、手搖杯、披薩到炸雞等,成為新聞關注焦點。其實,全世界大概很難找到一個國家,像台灣對漲價消息如此高度重視,但這種「物價敏感」的特殊現象,說穿了,原因來自國內薪資幾乎凍漲,物價又頻頻上漲,導致民眾心理產生「相對剝奪感」。
這陣子,餐飲漲價消息幾乎塞滿新聞版面,外國人或許無法理解,不過就是漲個五元、十元,為何台灣輿論如此高度關切,媒體還要如此大幅報導,消費者頂多不去買,有這麼大的影響嗎?
當然,影響可大了。這幾年來,台灣人對物價變得「非常有感」,因為什麼都漲,只有薪水不漲,尤其飲食消費是日常生活的一部分,自然會引起諸多抱怨與不滿。
根據主計總處調查,去年十一月平均薪資四萬一千兩百四十九元,年增百分之二點五六,有人會說,這樣比較不公平,國人平均薪資其實是有增加,並非真的凍漲。
好的。我們就以百分之二點五六這個數字為例,國內飲食消費定價是「整數單位」,每次一漲就是五元或十元,隨便舉例,若一杯飲料從四十元漲到四十五元,漲幅就是百分之十二點五,也就是說,物價調漲是遠超過薪資平均漲幅,更何況這僅是平均值數字,很多人根本就沒調薪。
相較其他鄰近國家,台灣物價表現穩定、並沒有存在通貨膨脹問題,國內消費者物價指數也維持在百分之一多;不過,當薪資收入停滯,民生飲食只要一調漲,自然直接影響荷包。試想,若大家薪資漲了百分之十或百分之十五,有誰還會去在乎飲料或炸雞漲了五元或十元?
(自由時報記者王孟倫)
Follow Up
讀後練習
Wage stagnation
Until 2017, average salaries in Taiwan had stagnated for the previous 16 years. The average starting salary of university graduates increased by a measly NT$100 between 2000 and 2016, from NT$28,016 (around US$915) to NT$28,116. However, when price inflation is factored in, real salaries actually fell during this period.
This year the government has implemented measures attempting to alleviate Taiwan's low salary problem. On Jan. 1, the minimum monthly wage increased from NT$22,000 to NT$23,100, and the minimum hourly wage rose from NT$140 to NT$150. The government is also forcing publicly listed companies to disclose the salaries of their non-management employees. Officials are attempting to carry off a delicate balancing act of intervening in the labor market to raise average wages, but without destroying the fundamentals of a free market economy.
Taiwan's long-term problem of salary stagnation will certainly be a difficult nut to crack and its causes are many, including the impact from China's booming economy, globalization, an oversupply of graduates and ingrained cultural practices and attitudes of employers.
(Edward Jones, Taipei Times)
Comments will be moderated. Keep comments relevant to the article. Remarks containing abusive and obscene language, personal attacks of any kind or promotion will be removed and the user banned. Final decision will be at the discretion of the Taipei Times.