A-maize-ing genetic sleuthing rewrites history of corn 基因偵查大解密 重寫玉米歷史
The history of corn, one of humankind's indispensable staple crops, is far more complicated than previously known, according to scientists who conducted a comprehensive genetic and archeological analysis of its domestication. The process of turning corn's wild predecessor into a vital food source began 9,000 years ago in Mexico, but an early partially domesticated version was then brought to South America 6,500 years ago, and crucial further development of the plant proceeded in parallel in both places, the researchers said on Dec. 13.
Until now, it was thought that the domestication process had occurred in south-central Mexico's Balsas River Valley, south of Mexico City, and that corn — also called maize — only later was introduced by people elsewhere in the Americas. The new findings revealed that a previously unknown but pivotal second phase of domestication occurred in the southwestern Amazon region spanning parts of Brazil and Bolivia even as domestication continued in Mexico.
Corn became a global crop after Europeans reached the Americas half a millennium ago. Other crops originating in the Americas include potatoes, sweet potatoes, cacao, tomatoes, peanuts and avocados. The researchers analyzed newly sequenced genomes of 40 modern corn varieties and nine archaeological maize samples up to 1,000 years old alongside 68 modern and two ancient corn genomes published previously.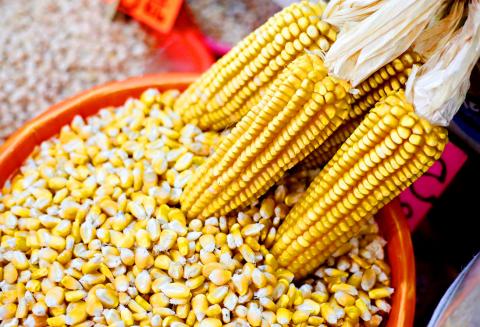 Corn cobs and yellow corn are on display at a market in Mexico City, Mexico, on May 19 last year. 墨西哥城的一處市集展示著玉米穗軸和黃色的玉米粒,二○一七年五月十九日攝於墨西哥。
Photo: Reuters
"Pretty soon after the beginning stages of domestication, people are already moving this new crop over huge distances, even before the evolutionary process of domestication has fixed all the traits favored by humans," said Logan Kistler, curator of archaeogenomics and archaeobotany at the Smithsonian Institution's National Museum of Natural History in Washington.
The southwestern Amazon already was a hotspot for crop domestication when partially domesticated corn was brought there, with squash, yuca and a native rice being cultivated. Corn's wild predecessor is a grass called teosinte, with negligible cobs and kernels protected by a tough casing.
"Maize is one of the most important plant species for humans. We grow it at about a billion tons per year and, along with rice and wheat, it's one of the key staple crops that we rely on for a huge proportion of our calories worldwide," said Kistler, lead author of the study published in the journal Science. "Partly because it's such a critically important species for us, the domestication history of maize is one of the sort of foundational evolutionary events that has ended up massively shaping human life and history."
(Reuters)
科學家日前對玉米的馴化過程進行全面性基因和考古學分析,發現這種人類不可或缺的主要糧食作物,其歷史比我們先前知道的還要複雜許多。研究人員於十二月十三日指出,玉米的野外始祖被馴化為重要食物來源的過程,始於九千年前的墨西哥。不過,另一種「半馴化」的早期玉米種類則在六千五百年前傳到南美洲。這種植物進一步的決定性發展從此就在兩地分頭開始進行。
到目前為止,馴化玉米的過程咸認為出現在墨西哥中南部、位於墨西哥城南方的巴爾薩斯河谷,而今日的玉米,或稱「玉蜀黍」,直到稍晚才被美洲其他地方的人們傳入他處。不過,這份新發現卻揭露出玉米先前無人知悉、卻又深具關鍵性的第二階段馴化過程,就在墨西哥人工培植玉米的同時,發生於橫跨巴西與玻利維亞部分地區的亞馬遜河西南部流域。
當歐洲人在五百多年前抵達美洲後,玉米逐漸成為全球性的糧食作物。源自於美洲的其他糧食作物還包括馬鈴薯、地瓜、可可豆、番茄、花生,以及酪梨等。研究人員日前分析新定序的多種玉米基因體,對象包括四十個現代玉米品種,以及遠至一千年前的九種考古玉米樣本,並與先前公布的六十八種現代玉米和兩種古老玉米基因體進行對照。
美國華盛頓史密森尼學會國家自然歷史博物館的考古基因體學暨考古植物學研究員洛根‧基斯特勒指出:「在馴化過程的最初階段開始不久,人類就已帶著這種新作物長途移動,比人工培植確立玉米受人類喜愛特徵的演化過程還要早發生。」
當部分馴化的玉米被帶到亞馬遜河的西南部流域時,當地早已是人工培植作物的溫床,栽種著瓜類、木薯和一種當地原生米。玉米在野外的始祖是一種稱作「大芻草」的草本植物,穗軸並不起眼,玉米粒則被一層堅硬的殼保護著。
基斯特勒表示:「對人類而言,玉米是最重要的植物種類之一。我們每年大約種植十億噸的玉米,和稻米與小麥同為關鍵性糧食作物,全球人類所需熱量的巨大比例都必須賴其供給。」身為這篇於期刊《科學》發表的研究第一作者,基斯特勒進一步指出:「一部份原因在於,玉米對我們是如此至關重要的物種,其馴化歷史可說是後來大幅形塑人類生活樣貌與歷史的根本性演化事件。」
(台北時報章厚明譯)
Publication Notes
TODAY'S WORDS
今日單字
1. staple crop phr.
主要糧食作物
(zhu3 yao4 liang2 shi2 zuo4 wu4)
2. domestication n.
馴化、人工培植
(xun2 hua4; ren2 gong1 pei2 zhi2)
3. maize n.
玉米、玉蜀黍
(yu4 mi3; yu4 shu2 shu3)
4. introduce v.
傳入
(chuan2 ru4)
5. sequence v.
排序
(pai2 xu4)
6. negligible adj.
不起眼的
(bu4 qi2 yan3 de5)
Comments will be moderated. Keep comments relevant to the article. Remarks containing abusive and obscene language, personal attacks of any kind or promotion will be removed and the user banned. Final decision will be at the discretion of the Taipei Times.