USING IDIOMS 活用成語
Chinese practice
拋磚引玉
toss out a brick and get jade in return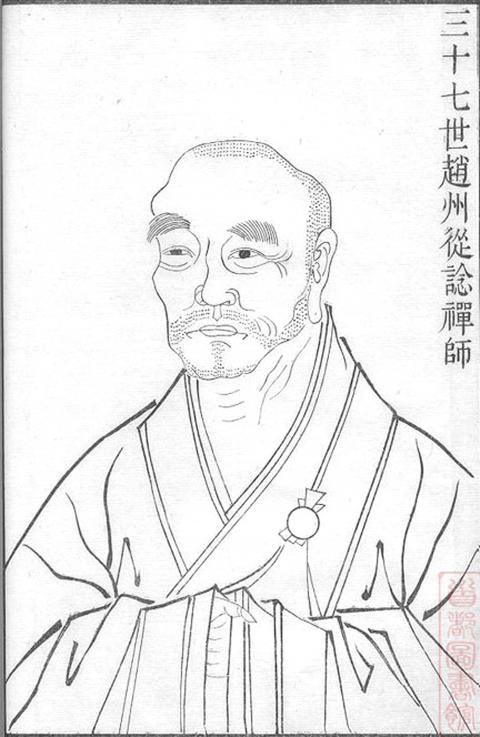 Woodcut of the Tang Dynasty Chan Buddhist Master Congshen in the fozu zhengzong daoying. 木刻版畫《佛祖正宗道影》中的唐朝禪師從諗。
Photo: Wikimedia Commons
照片:維基共享資源
(pao1 zhuan1 yin3 yu4)
蔡英文總統上週二在臉書上發布的道歉信中說,她要為民主進步黨在九合一選舉的失敗負責,並向黨員說明她這幾天的反省。她說她「希望能拋磚引玉,讓敗選的檢討反省更加全面」。
二○一五年五月,國民黨二○一六年總統大選的初選登記,立法院副院長洪秀柱通過了黨內初選的登記門檻。她說她只是去接受挑戰,希望可以拋磚引玉:也就是說,這是要讓程序動起來,以便引出國民黨資深成員前來登記。
成語「拋磚引玉」意為拋出本身價值不大的東西──例如一塊磚──以期能夠獲得價值高出許多倍的東西──例如一塊玉。「拋磚引玉」可說是一種謙卑的說法,來要求別人提出想法或做出行動,意指自己微薄的貢獻是為了引出更有價值的思考或行動。
「拋磚引玉」像許多成語一樣,也有久遠的年代,並有許多使用的例證。例如清代李汝珍西元一八二七年的奇幻小說《鏡花緣》第十八回:「剛才婢子費了唇舌,說了許多書名,原是拋磚引玉,以為借此長長見識,不意竟是如此」。「活用成語」單元在九月二十四日介紹的成語「鏡花水月」,便引用了《鏡花緣》中的例句。「拋磚引玉」也是「三十六計」中的第十七計(關於「三十六計」的介紹,請見五月十四日的「活用成語」)。「拋磚引玉」作為一種軍事戰略,是指引誘敵人作出反應,這反應最終會對己方有利,而非敵方。
此成語初見於《景德傳燈錄》,此書為僧人釋道原在西元一○○四年所作,記載禪宗及其他名僧的行誼。第十卷介紹了從諗禪師〔諗發音為「沈」〕,據載他八十歲時定居中國北方的觀音院,之後四十年間在觀音院教導了一群僧侶。釋道原記載,從諗禪師有一次對這些僧侶說:「今晚我會為大家回答問題,有需要解說的人請出來」。一位僧侶站了出來,從諗法師看著他,說道:「比來拋磚引玉,卻引得個墼子」(我本來希望拋出一塊磚,藉此引出玉,哪知我引來的是一塊未燒製的土坯)。這話說得有些殘酷。
在英文中,有句話可表示用價值相對較小的東西來獲得更大的回報或利益──「set a sprat to catch a mackerel」(用鯡魚來捕捉鯖魚,意為用小魚釣大魚、吃小虧佔大便宜),雖然它是指為了獲取更大的利益,而自願犧牲小的好處。這句話的另一種說法是「throw out a minnow to catch a whale」(丟出一條小魚來捕捉鯨魚)。在用法上,「get the ball rolling」(讓球開始滾動,意為大家動起來)──做點事來啟動一件大事──可能更接近「拋磚引玉」。「get the ball rolling」這說法可追溯到十八世紀晚期英國的口語,它指的是班迪球(俄式冰球)──這是種類似曲棍球或橄欖球的運動。
(台北時報林俐凱譯)
這次義賣,本公司捐出了三十部自行車,希望能夠拋磚引玉,期待各界共襄盛舉。
(For this charity auction, the company has donated 30 bicycles, in the hope that these will get the ball rolling.)
英文練習
set a sprat to catch a mackerel; get the ball rolling
In a letter of apology posted on Facebook on Tuesday, in which she took responsibility for the Democratic Progressive Party's defeat in the nine-in-one elections, President Tsai Ing-wen said that she wanted, following several days of introspection, to explain her conclusions to other party members. She said she hoped this would serve as a springboard for a wider discussion (希望能拋磚引玉: literally, "I hope to 'toss out a brick to get jade in return'") about how the party should change.
In May 2015, during the Chinese Nationalist Party (KMT) primaries for the 2016 presidential elections, then deputy legislative speaker Hung Hsiu-chu passed the threshold for registering as a potential KMT presidential candidate. At the time, she said that she was simply throwing her hat into the ring, in the hope that she could just 拋磚引玉: that is, get the ball rolling and entice senior KMT members to put their name forward.
The Chinese idiom 拋磚引玉 means to cast something of little intrinsic value — a brick — in the hope that something many times more valuable — a piece of jade — would be returned. It can be seen as a humble request for ideas or action, using one's own meager contribution to initiate debate or deeds many times more valuable.
Like many Chinese idioms, its roots extend far back in time, and there are many examples of its use in the intervening years. It appears, for example, in Chapter 18 of Li Ruzhen's 1827 fantasy novel 鏡花緣 (The Marriage of Flowers in the Mirror), already cited in the Sept. 24 entry of Using Idioms (for 鏡花水月), in the sentence 剛才婢子費了脣舌,說了許多書名,原是拋磚引玉,以為借此長長見識,不意竟是如此 (Just then, I talked a lot and cited many book titles, in the hope that this would lead onto a profound discussion; I had no idea it would lead to this); it is also no. 17 of the 36 Strategem, described in Using Idioms on May 14. As a military strategy, 拋磚引玉 referred to the tactic of baiting the enemy to elicit a reaction from them that is ultimately more advantageous to yourself than to your opponent.
The idiom first appeared in the Complete Record of the Transmission of the Lamp, a record of Chan (Zen) masters and other prominent Buddhist monks published in 1004AD by the monk Shi Daoyuan. Chapter 10 is on Chan Master Congshen, who it is said settled in the Guanyin Yuan Temple in northern China at the age of 80 and, for the next 40 years, taught a small group of monks there. According to Shi Daoyuan, on one occasion Master Congshen said to his monks, "This evening I will answer your questions; if there is anyone who needs something explained, please step forward." When a monk came forward, the master looked at him and said 比來拋磚引玉,卻引得個墼子: "I was hoping to cast out a brick and be returned with jade: it seems what I have got is an unfired slab." That was a bit harsh.
In English, a phrase with the meaning of using something of relatively little value to secure greater rewards or benefits is "set a sprat to catch a mackerel," although it refers to a willingness to sacrifice the former for the possibility of gaining the latter. Another variant is to "throw out a minnow to catch a whale." In terms of usage, the phrase "get the ball rolling" — to do something to commence an event — might be closer to 拋磚引玉. This is a colloquial expression dating to late 18th century Britain, and refers to bandy — a form of hockey — or rugby.
(Paul Cooper, Taipei Times)
OK, enough of the pleasantries, let's get the ball rolling. Bob, could you share your thoughts on the Xinyi project?
(好啦,我們聊夠了,應該要開始行動了。巴布,來發表一下你對信義區建案的想法吧。)
Comments will be moderated. Keep comments relevant to the article. Remarks containing abusive and obscene language, personal attacks of any kind or promotion will be removed and the user banned. Final decision will be at the discretion of the Taipei Times.