Dolce & Gabbana co-founders apologize for controversial remarks 時尚精品創辦人 為爭議性言論滅火
In the wake of a public relations disaster, Domenico Dolce and Stefano Gabbana, co-founders of Italian fashion brand Dolce & Gabbana, issued a video apology last Friday for controversial remarks made by Gabbana. After the brand's latest advertising campaign was criticized for being racist, Gabbana had apparently written in an Instagram message that "the country of [five poo emojis] is China."
The promotional videos, featuring a goofy Chinese woman struggling to eat pizza, spaghetti and cannoli with chopsticks, sparked criticism from consumers, who thought it disrespectful to Chinese culture. After Gabbana made his comments online, models and celebrities, including actress Zhang Ziyi, pulled out of the brand's Shanghai fashion show, which was eventually cancelled.
Although the brand claimed that Gabbana's Instagram account had been hacked, the case snowballed, and many e-commerce sites removed its products. The brand withdrew from Taiwan's market in 2015 due to poor sales.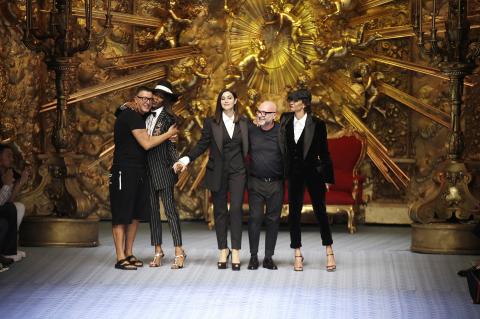 Designers Stefano Gabbana, left, Domenico Dolce, second right, and three supermodels receive applause at the end of Dolce & Gabbana's fashion show in Milan, Italy on June 16. 設計師嘉班納(左)、杜奇(右二)與三位超模在「杜嘉班納」的時裝秀謝幕時接受掌聲,這場時裝秀於六月十六日在義大利米蘭登場。
Photo: AP
照片:美聯社
(Eddy Chang, Taipei Times)
面對巨大的公關危機,義大利時尚精品「杜嘉班納」的共同創辦人杜奇與嘉班納,於上週五透過影片為了嘉班納的爭議性言論道歉。他於該品牌最新廣告影片被指為種族歧視後,在IG留言裡寫下「中國是屎國」等言論。
在宣傳影片中,一位滑稽的華人女子費勁地用筷子來吃披薩、義大利麵、卡諾里起司卷,進而引發消費者質疑,認為這樣不尊重中華文化。嘉班納在網路上開砲後,所有模特兒和女星章子怡等名流,均退出該品牌原訂在上海的時裝大秀,活動最終已於上週宣告取消。
該品牌則宣稱嘉班納的IG帳號遭到駭客入侵,但事件就像滾雪球般越鬧越大,各大電商平台紛紛下架其商品。「杜嘉班納」因銷售欠佳,於二○一五年即退出台灣市場。
(台北時報張聖恩)
Publication Notes
TODAY'S WORDS
今日單字
1. public relations phr.
公關 (gong1 guan1)
2. apology n.
道歉 (dao4 qian4)
3. controversial adj.
爭議性 (zheng1 yi4 xing4)
4. racist adj.
種族歧視 (zhong3 zu2 qi2 shi4)
5. disrespectful adj.
不尊重 (bu4 zun1 zhong4)
Comments will be moderated. Keep comments relevant to the article. Remarks containing abusive and obscene language, personal attacks of any kind or promotion will be removed and the user banned. Final decision will be at the discretion of the Taipei Times.