Su Shi's and David Hockney's paintings smash world records 蘇軾、霍克尼鉅作 打破世界拍賣紀錄
One of the world's rarest Chinese paintings, Wood and Rock, by Song Dynasty master Su Shi, fetched a record price of more than HK$463.6 million (about US$59.2 million) at Christie's in Hong Kong on Monday. The previous record price for a Chinese artwork was set in 2010 by Di Zhu Ming, a calligraphy handscroll by Song Dynasty master Huang Tingjian.
Su, also known as Su Dongpo, was perhaps one of the most famous poets and painters in Chinese history. His record-breaking masterpiece had disappeared for almost a century after it was brought to Japan by a collector, and the reappearance of it not long ago instantly shocked art circles.
In addition, Portrait of an Artist (Pool with Two Figures), a 1972 painting by British artist David Hockney, surged to US$90.3 million at Christie's in New York two weeks ago, smashing the record for a work by a living artist at auction. The painting featuring Hockney and his ex-boyfriend was sold by his dealer in 1972 for just US$18,000.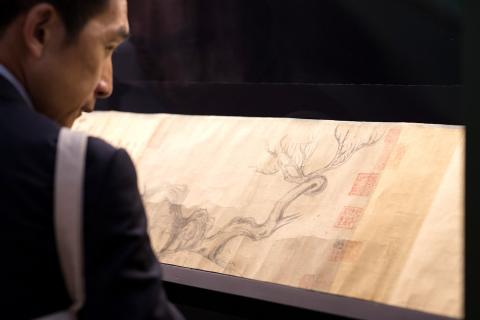 A visitor admires Wood and Rock by Chinese artist Su Shi at a Christie's auction preview in Hong Kong on Thursday last week. 一位參觀者上週四在香港佳士得拍賣預展上,鑑賞中國名家蘇軾畫的《木石圖》。
Photo: EPA
照片:歐新社
(Eddy Chang, Taipei Times)
宋代名家蘇軾的《木石圖》是世界上最稀有中國畫作之一,該畫作本週一在香港佳士得拍賣以破紀錄的四億六千多萬港幣(約五千九百多萬美元)成交,打破之前宋代名家黃庭堅的《砥柱銘》書法卷軸,於二○一○年所創下的中國藝品最高價紀錄。
蘇軾又被稱為蘇東坡,可說是中國歷史上最著名的詩人與畫家之一。這幅破紀錄的鉅作被某位收藏家帶到日本後,從此消聲匿跡近百年,近日一現身立刻震驚了藝術界。
此外,英國畫家大衛霍克尼一九七二年名作《藝術家肖像(泳池與兩個人像)》,兩週前在紐約佳士得拍賣以九千零三十萬美元落槌,打破史上在世畫家作品拍賣的最高價紀錄。該畫作以他和前男友為主題,在一九七二年僅以一萬八千美元被他的仲介商售出。
(台北時報張聖恩)
Publication Notes
TODAY'S WORDS
今日單字
1. record-breaking adj.
破紀錄
(po4 ji4 lu4)
2. masterpiece n.
鉅作
(ju4 zuo4)
3. collector n.
收藏家
(shou1 cang2 jia1)
4. portrait n.
肖像
(xiao4 xiang4)
5. smash v.
打破、粉碎
(da3 po4, fen3 sui4)
Comments will be moderated. Keep comments relevant to the article. Remarks containing abusive and obscene language, personal attacks of any kind or promotion will be removed and the user banned. Final decision will be at the discretion of the Taipei Times.